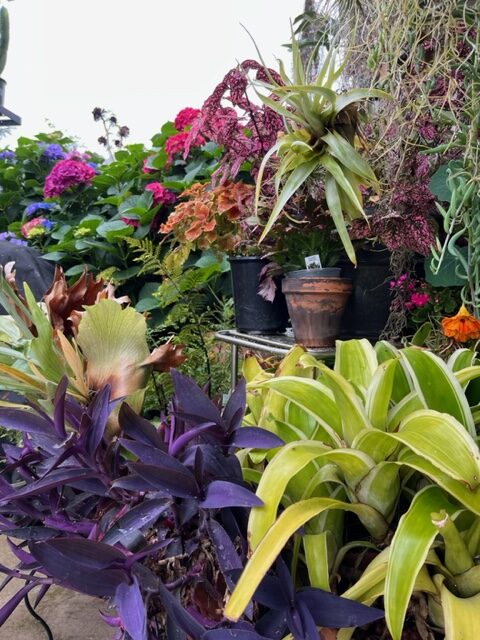 I am Jeff Sisil. My wife and I live in Cypress, California. I started gardening about 20 years ago. Here are some current photos of spring plants and flowers. I'm having pretty good luck with hydrangeas and staghorn ferns. I also grow bromeliads, tillandsias, Spanish moss, succulents, nasturtium, senecio, and a few others. The challenge for me is managing the space. Our little patio garden brings us so much joy and beauty. I hope you enjoy our pictures!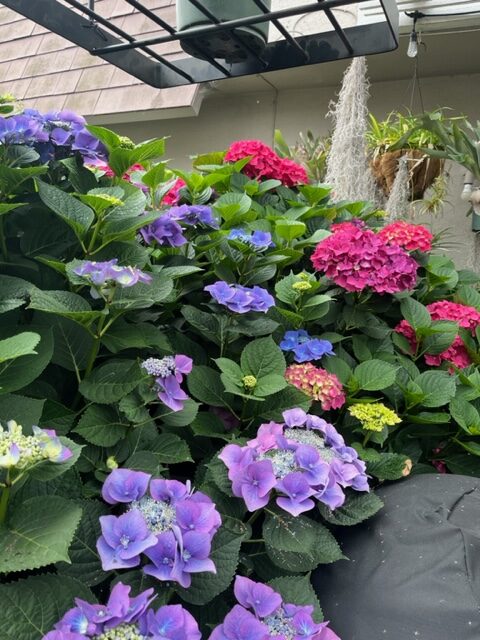 An abundance of hydrangeas (Hydrangea macrophylla, Zones 5–9) with their huge, lush clusters of bloom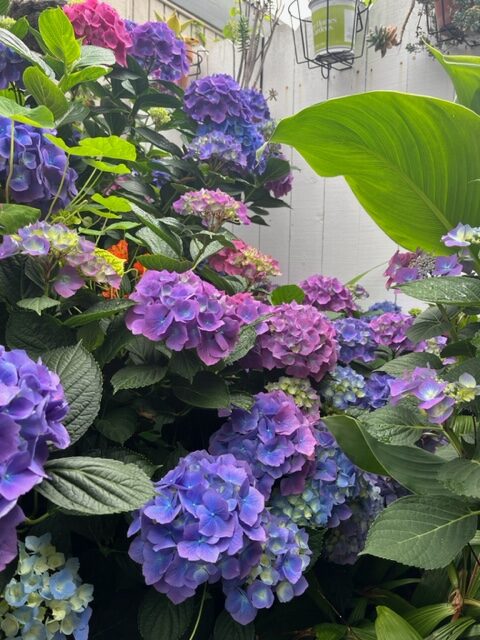 These incredibly beautiful flowers in a little patio garden show that you don't need a lot of space to enjoy beautiful plants.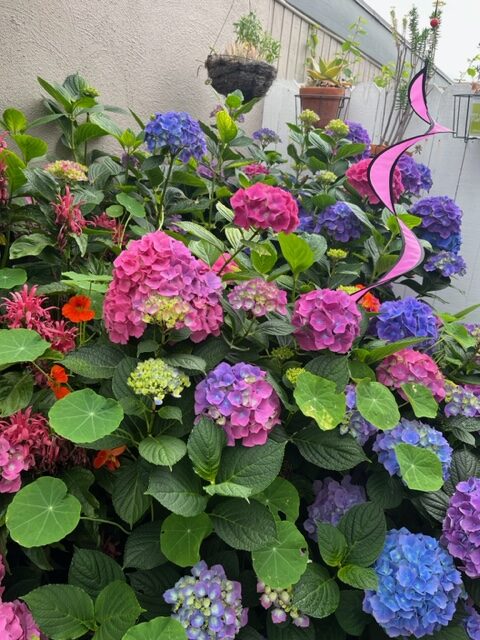 These hydrangeas are showing off the full range of flower colors, from rich blue through shades of purple into pink.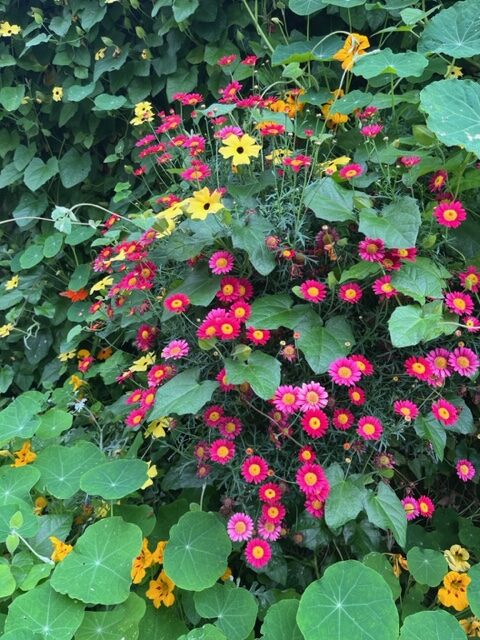 Nasturtiums (Tropaeolum majus, Zones 9–11 or as an annual) are in the front, a black-eyed Susan vine (Thunbergia alata, Zones 10–11 or as an annual) is in the back, and a big cloud of pink flowers from what I looks like red marguerite daisy (Argyranthemum frutescens, Zones 10–11 or as annual) are in the center.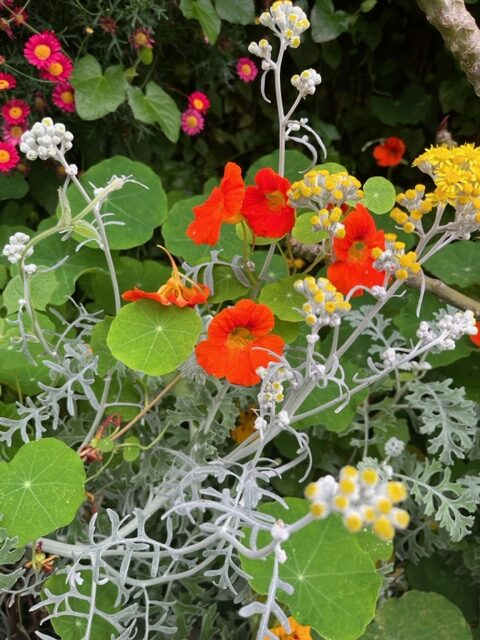 Glowing orange nasturtium flowers contrast with the silver foliage and yellow blooms of a Senecio.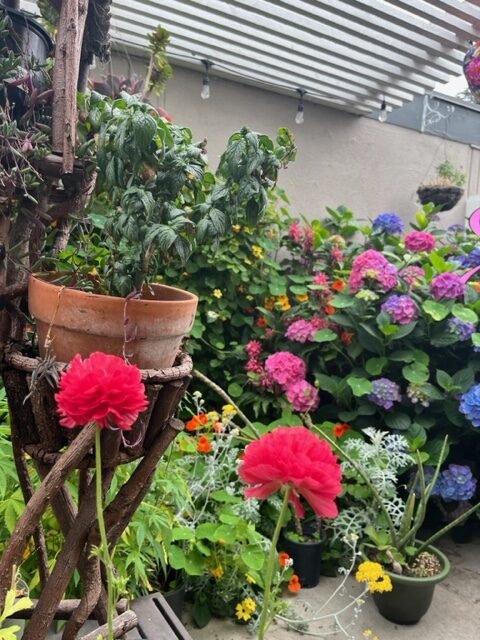 This view of the patio garden shows just how much beauty is packed into this little space.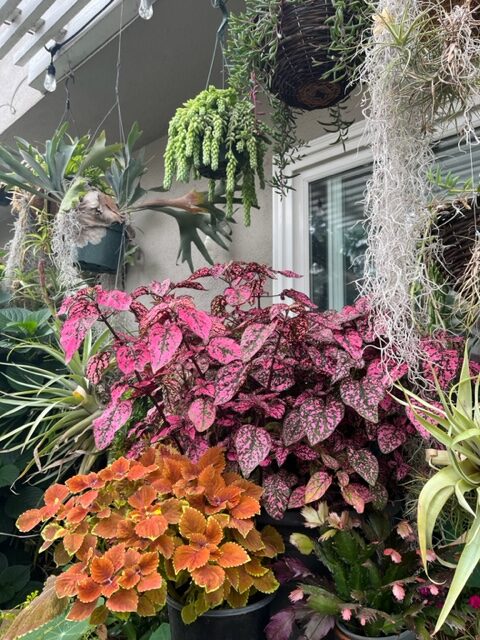 Foliage dominates here, with coleus (Coleus scutellarooides, Zones 10–11 or as an annual) and polka dot plant (Hypoestes phyllostachya, Zones 10–11 or as an annual) taking center stage and a silver mass of Spanish moss (Tillandsia usneoides, Zones 8–10) tumbling down from above.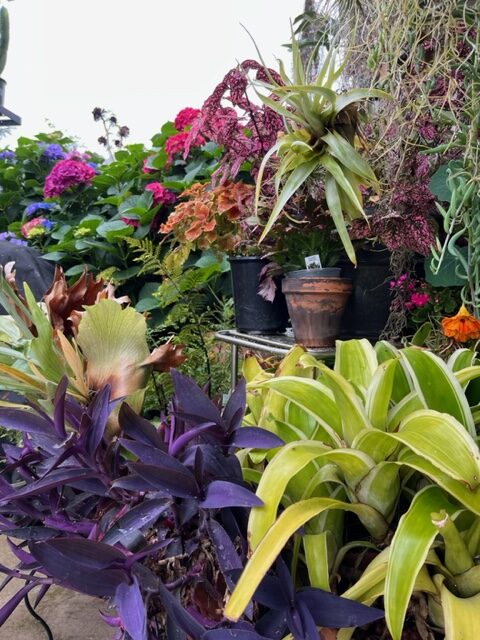 A variegated bromeliad and purple-leaved tradescantia (Tradescantia pallida, Zones 8–10) shows off in the front.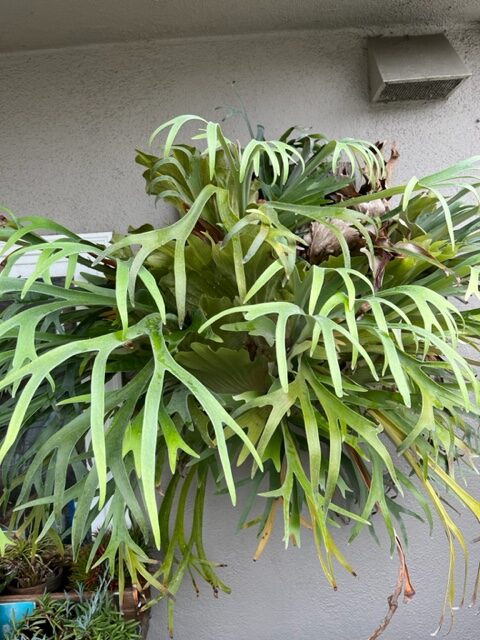 Check out this incredible staghorn fern (Platycerium sp., Zones 10–11 or as a houseplant). What a beautiful specimen!
Have a garden you'd like to share?
Have photos to share? We'd love to see your garden, a particular collection of plants you love, or a wonderful garden you had the chance to visit!
To submit, send 5-10 photos to [email protected] along with some information about the plants in the pictures and where you took the photos. We'd love to hear where you are located, how long you've been gardening, successes you are proud of, failures you learned from, hopes for the future, favorite plants, or funny stories from your garden.
Have a mobile phone? Tag your photos on Facebook, Instagram or Twitter with #FineGardening!
Do you receive the GPOD by email yet? Sign up here.