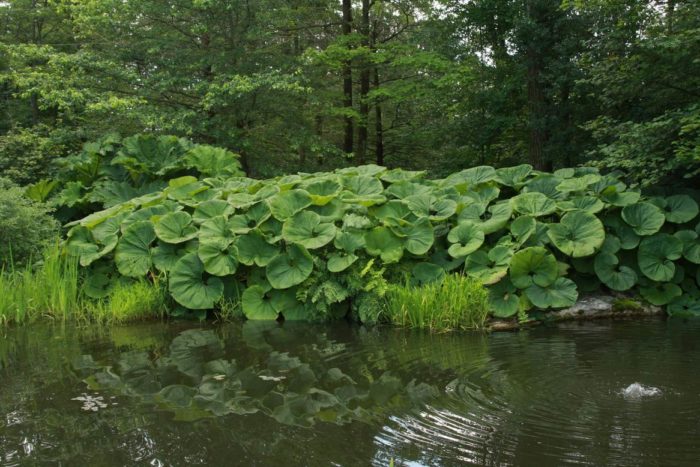 …back to the days of the dinosaurs. That's what it feels like when I see the stand of monster petasites leaves along the pond at Stonecrop Gardens in Cold Spring, New York! These things are humongous. This particular variety is the biggest of the big (Petasites japonicus var. giganteus, USDA Hardiness Zones 5-9), growing up to 4 feet tall with leaves up to 3 feet in diameter. Petasites, also known as fuki or butterbur, loves deep, rich, permanently moist soil in partial to full shade, making it perfect for swampy areas. But look out – this plant can get a little overzealous and start running around rampantly! The species isn't listed as invasive in our usual references, but I'll bet some of you have experience with it. Do you love it or curse it?
Welcome to the Fine Gardening GARDEN PHOTO OF THE DAY blog! Every weekday we post a new photo of a great garden, a spectacular plant, a stunning plant combination, or any number of other subjects. Think of it as your morning jolt of green.
Sign up to get new posts delivered to your inbox each morning so you'll always remember to take a look, or subscribe to our RSS feed. We look forward to sharing our garden travels with you.
R E A D E R   P H O T O S: We love featuring your photos, too. If you think you have a photo that we should share on the Garden Photo of the day, email us. Send hi-res images if possible. We'll only respond if we plan to use your photo.