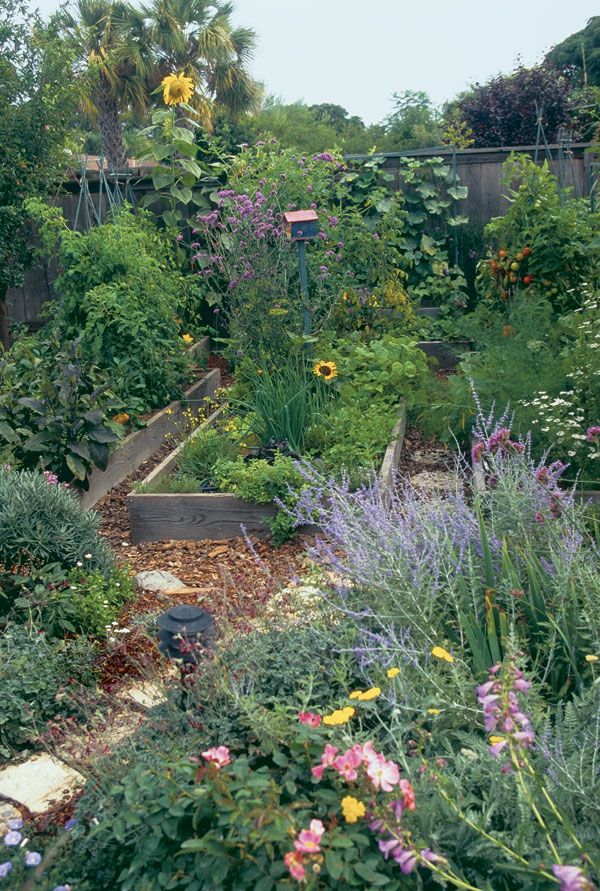 by Debora Carl
February 1997
from issue #7
My garden is my living room and dining room, a place where walls of trees and tile set off the rooms of outdoor living space, a place where beautiful plants are edible plants. The garden has become an outdoor entertaining area, too, with a cathedral ceiling that can't be beat, shades and textures that soothe and delight the eye, and earthy fragrances evoked by the sun and carried on shifting breezes.
Because of the hospitable southern California climate—I live north of San Diego—I use my garden rooms year-round. Entertaining there is a joy, in spite of bugs in the salad and bees on the herb plants. Fresh pickings are always included on the dinner menu, sow bugs and baby slugs excluded. Yes, there have been instances when salads have been accompanied by hitchhikers, regardless of the washing they've received. It's a small price to pay for couldn't-be-fresher produce that fills your plate and provides soothing green surroundings at the same time. And so far, we've managed to get rid of the little critters before our guests noticed.
As a chef, I cherish having the freshest ingredients at hand. I grow the varieties my family of four prefers, but I also like to experiment, and I peruse seed catalogs in search of the unusual.
My husband and I love to entertain. Sharing our home and garden seems natural to us. We work and play in the garden, cook and lounge in it, and my five- and seven-year-old boys lead our guests over its paths covered with redwood chips, eager to show off the current harvest among the herbs, citrus trees, and beds of vegetables.
Before starting on our kitchen/entertainment garden, we assessed what we had and figured out what we wanted. Our 110 ft. by 50 ft. back yard consisted of a black-bottomed pool surrounded by a lot of prehistoric concrete, a free-standing brick fireplace, a few poorly placed planting beds, and a lawn. What we wanted was living space expanded into the garden so we could entertain guests, enlarge our growing area, and create a safe back yard for the boys and their friends.
Redesign for growing and feasting
With the help of local landscape designer Linda Chisari, we planned a garden where family and friends could grill, eat and drink, and enjoy both the ornamental and culinary garden. But the vegetable garden was my priority. Early on, I set up three 12 ft. by 4 ft. raised beds in redwood boxes, built up the soil, and grew enough vegetables to keep me temporarily satisfied.
The first major step was tearing out all the concrete and lawn, and terracing the yard into two elevations. We resurfaced the upper pool level with Saltillo tile, and a wall, just the right height for sitting, now runs the length of the terrace. A child-proof, detachable fence was installed for safety. The larger, lower terrace at house level includes the garden beds, a built-in buffet, a smooth concrete circuit for the boys' roller blades and bikes, and everybody's favorite feature, the fireplace.
We extended the hearth to create benches that also provide extra seating for the dining table. We added 15 ft. of mantel to create an alcove for the grills behind the fireplace. With its seating capacity and the charm of a fire on a cool night, the hearth is an inviting space that includes pots of citrus and herbs ready to pick for the grill.
In the vegetable garden area, we built three additional redwood beds to give me more planting space and help keep the garden neat and attractive. The raised beds get lots of full sun, and I've improved the soil with compost until it's dark and rich. All of the garden is watered by a drip-irrigation system that allows careful allotment of water in this arid climate.
To create a sense of intimacy, we built a wooden pergola off the master bedroom. Boxes surrounding the posts of the pergola are filled with vining plants and culinary herbs. This is a quiet, cool space, linked to the rest of the garden by similar plants. The pergola, pool wall, buffet, terracing, and mantel lend a sense of stability and maturity to the surroundings that is typical of English gardens.
When construction was completed, I set out to add more heart and soul to my outdoor living space. Behind the pool wall, I planted 'Meyer' lemon, Mexican and 'Bearss' lime, 'Minneola' tangelo, 'Clementine' tangerine, 'Nagami' kumquat, and 'Washington' navel orange, along with eggplant, sunflowers, and summer squash like crookneck and zucchini. 'Flame' grape­vines are trained against the wooden fence. This "hedge" gives an illusion of depth to the garden. Everywhere in my garden you'll find terra-cotta pots full of bay, rosemary, thyme, and citrus.
A chef's choice of the best and the freshest
After 20 years of dealing with restaurant food purveyors, I really appreciate having a choice of fresh ingredients at my fingertips. Lettuces and salad greens such as giant red mustard, garden cress, sorrel, mizuna, arugula, mâche, frisée, and broccoli raab (rapini) produce from fall through winter into spring.
In summer and fall, I grow all types of tomatoes: 'Green Zebra', 'Mandarin Cross', Italian heirloom 'Costoluto Genovese', 'San Remo' plum, Japanese 'Pink Odoriko', 'Husky Gold', and 'Sweet 100'. Peppers include red and yellow bells, Thai, jalapeño, serrano, ancho, and Anaheim chiles. Among my favorite beans are 'Roc d'Or', 'Royal Burgundy' purple pod, 'Romano', and any of the French-style green beans. For cucumbers, I choose Middle Eastern 'Kidma' and Armenian 'Yard-Long'.
I also always have sugar snap peas, beans, carrots, strawberries, and broccoli, all of which are favorites of the boys to plant and harvest. You will also find fennel, several varieties of basil, numerous types of sage (common, purple, tricolor, and dwarf pineapple), tarragon, dill, and chives.
The garden often inspires my recipes, such as goat cheese, garlic, and thyme wrapped in grape leaves. My menus combine different dishes based on what's ready to harvest. For parties, I create recipes that use fresh ingredients and don't require a lot of last-minute preparation.
The charm of green surroundings
When you walk from my house into the garden, you are greeted not only by plants, but also by bees, butterflies, and hummingbirds. The sound of water trickling from a wall fountain is natural music to accompany the boys' voices. My garden is a place I slip off to for five minutes of repose. It is a place to return phone calls, a place to fold clothes. It is a place to enjoy the textures, colors, and smells of the garden, but above all to enjoy good company.
People love harvesting their efforts, whether in life or in the garden. The boys often join me in planting, weeding, observing, and of course, harvesting. Lately, my morning break has consisted of picking a handful of ripe loquats and eating them as I cruise the garden. My objective is to block new entry tunnels a family of skunks uses to wreak havoc in the vegetables as they search for grubs. My garden's not all perfect, and that's just fine.