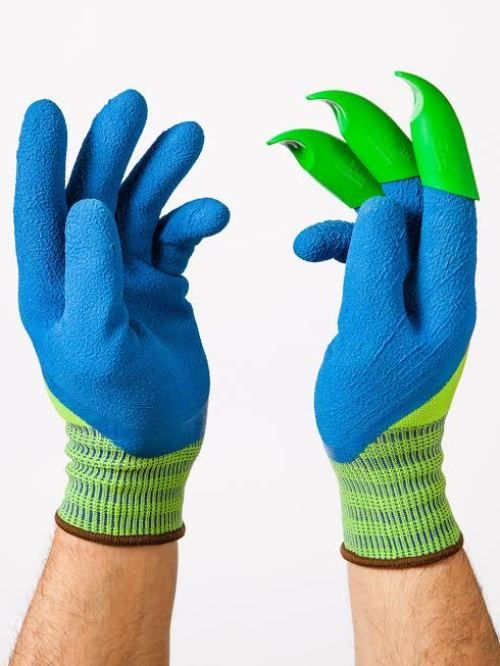 I have many, many (many) pairs of gardening gloves. My favorite stand-bys can usually be found in strategic spots throughout our gardens (when I actually wear gloves).
For a while now I've been watching a young start-up gardening glove company gardening glove that caught my eye immediately — Honey Badger Garden Gloves. The minute I saw them I knew that had to have a pair and I'll tell you why.
Whenever I'm messing around in any soil I end up having to dig smallish holes. Some times it's to plant seeds, sometimes to plant little starts, sometimes to dig up a weed.
They're too small for me to even consider hauling myself up from my knees and search for a full-sized shovel. In any case clearly I'm either very focused on the project at hand or very lazy (probably both), so I tend to use my fingers whether they are gloved or not.
The point is that I do my best not to get up and find (see that? find — I mean who knows where it is?) a helpful tool such as a hand shovel. So I make a couple of my fingers straight and keeping them firm, proceed to use them as a digging tool. Sometimes it works; sometimes it doesn't. For sure, the hole always ends up shallower than I wanted. But you guessed it, I'd just go ahead and call it good.
So one day I saw pictures of this crazy, totally useful garden glove idea that Aaron Ohan is sharing on Facebook. I messaged him asking "Why hasn't someone come up with this sooner??" The more I learn about tools, the more I find that the simplest adjustments make the biggest differences.
Once they were in production, Aaron kindly sent me a pair of his cool Honey Badger Garden Gloves. And they worked exactly the way I thought they would. Never before have I had gloves this tool-y (useful).
I LOVE them. I USE them.
They bad boys are waterproofed up to the knuckles and finish over the rest of the hand with a breathable, stretch polyester.  No more stressed fingers  while you dig your little badger's heart out because the claws are specifically designed to leverage hand strength. They fit both men and women and come in four sizes.
Now that I have congratulated myself for recognizing a great product when I see one, I'd like to congratulate Aaron Ohan on his brilliantly helpful garden-glove-tool.
Want some? Go to HoneyBadgerGloves.com.
Disclaimer: Yes, I was sent a free pair of HoneyBadgerGarden Gloves. No, I was not asked to give a review. The scenario went down exactly the way I described.