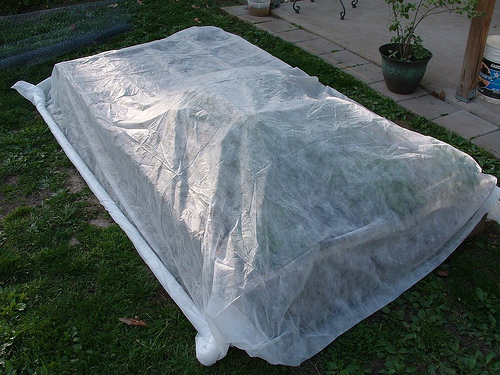 By throwing down just one hard frost, Old Man Winter can kill all but the hardiest vegetables in your winter garden – not to mention your ornamental plants. There are several ways to protect plants when you know the temperatures are going to take a dive.
Protect Vegetable Gardens From Frost
Of course, your vegetable garden should be loaded with cool-weather-loving vegetable varieties such as broccoli, cabbage, cauliflower, kale, and lettuce. Still, even these hardy fellows can succumb to the biting cold. I have removable PVC pipes bowed over my vegetable beds for just such a situation. I simply throw some heavy clear plastic over those hoops and viola! Instant cold protection (AKA: row covers). Instead of plastic, fabric especially designed for plant cover can be used as well as old bed sheets. These hoops also come in handy to toss bird netting over when I plant my tiny veggie starts in the spring.
If you have some vegetables growing in containers, bring them underneath the awning over the porch or into a greenhouse – and no, it doesn't need to be a heated greenhouse. Cardboard boxes are handy for placing over vegetables in the evening; just be sure to take them off during the day so they can continue to mature. I can't stress enough about the handiness of cold frames. Cold frames are a box type structures that are like a greenhouse without the heat or shelves. The top of the frame is usually made of glass and can open and close. I plant lettuce directly into my cold frames and leave the glass top partially open all winter.
Protecting Ornamental Plants From Frost
As far as other garden plants and trees, the first thing that you can do is bring potted plants underneath the eaves of your house. If they can't be moved or are planted in the ground, they can be covered with newspaper, cloth tarps, or burlap. Protect young trees as well as citrus by wrapping their trunk in burlap. Cardboard actually makes an excellent night time plant cover for perennials and shrubs. You can recycle by using old drapes or light blanket and sheets.
Plastic works well for some gardeners, too. But if you want to try using it, you'll want to use put stakes or bamboo into the ground around the plant so that the plastic is held away from the plant and doesn't touch the leaves. If the next day brings temperatures that are significantly higher than where they were in the night, the plant covers should be removed and then replaced in the evening. Most gardeners recommend removing all type of protection during the day if the cover is touching the plant.
If you don't mind a little expense, you can use an anti-transpirant on your ornamental plants. This type of product is the same one that is sprayed on Christmas trees to keep them fresh through the holidays. Anti-transpirant works by coating the foliage and holding in moisture. It continues to work for about three months, so you'll probably need to spray them twice to take them through the entire cold season. Anti-transpirant products are at their best in growing zones where the winters are mild, yet still bring a hard frost.
Although I haven't personally used an anti-transpirant in my vegetable garden, apparently there are some brands that say they're safe to use on edible plants.