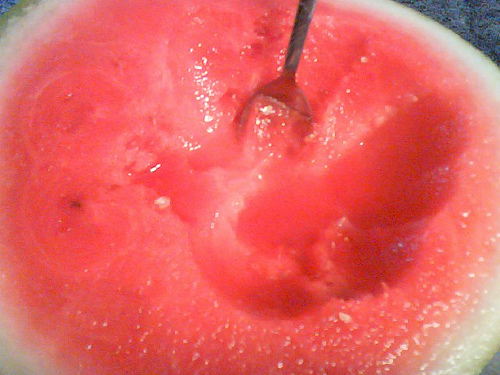 It's finally the growing month I've been waiting for (June is always the month I'm waiting for); my watermelon seedlings have made their appearance! This year I decided that I would only have room for two melon varieties, so I chose a couple of heirlooms. Heirlooms always call to me because not only are they rich nutrition and full of flavor, but they often come with a delightful heritage.
'Moon and Stars' Watermelon
The Amish 'Moon and Stars' watermelon is just such a variety. Not only does the large melon have super-sweet flesh, but it's also quite a looker if you ask me. The skin of Moon and Stars is a dark green with flecks of yellow sprinkled all over the rind. Even the leaves have the signature speckles. These are the "stars" on the melon. Among the stars, is a silver dollar-sized, full, yellow "moon". The flesh can be pinkish-red, yellow, or red (depending on the variety) and very sweet. It's also a great size for summer picnicking – these bad boys can grow to over 40 pounds!
Although Moon and Stars was often seen in seed catalogs in the 1920's, apparently while everyone's head was turned, this wonderful variety eventually disappeared. In the mid-1970s, Kent Whealy of the Seeds Saver's Exchange went looking for the watermelon that had been around since before 1900. While Kent was on a TV show in 1980, he mentioned the fact that he was searching for this heirloom melon. Smart man.
Yeah for Seed Savers!
A farmer that lived near Macon, Missouri, Merle van Doren, saw the show and gave Kent a call. He told Kent that he was, indeed, still growing the elusive variety to that day. Mr. Van Doren gave Kent Whealy some seeds from his melons and a picture was taken of Kent standing in front of the beautiful fruit. This was to be the picture featured in Mother Earth News in January of 1982 and the rush was on – everyone had to have this melon in their own garden.
You may come across Moon and Stars under other names such as Pink Flesh Amish Moon and Stars, Van Doren's Moon and Stars, Cherokee Moon and Stars, Long Milky Way Moon and Stars, and Yellow Flesh Moon and Stars. Just to add to the confusion, some of these are have a variation of the name because they are a different variety of the original, and some offer no difference at all. Just go with it – it's all part of the heirloom fun.
'Golden Midget' Watermelon
Admittedly, Golden Midget's humble beginnings don't compare to Moon and Star's claim to fame. But they're just as lovely and delicious. This fancy little melon was bred by Elwyn Meader and Albert Yeager by originally crossing 'Pumpkin Rind' and 'New Hampshire Midget'. They introduced Golden Midget in 1959. This is a gorgeous, 3 pound melon that's ready to harvest in a short 70 days. It's so early maturing that Golden Midget is one melon that's an excellent candidate for succession planting.
The skin is a warm, golden-yellow color when it's fully ripe. The salmon-pink flesh makes an amazing storybook contrast to the rind. Golden Midget has a refreshingly sweet flavor. By the way, because it has short, compact vines, it's the perfect variety for a patio garden and my suburban farm.