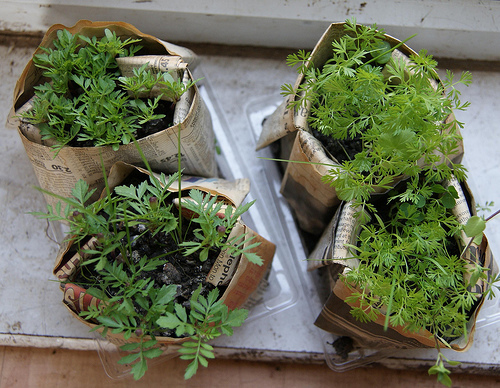 "Hardening off" is all about getting seedlings that were germinated indoors acclimated to the environment outdoors where they'll live out the rest of their lives. Even plants that are considered "hard to kill" will need to make some adjustments when going from the protection of your home or a greenhouse to the harsh realities of the outdoors. The just-toss-them-in-to-the-deep-end-of-the-pool theory doesn't work well in this case (probably in many cases). 
The first problem with transplanting seedlings directly into the garden bed without hardening off first is tiny seedling leaves and the sun. A couple of burnt leaves may translate to a minor injury on a mature plant. But for a baby plant, it could equal a dead plant considering seedlings have very few leaves to begin with.   
The sun isn't the only concern here; temperature fluctuations can be all over the place and aren't necessarily predictable — especially when it comes to specific micro-climates. Temperatures inside your home (and possibly under lights) are much more controlled compared to the outdoors (especially at night), which can be disastrous for tender seedlings.
One Way to Harden Off Seedlings
Through your own experimentation in your specific zone you'll come up with your personal technique for hardening off seedlings, but until then here's what I do:
Take my little ones outdoors under a protected/covered area for a couple of hours to start a 7 to 14 day hardening off process. Remember that this is under cover, not in a sunny spot in the yard. My preference is to get the seedlings used to the temperatures and breezes before I introduce the sun. After 2-3 hours, I bring them back inside.

After a couple of days vacationing in a shaded area, I place them out in the light for 1 hour (usually be morning sun because it's a gentler light than the afternoons sun). After their daily dose of sun, I pull them back into the shaded area until evening — then I bring them back into the house.

Day after day, I increase the time that they spend in the sun. After about a week, I let them spend the night outdoors in the covered or protected area.

The time they spend in the sun becomes longer and longer until I hit about two weeks after I first began the process. At this point I'm confident that they're ready to take on the world in their garden bed.
Do you always need two weeks to get the job done? Probably not all the time. It's going to depend on your growing zone (outdoor conditions), what type of seedlings, and where they'll finally reside. For instance, if I'm planting them in a spot that sees only morning sun then many times I don't need to get past a week or so because they're never going to need to acclimate to full sun anyway.
I promise you this: it is a big, fat let-down when you step outside to check on your future garden only to find that the little darlings you coddled and nurtured from seed for weeks and weeks have been fried to death because they were rushed along too quickly.