It is tempting to think of winter as a time to take a break from the garden while it goes dormant. But this season has a charm of its own, revealing plants in a brand-new light. Subtle colors, usually veiled by leaves or upstaged by blooms, become focal points in this quieter landscape.
This is a wonderful time to visit botanical gardens in your region to see what plants catch your eye. Look for a few cold-season stars that could complement your garden's existing winter palette. Make a winter-color wish list, and next spring, you can create plant combinations that will shine when the days get dark and cold again.
To get the seasonal inspiration started, I travelled to three outstanding Ontario gardens to see what looked good in their winter landscapes. On the following pages are some great options from the Toronto Botanical Garden, Whistling Gardens in Wilsonville, and the Royal Botanical Gardens' rock garden in Burlington. What will you find when you venture out to make your own winter-color wish list?
Carolina rose

(

Rosa carolina

, Zones 4-9)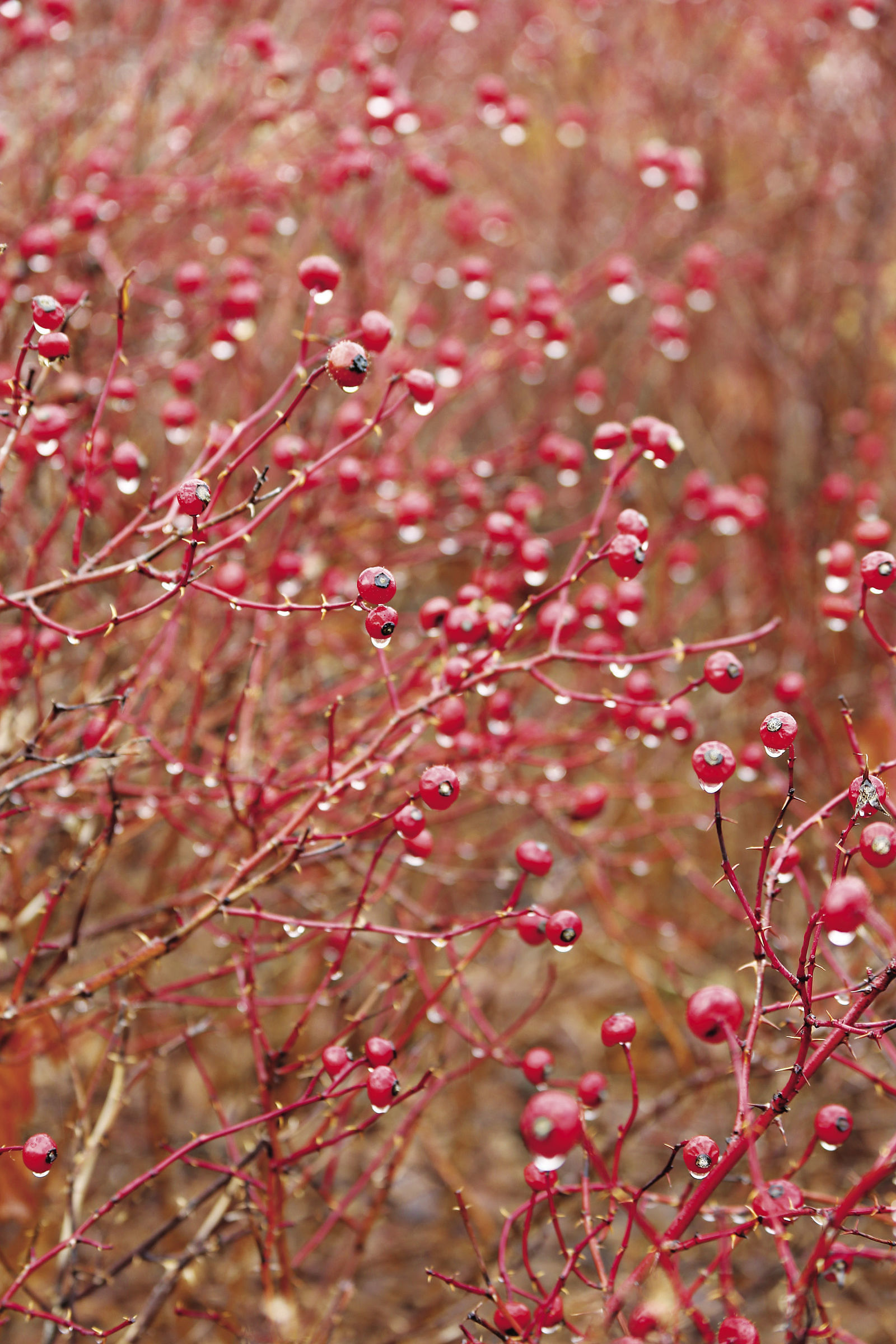 Colorado spruce

(

Picea pungens

'Procumbens', Zones 2-8)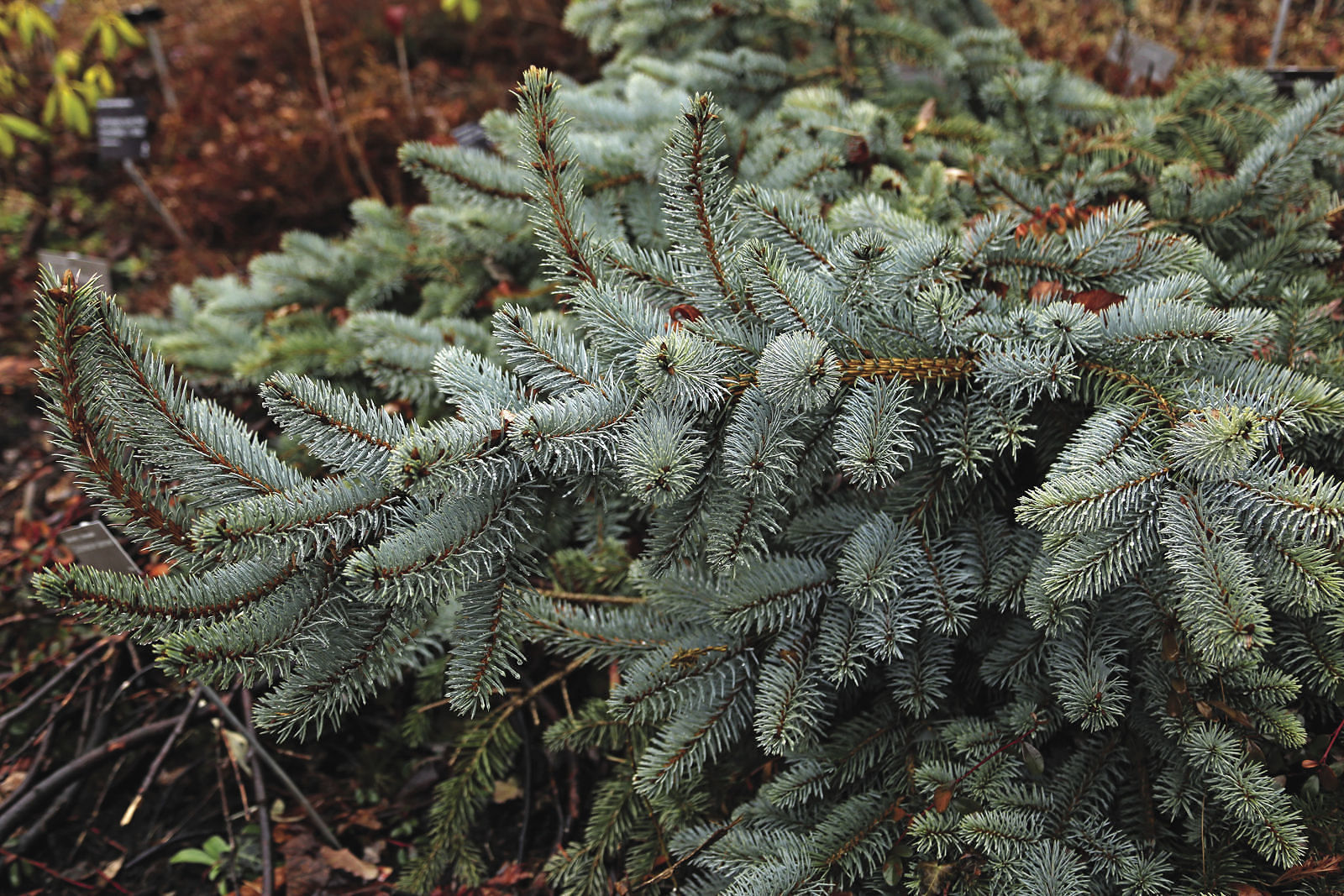 'Cloud Nine' switchgrass

(

Panicum virgatum

'Cloud Nine', Zones 5-9)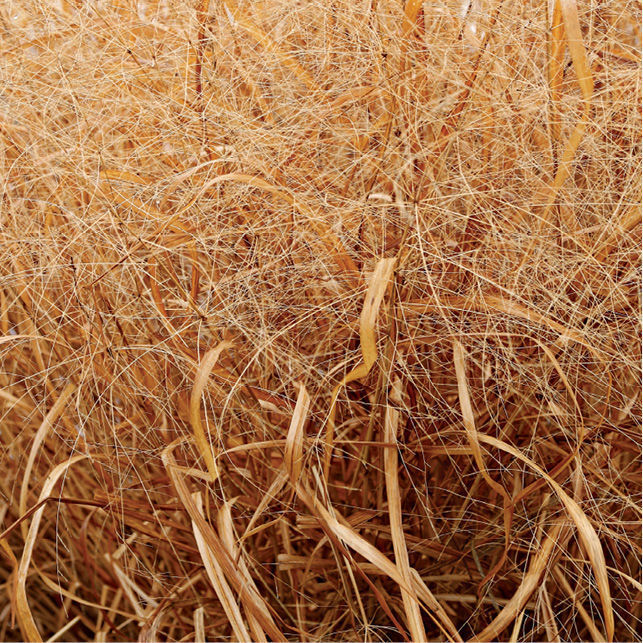 Dwarf Japanese yew

(

Taxus cuspidata

var.

nana

, Zones 4-7)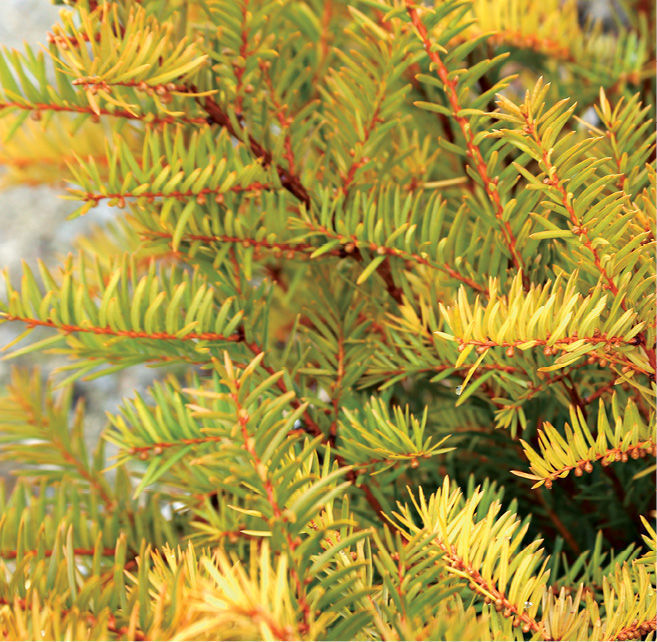 Red Heats up a Winter Scene
Bright stems and berries glow like beacons in the winter landscape. A little red goes a long way, and it's even better in masses.
Bloodtwig dogwood
(
Cornus sanguinea
'Winter Beauty', Zones 5-7)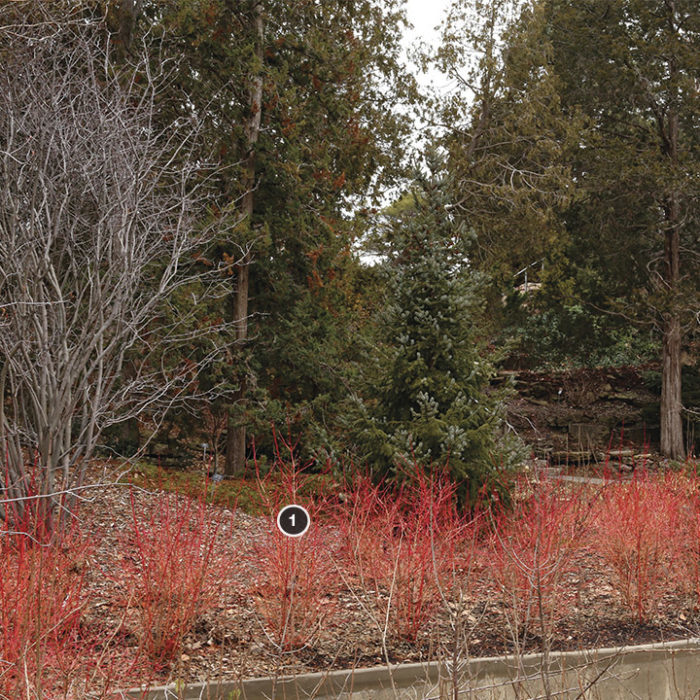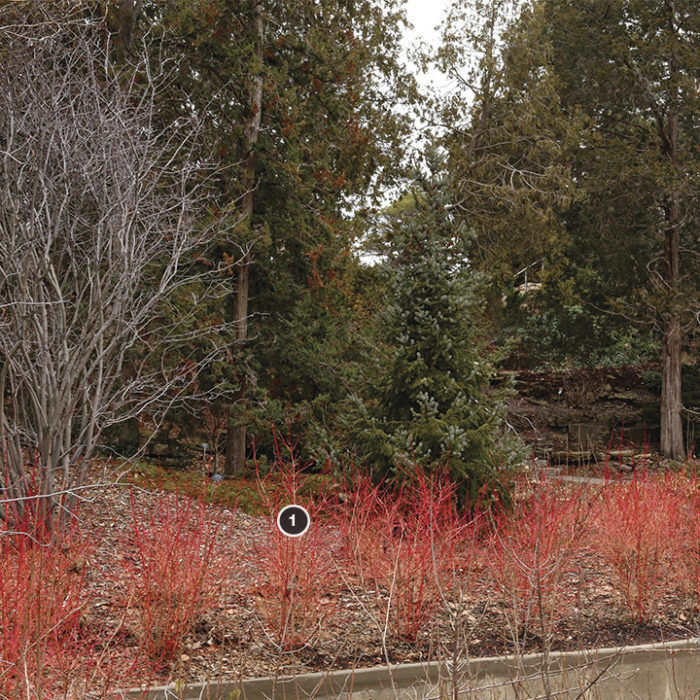 2. Bearberry cotoneaster
(
Cotoneaster dammeri
, Zones 5-8)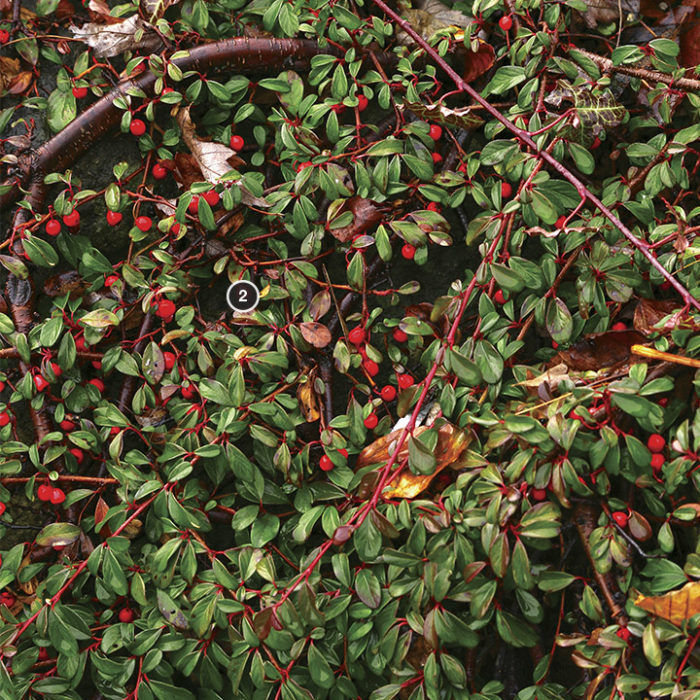 3. Paperbark maple
(
Acer griseum
, Zones 4-8)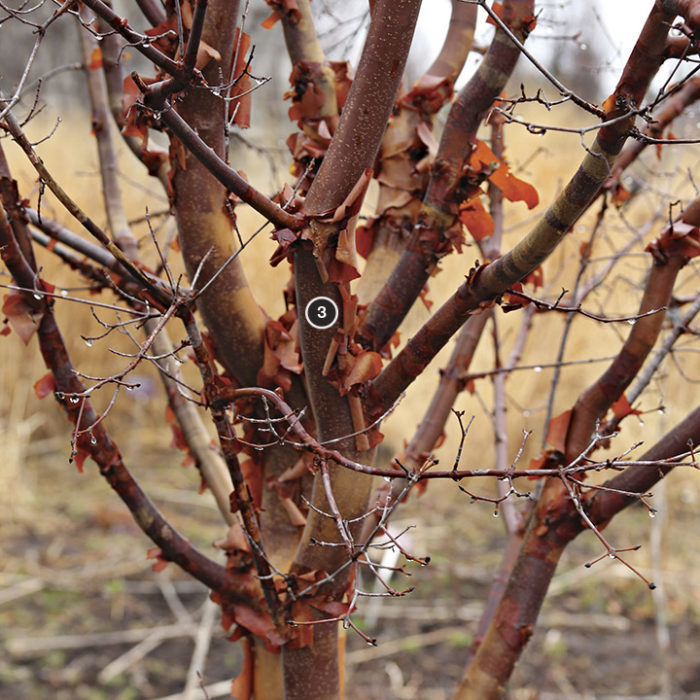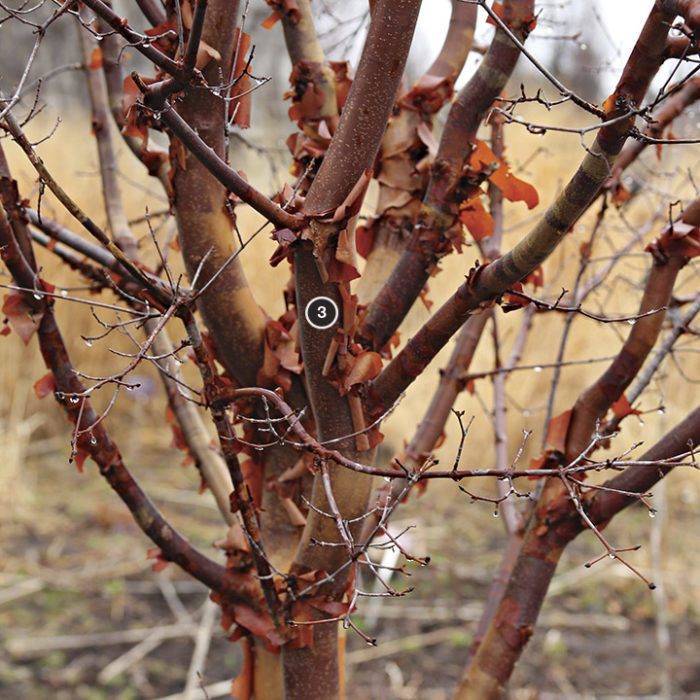 Go for the Gold
We crave sunshine this time of year, so gold and yellow are especially welcome.
Brighten a gray vista with a golden conifer, or plant a 'Primavera' witch hazel, which puts on a dazzling display of fragrant, canary-colored blooms in late winter.
1. Golden Scots pine (Pinus sylvestris 'Aurea', Zones 3-7)
2. Variegated threadleaf false cypress (Chamaecyparis pisifera 'Filifera Aureo-variegata', Zones 5-9)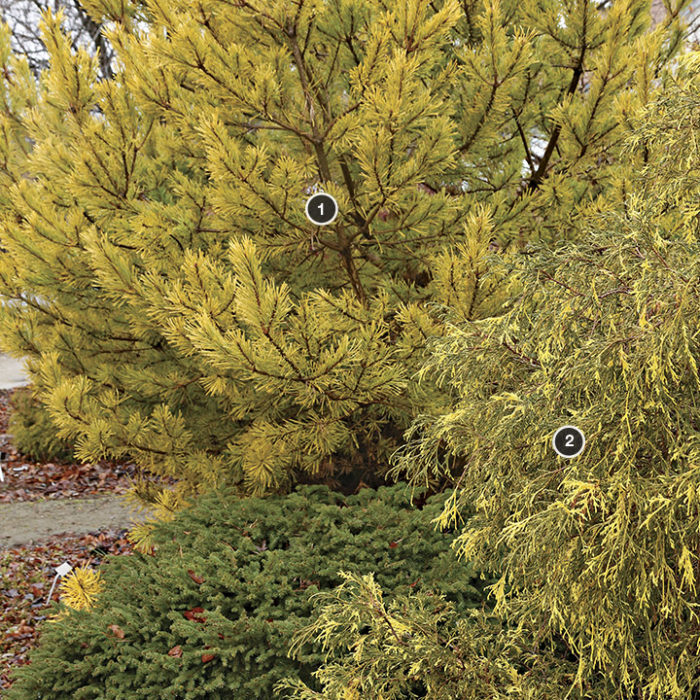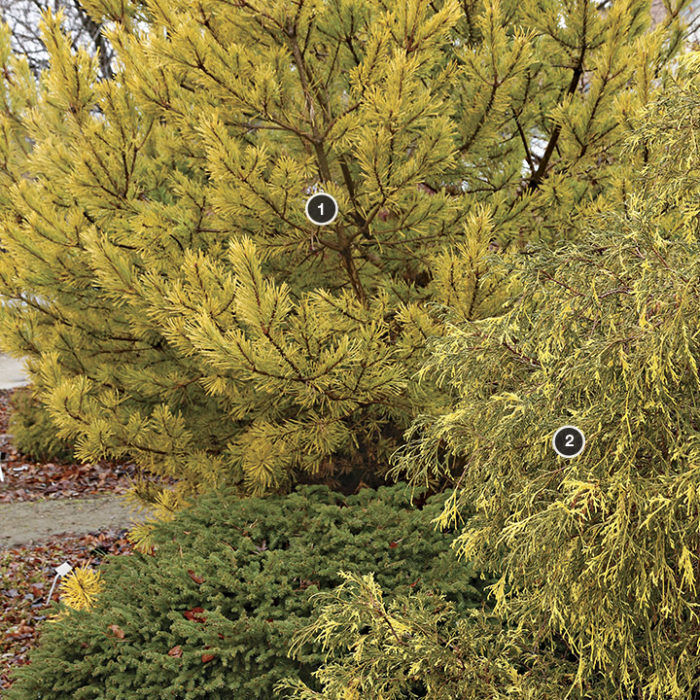 3. 'Primavera' witch hazel (Hamamelis × intermedia 'Primavera', Zones 5-8)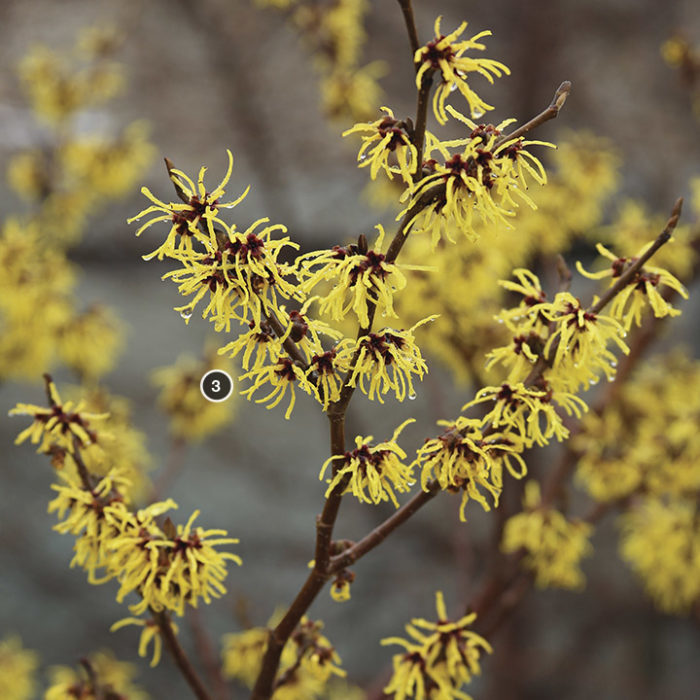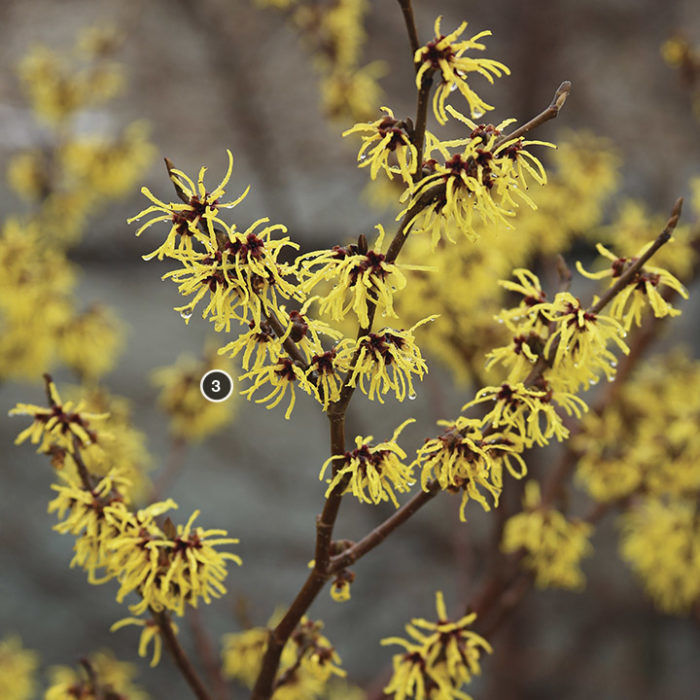 4. 'Aurea Jakobsen' Norway spruce (Picea abies 'Aurea Jakobsen' syn. 'Aurea Jacobsen', Zones 3-7)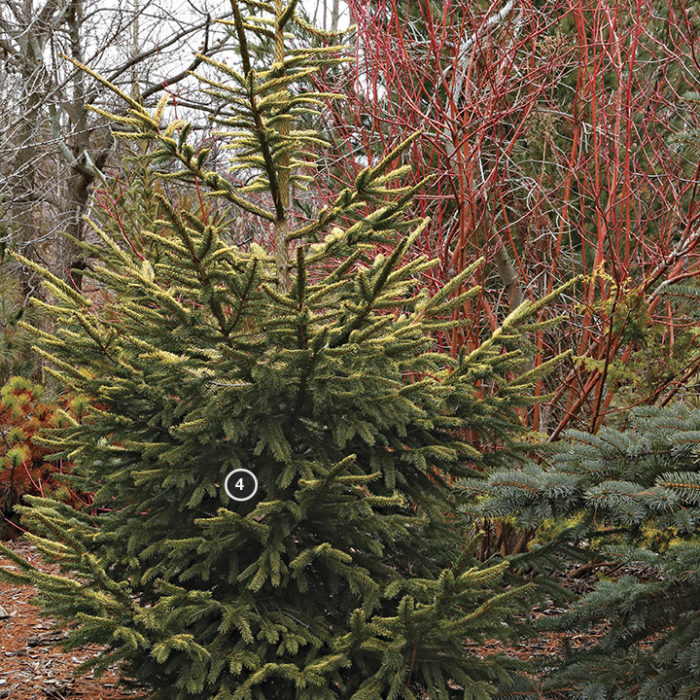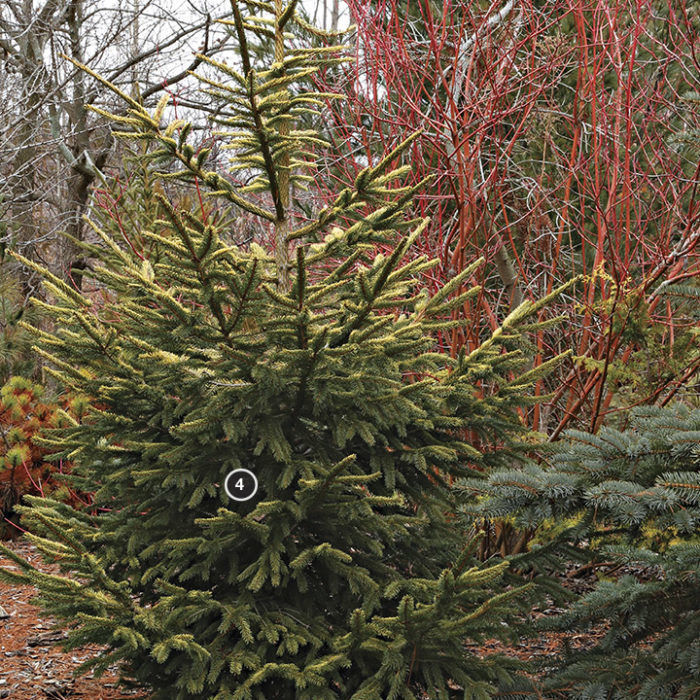 Everybody Gets the Blues
If you own a pair of jeans, you know that a good blue goes with almost any color. This hue is stunning against snow and also provides a cool counterpoint to warm and neutral colors when the winter weather is dry.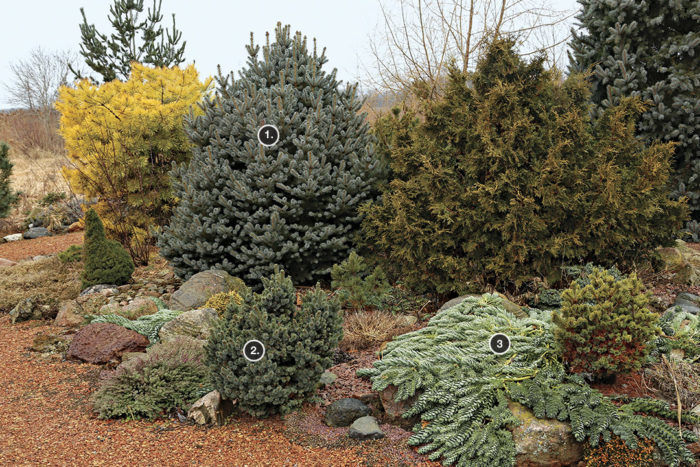 1. 'Corbet' Colorado spruce (Picea pungens 'Corbet', Zones 3-7)
2. 'Cecilia' white spruce (Picea glauca 'Cecilia', Zones 3-6)
3. Donkeytail spurge (Euphorbia myrsinites, Zones 5-9)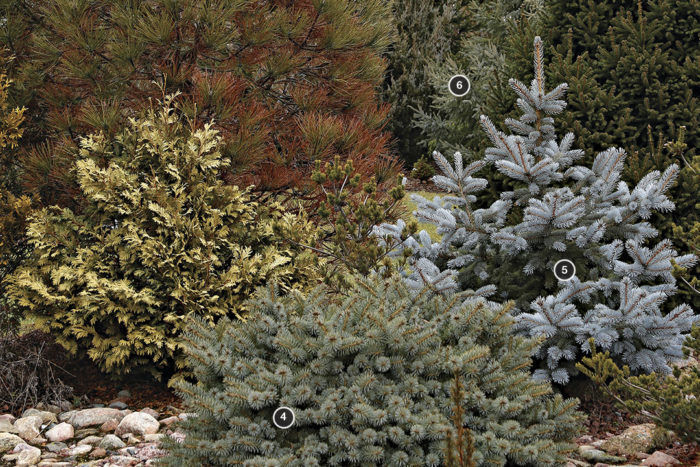 4. 'Woodstock' Colorado spruce (Picea pungens 'Woodstock', Zones 3-7)
5. Richardson's Colorado spruce (Picea pungens 'Richardsonii', Zones 3-7)
6. Black spruce (Picea mariana 'D
oumettii'

,

Zones 2-7)
Pale Colors Reflect Soft Light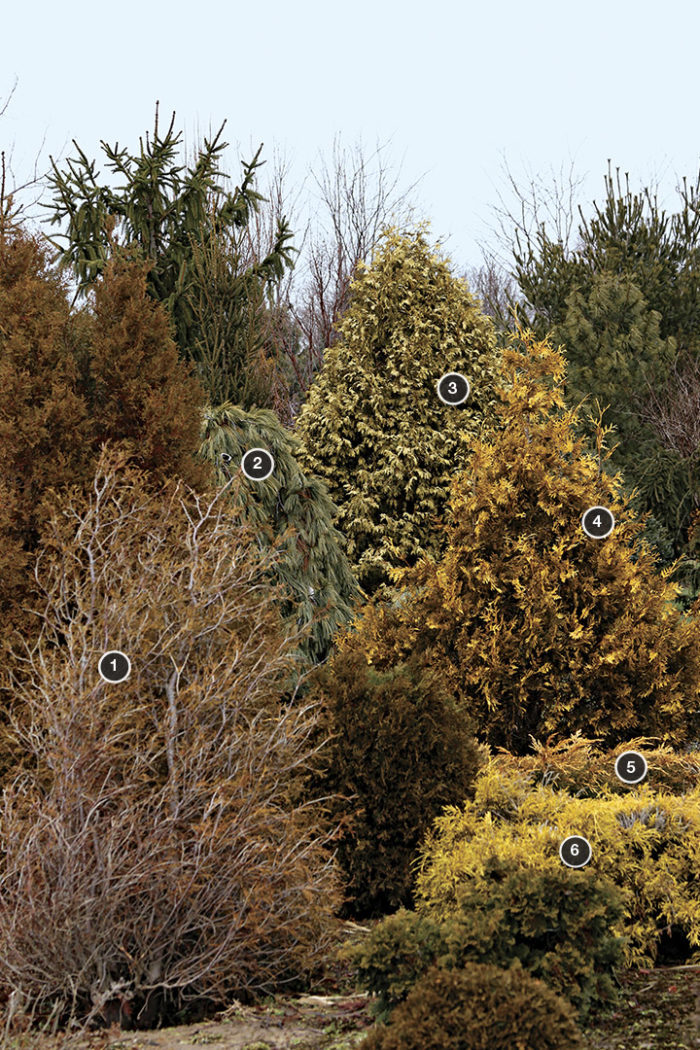 Why not add some shimmering highlights to your winter landscape? Open up a dark corner with reflected light, or create a combination with pale colors that play off of one another.
1. 'Tetragona' American arborvitae (Thuja occidentalis 'Tetragona', Zones 2-7)
2. 'Pendula' Eastern white pine (Pinus strobus 'Pendula', Zones 3-8)
3. '
Wareana Lutescens'

American arborvitae (Thuja occidentalis 'Wareana Lutescens', Zones 2-7)
4. 'Watnong Gold' American arborvitae (Thuja occidentalis 'Watnong Gold', Zones 3-7)
5. 'Daub's Frosted' juniper (Juniperus × pfitzeriana 'Daub's Frosted', Zones 4- 9)
6. 'Harvard Gold' false cypress (Chamaecyparis pisifera 'Harvard Gold', Zones 4-9)
This article first appeared under the title Start a Winter Color Wish List.
---
Design
Unexpected Sources of Winter Color
As you set out to compile your winter wish list, the brightest needles, bark, and berries may catch your eye first. But look more closely, and you'll discover many subtle and satisfying hues to complement your garden's off-season palette.
Bare Branches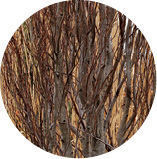 A 'Dawyck Gold' European beech (Fagus sylvatica 'Dawyck Gold', Zones 5 to 8) offers golden foliage in summer, but its silvery-purple bark takes center stage in winter.
Dried flowers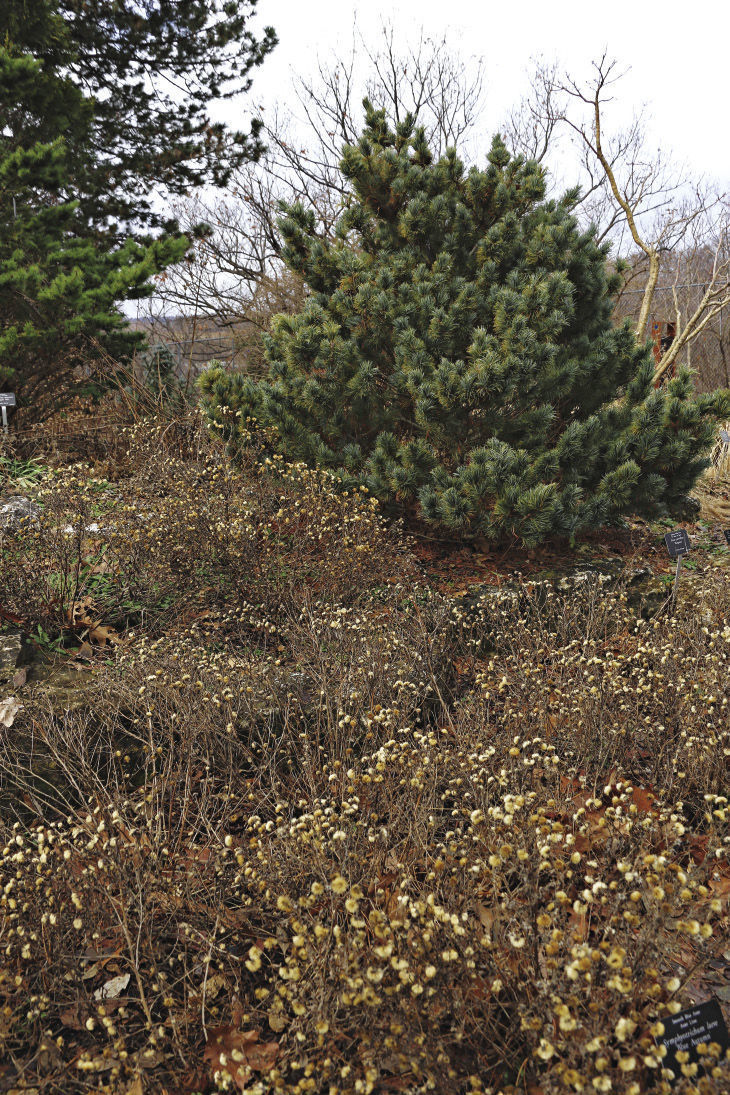 If you like to leave grasses standing for winter interest, consider doing the same with some perennials. Here, the seed heads of 'Blue Autumn' aster (Symphyotrichum laeve 'Blue Autumn', Zones 3 to 8) shine like little stars against darker stems and leaves.
Lingering foliage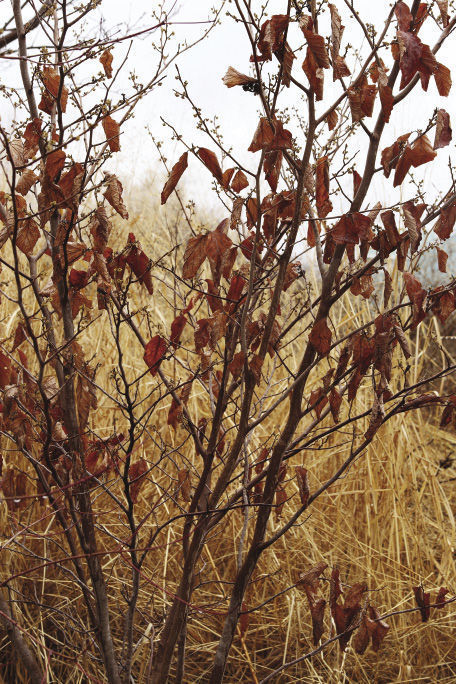 Some deciduous trees and shrubs, like this witch hazel (Hamamelis virginiana, Zones 3 to 8) hold their leaves through most of the winter, adding movement and a surprising amount of warm color to a cold-season scene.
Captivating cones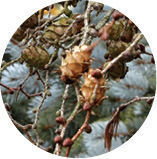 Deciduous conifers like 'Paper Lanterns' larch (Larix kaempferi 'Paper Lanterns', Zones 4 to 7) contribute fine texture from twigs and cones that echo both warm and cool colors of nearby plants.
---
Carol Collins is the assistant editor.
Photos by Carol Collins