1. White Frost™ Birchleaf Spirea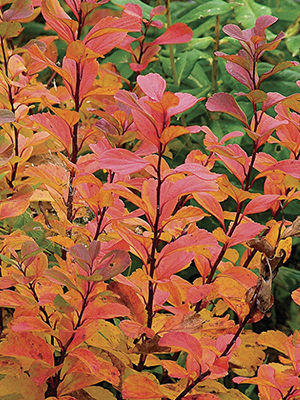 Name:

Spiraea betulifolia

'Tor'

USDA hardiness zones: 3 to 8

Size: 2 to 3 feet tall and wide

Conditions: Full sun; moist, well-drained soil

This lovely spirea has three-season appeal, with snow white flowers in spring and deep blue-green foliage through summer; the birchleaf-shaped leaves shine in fall in vibrant red to purple-red tones. Those of us who live in areas with a high deer population will appreciate the fact that White Frost™ birchleaf spirea is deer resistant. The shrub blooms on new wood, so wait until after it blooms to give it a light pruning to maintain its shape.
2. 'Viking' Black Chokeberry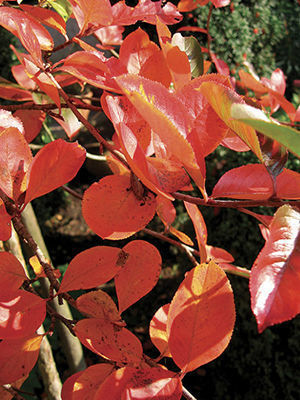 Name:

Aronia melanocarpa

'Viking'

Zones: 3 to 8

Size: 4 to 6 feet tall and 3 feet wide

Conditions: Full sun; moist, well-drained soil; tolerates boggy conditions

Chokeberry, one of the new "superfruits," is an increasingly popular choice for intense fall color in ornamental gardens. White flowers in spring and glossy green leaves in summer are followed by red fall foliage, punctuated by ½-inch-wide black fruit. 'Viking' black chokeberry produces more and larger fruit than other varieties. The fruit are intensely astringent, earning the name "chokeberry" because eating them raw leaves your mouth feeling sawdust dry. A light frost and cooking tames the fruit, which make excel­lent juices, jellies, and wine. With almost no insect or disease problems, this deer-resistant plant is easy to care for: In spring, remove any canes that are larger than 1 inch in diameter, cutting them off at ground level.
3. 'Wood's Blue' New York Aster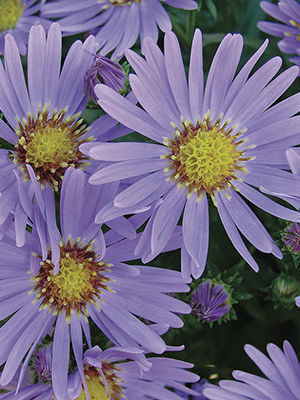 Name:

Aster novi-belgii

'Wood's Blue'

Zones: 4 to 8

Size: 18 inches tall and 12 to 15 inches wide

Conditions: Full sun; moist, well-drained soil; tolerates drought and heavy clay soils

By fall, many plants have finished blooming and people are looking for continuing garden color. 'Wood's Blue' New York aster vibrantly fits the bill. The plant is short, mounding, and covered with bright blue flowers, which are, in turn, covered with bees and fall butter­flies. Monarchs are frequent visitors, as are large fuzzy bumblebees. Unlike most New York asters, 'Wood's Blue' doesn't get rangy and fall over. It has excellent mildew and rust resistance, and deer don't like it. Its tolerance of all types of poor soils makes it a great choice for tough growing conditions.
4. 'Embers' Amur Maple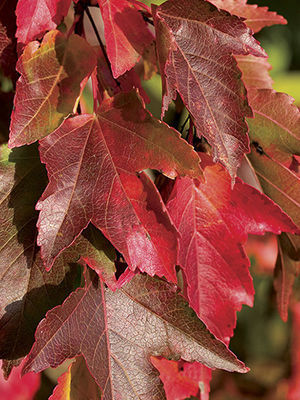 Name:

Acer ginnala

'Embers'

Zones: 3 to 7

Size: 15 to 20 feet tall and wide

Conditions: Full sun to partial shade; moist, well-drained soil

In the Northern Plains, we don't have many choices for bright red fall color in trees. Amur maple provides that vibrant color, grown as either a shrub or pruned to a single-trunk tree. Small, fragrant, early-summer flowers produce seeds called "samaras"; they are the "helicopter seeds" we played with as children. 'Embers' Amur maple has one of the most vibrant fall foliage colors and has bright red samaras. While 'Embers' is easy to grow, requiring little pruning, it does not tolerate high pH or poorly drained soils.

Mary Roduner works for South Dakota State University Extension as a consumer horticulture field specialist and state master gardener coordinator.

Photos: #1, Nancy J. Ondra; #2, #3 and #4, millettephotomedia.com.