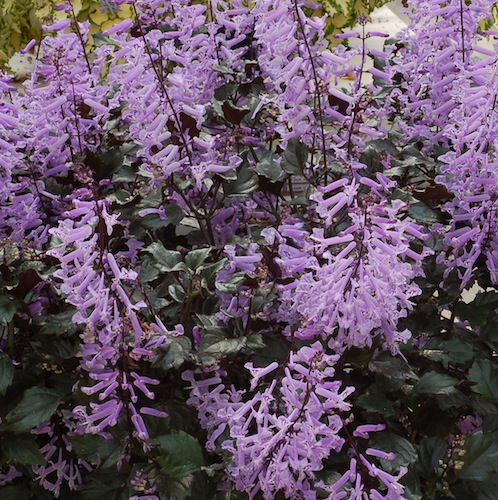 Charles Darwin wrote "Origin of the Species", laying out his theory of evolution. If Dan Heims, co-founder of Terra Nova Nurseries, Portland, OR, writes another book, I propose he call it "Origin of the Hybrids, Cultivars and Varieties."
"Luther Burbank is my rock star," Dan told me in a recent phone interview, referring to the botanical genius responsible for hybridizing so many of the tried-and-true plants we've become accustomed to in our gardens, like Shasta daisies, Elberta and Freestone peaches, Santa Rosa plums, and Russet spuds.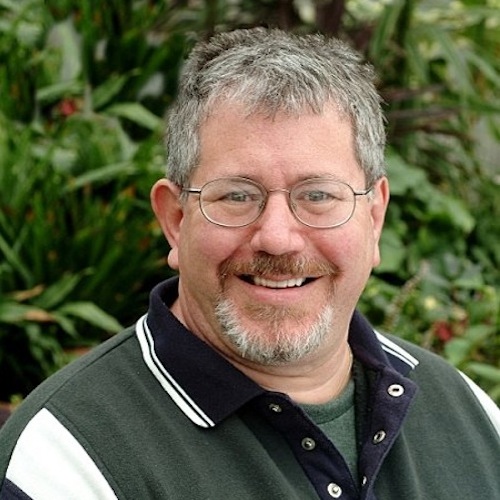 Heims is no plant-breeding slouch either, with ornamental plant introductions that include Helianthemum 'Razzle Dazzle', Heuchera 'Chocolate Ruffles' (over 120 other forms of coral bells have originated at Terra Nova), Lobelia 'Cranberry Crush' and Penstemon 'Crushed Grapes' (and I'm just getting started). These, and hundreds more were conceived in Terra Nova's many greenhouses, sometimes after more than 100,000 cross-pollinating attempts.
With a diverse educational and work history that included a botany minor, landscape architectural courses, contracting and construction, Heims has specific goals that go beyond mere appearance. This is not a cross-your-fingers-and-see-what-happens crapshoot. "I think about how the plants we develop will grow and behave in real gardens." Before plants are released to the market, they are tested and "trialed" by gardeners, designers and growers in a broad range of growing zones. Although many retail garden centers sell Terra Nova's plants with the company brand on the label, Terra Nova also sells and licenses their plants to well known growers like Proven Winners.
You might ask, "What's in it for gardeners outside of the Pacific Northwest's growing conditions?" Plenty. This zone 10, Santa Barbara designer (that's me) perused their list of new introductions for 2013 and found quite a few plants that would be right at home in my clients' Central California gardens. Others will thrive in the Deep South, and many would gleefully survive the winters in zone 4 and lower. (Well, maybe not gleefully, but they'd spring right back when the weather warms up.
Here are six plants that turned me on and a few design ideas about how to use them in your own garden.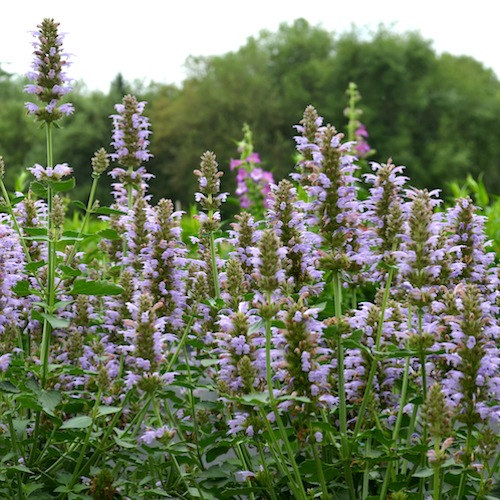 Agastache 'Kudos Silver Blue' (zones 5-10) is a summer flowering perennial with soft, clear blue flowers that rise above the deep green foliage. It has a refined, mounding appearance and would look great combined with various tints and shades of blue, especially other plants in the Lamiaceae (mint/sage) family.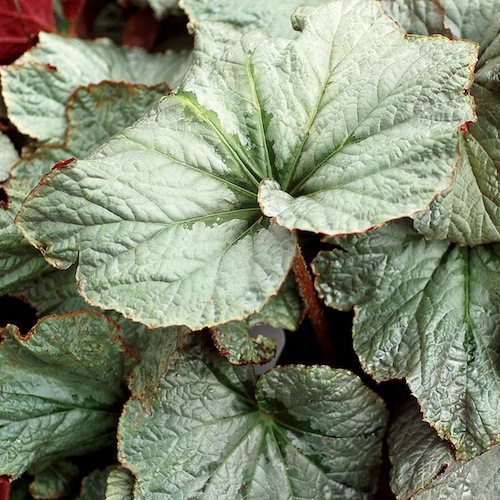 Begonia 'Cool Breeze Pewter' (zones 10–11) had me jumping up and down with its metallic gray foliage – the perfect foil (not an aluminum pun) for setting off any number of pastel-flowering shade plants. The leaves are satiny, accented by a dark green heart pattern in the center, and contrasted by a sultry red underside. A real standout.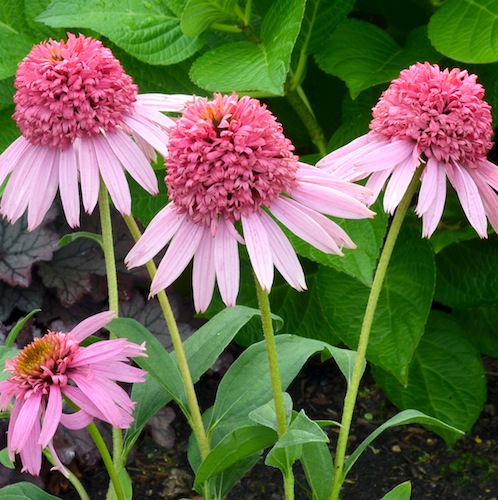 I haven't used any coneflowers in my designs, but here's one I'd like to get my hands on. Echinacea 'Meteor Pink' (zones 4 – 10) is strongly upright with a compact habit, just right for massing toward the back of a perennial border or intermixed with plants sporting deep burgundy foliage. It's a vigorous bloomer strutting its stuff summer and fall in full sun. Bonus: It attracts butterflies, makes a great cut flower, resists deer and drought, and is fast growing.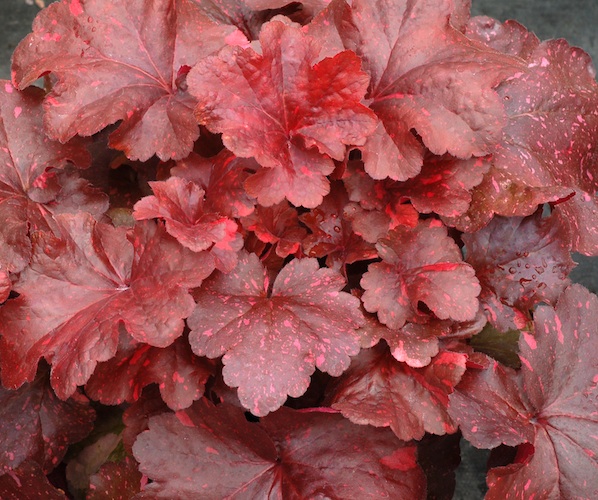 As I mentioned, the Heuchera genus is well represented at Terra Nova. The one that caught my eye is H. 'Galaxy' (zones 4 – 9). The leaves start off bright red, then deepen, while the contrasting splotches continue to brighten through the season. One design technique I use to create an analogous color scheme is combining burgundy (a deep form of red) with pale pink (red's tint), possibly pairing 'Galaxy' with a green-leaf Heuchera with pale pink flowers. According to Terra Nova's description, this coral bells stands up to heat and humidity, but is also quite comfy in cooler climates. Look for it to flowers from May through July.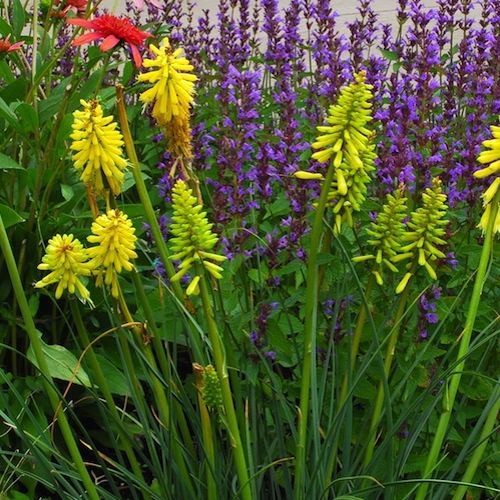 High on my list of plants to try out in a client's garden will be Kniphofia 'Lemon Popsicle' (zones 6-9), and not just because I have a sweet-and-sour tooth. Unlike lots of poker plants that have short blooming periods and less-than-orderly foliage, Terra Nova's Popsicle series have a dwarf habit, great grassy foliage, a very long blooming period and short flower spikes that put on a show spring, summer and fall. Look how it pairs with dark violet flowers that share its vertical stance.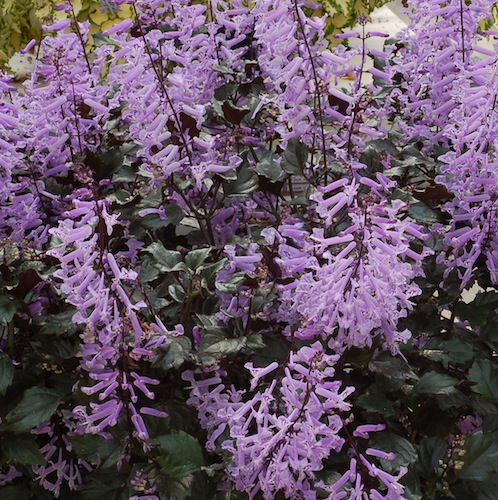 Last up, if only for the intriguing name, is Plectranthus 'Velvet Elvis' (zones 9-11). Really, that's its name. No, it's not because, like its namesake, these deep lavender-flowering shade plants like scarfing down peanut butter, banana and bacon sandwiches. (Actually, I forgot to ask Dan the story behind the name, but no matter.) 'Elvis' is more compact than its P. 'Mona Lavender' cousin and the leaves are a deeper green. It's a fast-growing, stoutly shrubby perennial that's great in mass plantings or as a star performer in containers. For those of you gardening in mild climates, it's a sight to behold planted under a Jacaranda tree, as the tree's fading lavender flowers pile up around the base of this perennial.
Well, that's my round up of new plants to look for as the 2013 planting season rolls around. In a few weeks I'll be posting more new plants — this time with a slightly more SoCal emphasis – from my buddy Randy Baldwin at San Marcos Growers. Until then, check these out and let me know which ones float your boat.