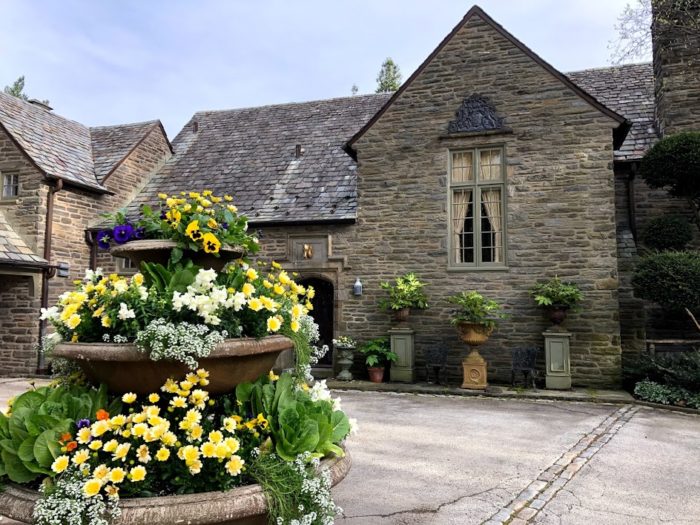 My name is Julie Bare, and I work at the Pennsylvania Horticultural Society's Meadowbrook Farm in Jenkintown, Pennsylvania. I studied horticulture at Temple University Ambler and have been working as the estate gardener at Meadowbrook for the last six years. I absolutely love what I do! It is truly a blessing to be able to come to work every day and put my hands in the dirt. I love watching the seasons come and go, along with the insects, wildlife, and blooms. I live in Philadelphia and have a very small backyard garden, so I really think of the garden at Meadowbrook as "my" garden.
Meadowbrook Farm is a 25-acre garden with a plant shop as well as a wholesale growing operation (we grow lots of the plants for the Philadelphia Flower Show). The estate was the home of J. Liddon Pennock and Alice Herkness Pennock. They built the house in 1936 and immediately started planting the garden, starting off of the back of the house. The part of the garden at Meadowbrook that I take care of is the formal bit that surrounds the house. It is laid out on two terraces and consists of garden rooms, each with its own theme, that are separated by hedges or stone walls. The garden is designed on linear axes with gazebos, fountains, or structures at the terminus meant to direct your eye. We have a number of water features, so wherever you are in the garden you can hear the sound of running water.
The garden bones are a variety of evergreen woody plants (rhododendron, aucuba, pieris, cherry laurel, hollies, and more) that we accent each season by planting hundreds of annuals and containers. Spring is a particularly beautiful time in the garden, with the dogwoods, azaleas, and daffodils blooming.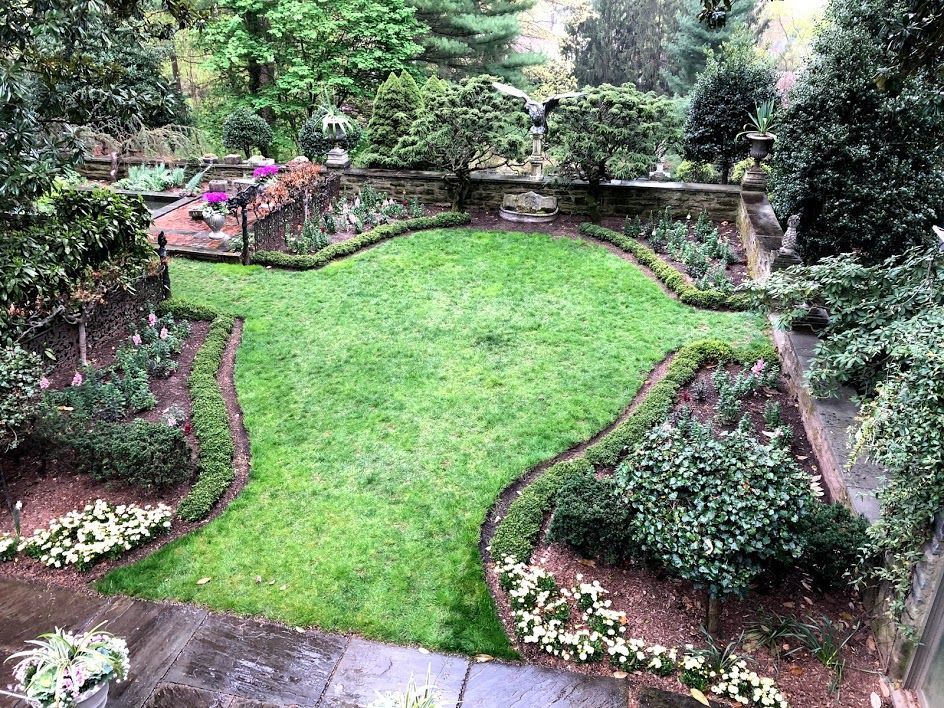 This is a view of the Eagle Garden from the second-floor balcony. The Eagle Garden is off the back of the house and was the first garden created. It features an eagle statue flanked by two cloud-pruned hemlock trees that take my coworker and me two days to prune every year in March. They are beautiful specimens! Their bark and branch structure is gorgeous. This garden also has four beds we plant seasonally with annuals. This spring we planted snapdragons (Antirrhinum majus, annual). On the right, you can see an evergreen border of rhododendron, pieris, and hollies. On the left we have aucuba (Aucuba japonica, Zones 7–9) and two espaliered copper beech trees (Fagus sylvatica, Zones 4–7). Mr. Pennock was a big fan of unusual pruning, and so am I!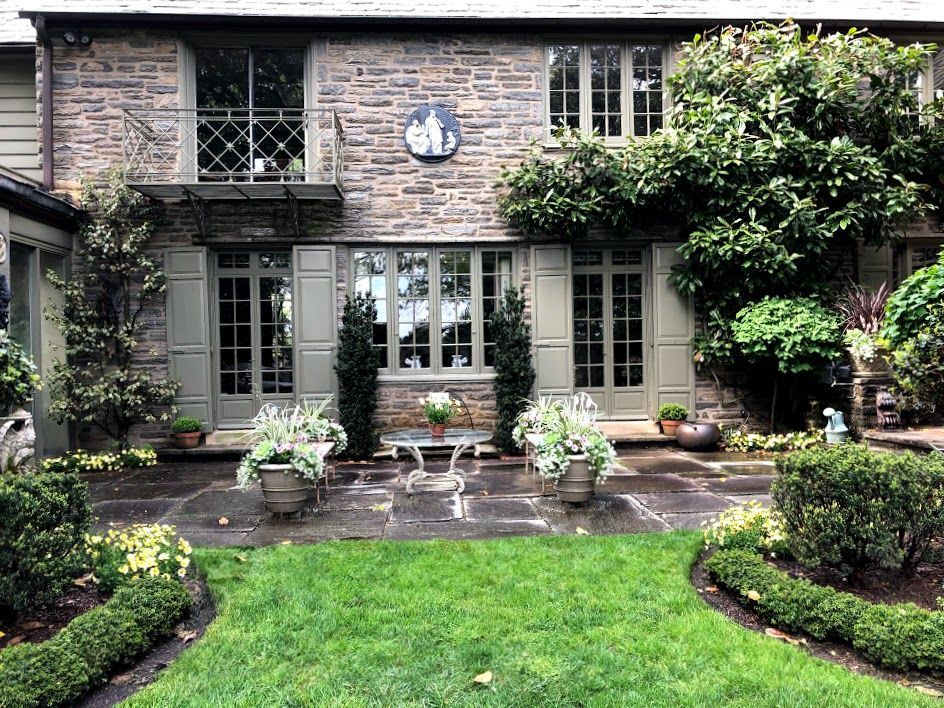 Here is a view of the back of the house. We are still in the Eagle Garden, but we are facing away from the hemlock trees. We call this the Eagle Garden patio. It is a wonderful microclimate because the stone of the house and patio retains a lot of heat and it has a direct southern exposure. On the wall we have an espaliered Magnolia grandiflora (Southern magnolia, Zones 7–10) on the right and a camellia on the left. On the right there are also two Viburnum carlesii (Korean spice viburnum, Zones 4–7) that we train as topiary. When they are in bloom the fragrance is lovely!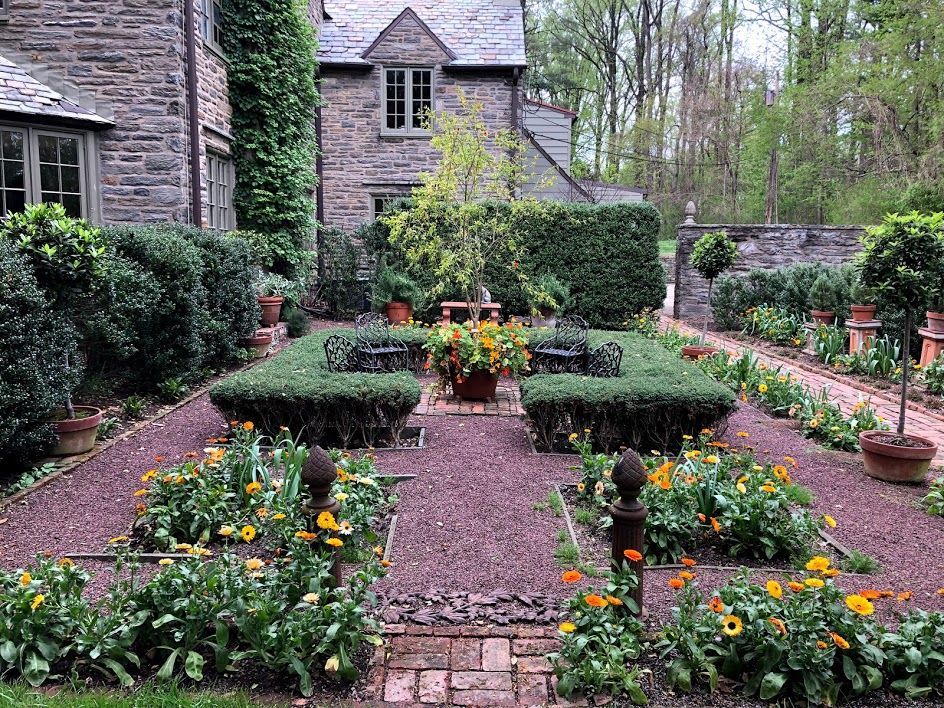 This is the herb garden. It contains many perennial herbs such as thyme, sage, lavender, and oregano. It also contains more unusual medicinal plants such as Asarum europaeum (European ginger, Zones 4–7), Hydrastis canadensis (goldenseal, Zones 3–8), Teucrium chamaedrys 'Nana' (dwarf germander, Zones 5–9), Cardamine diphylla (two-leaved toothwort, Zones 3–7), and Satureja montana (winter savory, Zones 6–11). In the spring we plant it with calendula while we wait for the perennials to emerge. This year the calendula we chose was a variety called 'Flashback Mix' that had beautiful shades of yellow, orange, and white—and the flowers are edible!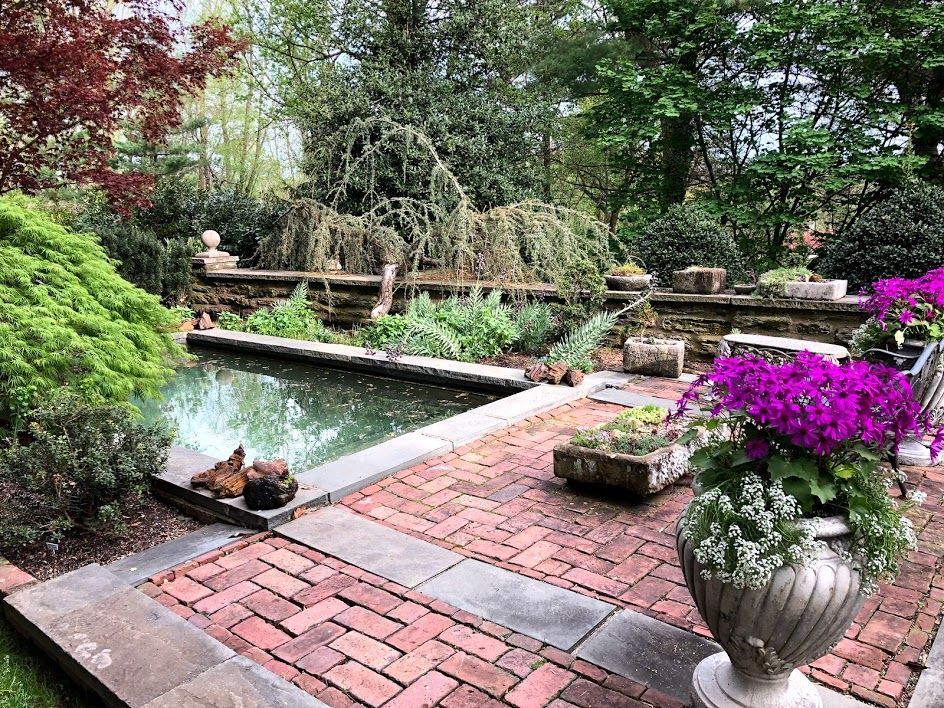 The dipping pool garden is one of my favorite spots in the garden. I love the texture from the Japanese maple (Acer palmatum, Zones 5–9) and the arching branches from the weeping blue atlas cedar (Cedrus atlantica 'Glauca', Zones 6–9). In this garden I planted Fritillaria persica (Persian lily, Zones 5–8), a really neat bulb that has wonderful glaucous foliage and a dark purple, almost black, flower. In addition to the fritillaria, we have two unusual varieties of Osmanthus, 'Hariyama' and 'Kaori Hime' (Zones 7–9) both of which seem to be very slow growing. There are also a number of troughs planted with alpine and rock-garden plants in this garden.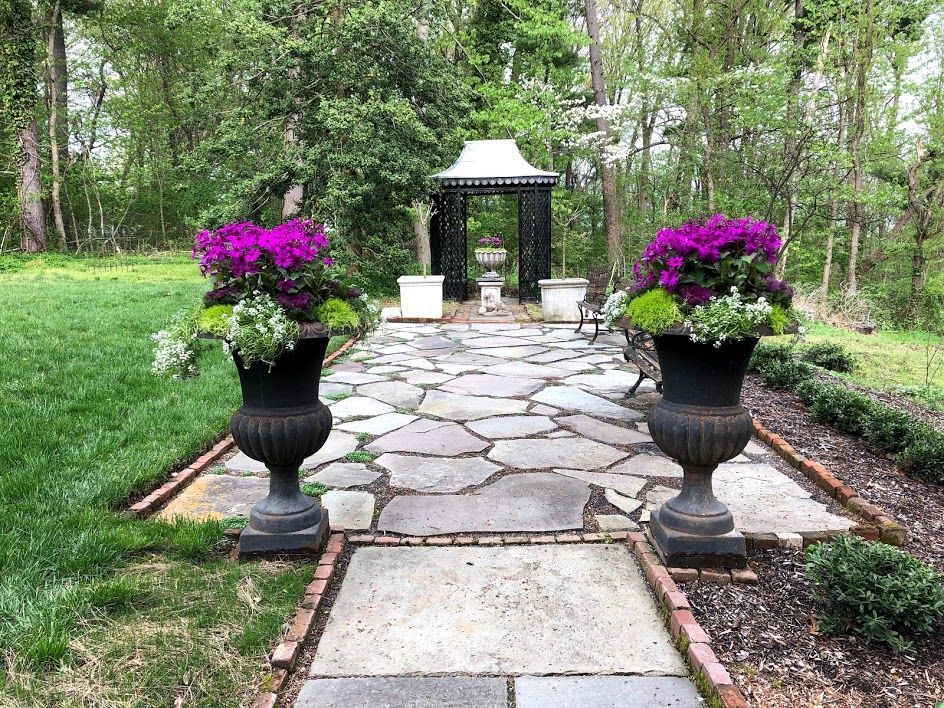 The Queen's Garden is an area that I am very proud of. We have been making lots of renovations to this garden over the past few years. This was somewhat of a forgotten space when I started gardening here, but it continues to improve every year. Two years ago we swapped ugly white gravel for an irregular bluestone patio planted with plants that tolerate light foot traffic. This garden historically had a boxwood hedge around the patio area, but shade from nearby white pines caused it to die out in some places, which ultimately led to it being removed. Last year we began the process of planting a new hedge. I selected Ilex 'Hoogendorn', a variety of evergreen holly that gets about 3 feet tall and wide. I have 26 plants waiting to go in the ground this season to finish the hedge off on the left side.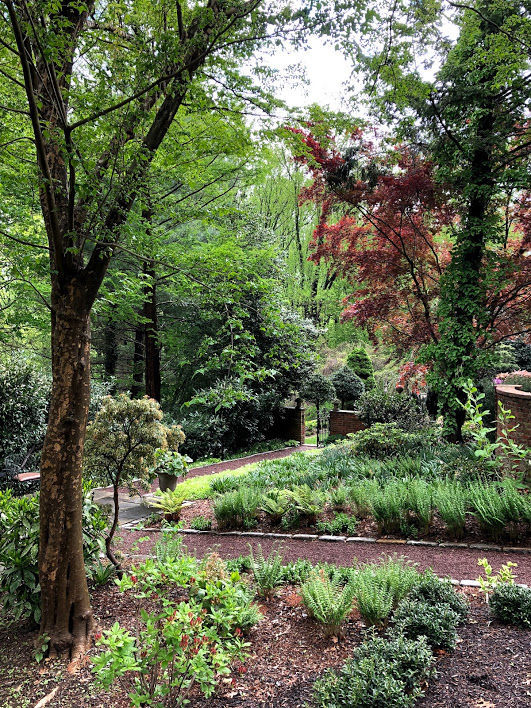 The Muse Garden is another area that I have been working hard on for the past few years. If you turn around from the Queen's Garden, you are facing the Muse Garden. It used to contain primarily ivy, pachysandra, and a few white pines. I began removing those invasive ground covers little by little and planting perennials. Now we have a nice herbaceous layer of Narcissus 'Thalia' (a beautiful white daffodil), Sedum ternatum (woodland stonecrop, Zones 4–8; a shade-tolerant, native sedum), Polygonatum humile (dwarf Solomon seal, Zones 4–8), Polystichum acrostichoides (Christmas fern, Zones 3–9), and Polystichum polyblepharum (tassel fern, Zones 5–8). I also planted Deinanthe caerulea (false hydrangea, Zones 5–7), which is a great herbaceous plant with blue flowers in the Hydrangeaceae family, and the rare evergreen Trochodendron aralioides (wheel tree, Zones 6–7), which gets about 20 feet tall.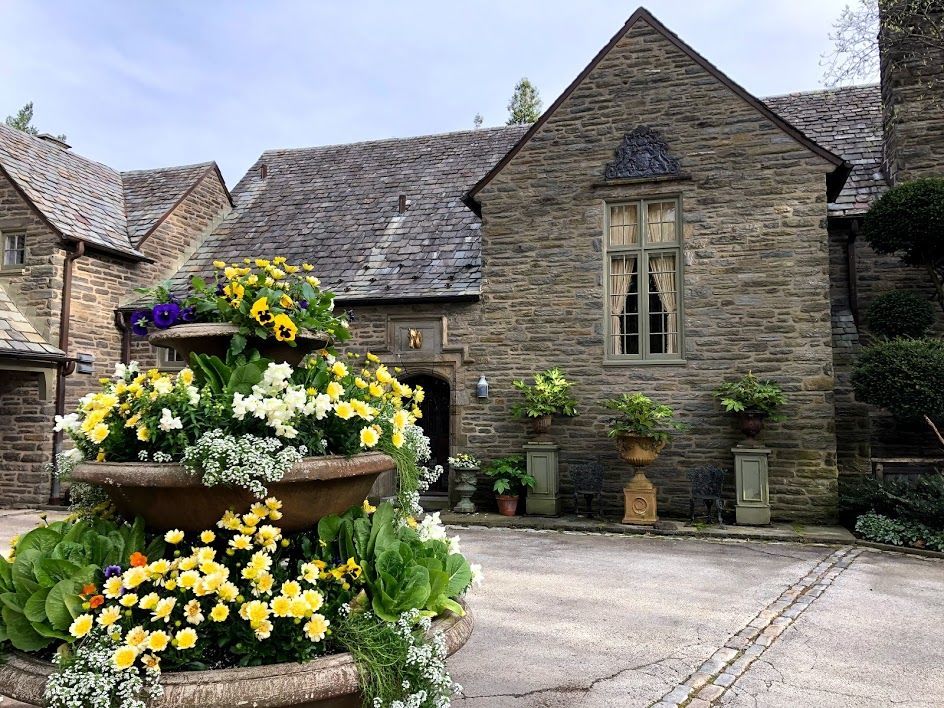 This last image is a view of the house that provides the backdrop for most of the garden. The stone used to build the house was sourced locally from a Chestnut Hill quarry, and in the right light it appears to sparkle. The three-tiered container is a nonfunctioning fountain that we decided to use as a planter, and it is the first thing to greet you as you walk up the driveway to head to the garden.
Have a garden you'd like to share?
Have photos to share? We'd love to see your garden, a particular collection of plants you love, or a wonderful garden you had the chance to visit!
To submit, send 5-10 photos to [email protected] along with some information about the plants in the pictures and where you took the photos. We'd love to hear where you are located, how long you've been gardening, successes you are proud of, failures you learned from, hopes for the future, favorite plants, or funny stories from your garden.
If you want to send photos in separate emails to the GPOD email box that is just fine.
Have a mobile phone? Tag your photos on Facebook, Instagram or Twitter with #FineGardening!
You don't have to be a professional garden photographer – check out our garden photography tips!
Do you receive the GPOD by email yet? Sign up here.