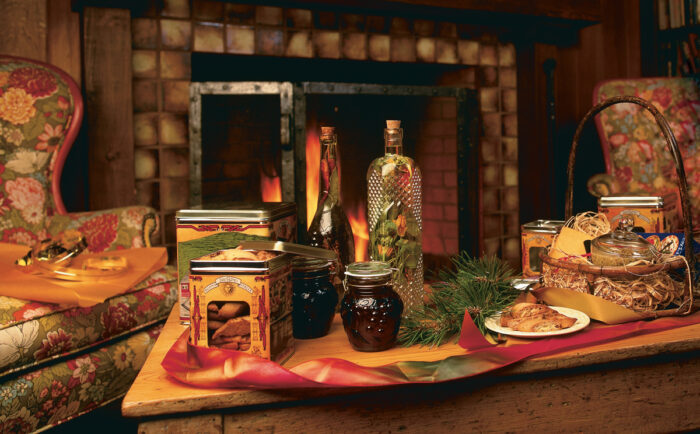 My childhood Christmases sparkled with packages of homemade gifts from near and far. There were jars of jams from an aunt in Chicago, tins of carefully aged spice cookies from a friend in the Napa Valley, fragrant cakes, flaky strudel, and lacy Swedish fried rosettes from friends in town. When I got married, I continued this delicious tradition of gifts from the kitchen, only it was doubly exciting because they were from our kitchen. My husband, it turned out, had a knack for cooking and preserving.
Later, when our garden flourished, we were thrilled at being able to create gifts with our own herbs, fruits, vegetables, and flowers. I have long believed that handmade gifts are best-prepared, as they most often are, with more love and time than money. Gifts made by hand from the pride of one's garden-what could say more clearly, "This comes with extra love and caring."
Christmas all year-round
Because I am a worrier and a saver, I am happiest when we make our gifts all during the year. By December, cupboard and freezer shelves are sagging. We begin when strawberries come in season, the first fruit of the year. They inaugurate the brandied fruit conserve my mother always made. She called it Sept Fruits, French for Seven Fruits, but it is also known as Tutti-Frutti and as Rumtopf, a version with rum.
As they come into season, equal quantities of fruits that have been pitted, peeled, and sliced as needed, are laid down in a big crock or glass jar. An equal weight of sugar is gently stirred in, then the mixture is topped off with brandy. Our fruits are usually strawberries, apricots, sweet cherries, peaches, plums, nectarines, and raspberries. The crock is taped closed after the last fruit has been added, then kept as cool as possible until December. Then we open it up, blend the mixture thoroughly, and ladle the conserve into pint jars with a note on the label, "Serve hot over ice cream or at room temperature as an accompaniment to rich meats."
In spring, from the little trees sheltered in the greenhouse, we make orange, lemon, and mixed-citrus marmalades. In summer, there are chutneys from tomatoes and plums, crunchy pickles from West Indian gherkins, tangy relishes from sweet and hot peppers, and umpteen freezer breads from summer squashes. Then in autumn, my husband makes his world-famous pomegranate jelly, I make apple butter, and we bake and freeze pumpkin cookies and brandied persimmon cakes.
Then suddenly, it's December, and the sagging shelves are emptied, their contents wrapped and on their way. But invariably, there is a last-minute scramble. There are always new friends not entered on the years-old list, and when the children were at home, someone always seemed to suddenly need a gift for a special friend.
Christmas at the last minute
The great pleasure is that, one way or another, our garden always gives us the wherewithal for last-minute gifts. When it has been a mild autumn, there are even a few edible flowers such as calendulas and thymes in bloom to decorate bottles of vinegar. There are the perennial herbs that overwinter indoors in pots, the likes of scented geraniums, sages, peppermint, 'African Blue' basil, Spanish lavender, and bay-splendid for flavoring sugars, jellies, butters, and fresh cheeses. And there are always herb leaves and seeds we've dried that go into mustard, oils, and cookies.
The jars we use for jams, jellies, preserves, chutneys, relishes, pickles, and such depend on the circumstances of giving. If the gifts will be mailed, or if we know the recipients will want to keep the contents more than a few weeks, we use canning jars and process them in a boiling water bath. When we use decorative jars that can't be processed, we note on the label: Refrigerate at once. Processing foods that are acidic-preserves of most fruits and all pickles-is simple, and you cannot get botulism poisoning from them. (The older method of sealing with paraffin wax is no longer recommended, because it is not as certain a keeping method as processing.) Consult an up-to-date standard cookbook for details on canning. Freezing keeps homemade preserves as long as they stay frozen, but it alters the texture of jelly.
For foods that don't need processing, I collect pretty bottles, plates, baskets, and trays all year. I wrap simply and inexpensively, using tissue paper, cellophane, or tulle, and paper ribbons in gay colors, although there are fabric ribbons for gifts that are especially elegant. My one extravagance in wrapping is labels for the jars. Although we've had some "from the kitchen of" labels printed, my favorites are big beautiful stickers. When I run out of those, I stamp large mailing labels with a holiday design.
As decorations on the packages, I take pleasure in stepping out the door with my clippers, and snipping tufts of pine, scrub oak, manzanita, and mistletoe. All but the mistletoe travel well. Sometimes, for protecting jars in packages, I use small pine cones instead of popcorn-a delight for city folk to receive. When we lived in a warmer climate, I threaded small winter fruits like crab apples, tangerines, and kumquats with string and attached them to the package with ribbons.
A half dozen quick gifts from the garden
Of all impromptu gifts, I find garden vinegars the best. Because vinegar is thoroughly acid, any edible part of a plant can be added for its flavor and color. Inspired by the delightful idea of an End-of-the-Garden Relish, I composed an End-of-the-Garden Vinegar. The color will fade eventually, but even dull greens are lovely.
Lemon-Geranium Strawberry Jelly is a fine gift for a child to take a teacher. The kids can help by snipping the fragrant leaves for the infusion. One touch deliciously perfumes the fingers. Any scented geranium may be used, but the flavor of lemon comes through clearly in jelly-so much so that, in strawberry jelly, there's not much strawberry left. Still, I like it because the red is perfect for the holidays.
For the herb tea fancier on your list, make herbal sugars. In the Middle Ages, monastery gardens were filled with herbs. The monks were aware of the lift one gets from a tisane infused with an herb's essential oils. The oils can infuse sugar, as well. Stirred into a mild tea like chamomile, the sugar adds a delectable dimension. For herb sugars, I'm partial to sage, lemon thyme, peppermint, and lavender.
Country Tarragon Mustard is fast and fun to make, especially when you've grown the mustard seeds yourself. You'll find people are in awe of homemade mustard. Prepare this a week in advance, if possible, to let the flavors mellow. You may wish to present the mustard in a basket with a chunk of Gruyère and a box of crackers.
Most Spanish olive oil is sweet, light, and golden. Embellishing it with typical Spanish flavorings from the garden turns it into a special gift. On your card, suggest brushing this seductive oil over vegetables, meats, and fish for grilling. One caution: For oil to be safely stored at room temperature, use only thoroughly dried ingredients. The addition of garlic cloves or any food containing the tiniest amount of moisture is not recommended under any circumstances-it can lead to botulism poisoning. If you have dried the ingredient yourself, you can feel safe if it has been thoroughly dry for a month or so-the longer the better.
Why are store-bought biscotti-those not-quite-sweet, dry, crunchy Italian cookies- so costly? You'll ask yourself this question after making this biscotti recipe, inspired by one of Nick Malgieri's (Great Italian Desserts). A simple but sophisticated cookie, it is the perfect place for your pungent anise seeds, which are much more flavorful than store-bought.
This year, you may need to fill in with ingredients from the market, but for next year's holiday treats, grow the herbs, vegetables, and seeds yourself.
---
Sylvia Thompson
Kitchen Gardener, Issue #12