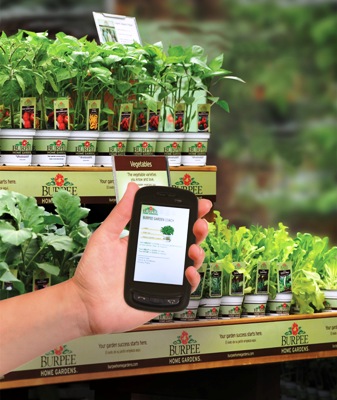 You may see something new while strolling through garden centers this season—and I'm not talking about all the new seeds and plants out there. Be on the lookout for the special square black and white or color barcodes on plant tags and shelves.
Gardeners with smartphone cameras can scan these two-dimensional QR (Quick Response) codes for product information. Most codes access websites that give gardeners detailed plant and planting information to help them make the best purchasing decision. Some codes are even linked to "how to" videos.
The QR code technology is just one of the new ways plant and seed companies are connecting with gardeners. The phrase "having a green thumb" seems to have another meaning these days with so many gardeners using their thumbs to connect to mobile gardening applications. Gardeners with iPhones now have an unlimited amount of gardening information available at their fingertips.
For example, iVeggieGarden is a new mobile app designed by a farmer who happens to be a software developer, too. Gardeners can use the app to view a catalog of over 500 vegetable varieties and access planting and growing information for all the veggie types. Planting dates and climate zone information take the guesswork out of sowing and growing.
Need someone to remind you to water the garden? VegeNag is a free subscriber service that helps new vegetable gardeners grow better through virtual nagging. The service sends email reminders when gardeners should plant, fertilize, and harvest 35 different vegetable crops. Customized planting guides are included.
Even if you don't have a smartphone, you can tap into a free mobile web tool called the Burpee Garden Coach. The Garden Coach uses text messages and web-based interaction to give gardeners helpful information. The Garden Coach sends timely reminders, gives plant information, and even suggests recipes for after the harvest. To get started gardeners sign up by texting their zip code to 80998.
What high-tech gardening tools have you seen so far this season?