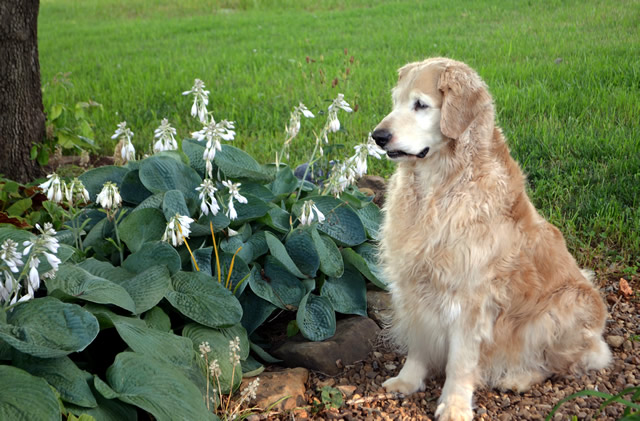 Pauline Stevens of Knoxville, Tennessee, showcases her garden that is full of surprises even for her Golden, Izzie!
"The first of the three garden areas I am submitting photos of, is a constant work in progress. Eleven years ago when we moved in, it was full of undergrowth and discarded building materials. It had three beautiful oak trees and so it did not take a lot of imagination to think shade garden, hostas, ferns, native azaleas etc. We had to decide about 5 years ago to have one of the oaks taken down and top out the remaining two, so my shade garden was no longer. The large dogwood and Japanese maples do give quite a lot of shade to the one area. Unfortunately, here in Knoxville TN, we really do not have a Springtime; what we do have is Winter, Summer and then some late freezes in May and this year lost a beautiful maple and several other plants; what I did not lose was the chamelia vine, which I did not realise was totally invasive so I have an ongoing fight with this.
My garden is a haven for wildlife, rabbits, chipmunks, squirrels. birds etc and in fact Izzie (pictured) the youngest of my three Goldens just knows there is a rabbit hiding under the hosta. Anytime I am out there she is with me. As much as I love my garden, I can no longer maintain it as I would like, so have a gardening buddy come into help me.
My Koi pond it not looking its best, I need to get and weed around it. All the varieties of Iris have bloomed and need to be cut back.
For years I have struggled to (and it has been a struggle with the red clay) work and attempt to grow many of the English plants I grew up with. Last year we had to have the garden in the front of the house dug up and soil and clay etc removed down to the foundations. When it was time to be filled in we made sure we had good top soil with some added compost. This is the first May I have had so much in bloom, it is learning curve and later this year many plants will get transplanted so that they will not be blocking or being blocked by other plants. I was happy to see the bees enjoying the Echinachea blooms earlier this week.
I hope you enjoy these photos."
Have a garden you'd like to share? Email 5-10 photos and a brief story about your garden to [email protected]. Please include where you are located!
Have a mobile phone? Tag your photos on Instagram or Twitter with #FineGardening!
You don't have to be a professional garden photographer – check out our garden photography tips!
Do you receive the GPOD by email yet? Sign up here.
Follow us: @finegardening on Twitter | FineGardeningMagazine on Facebook | @finegardening on Instagram