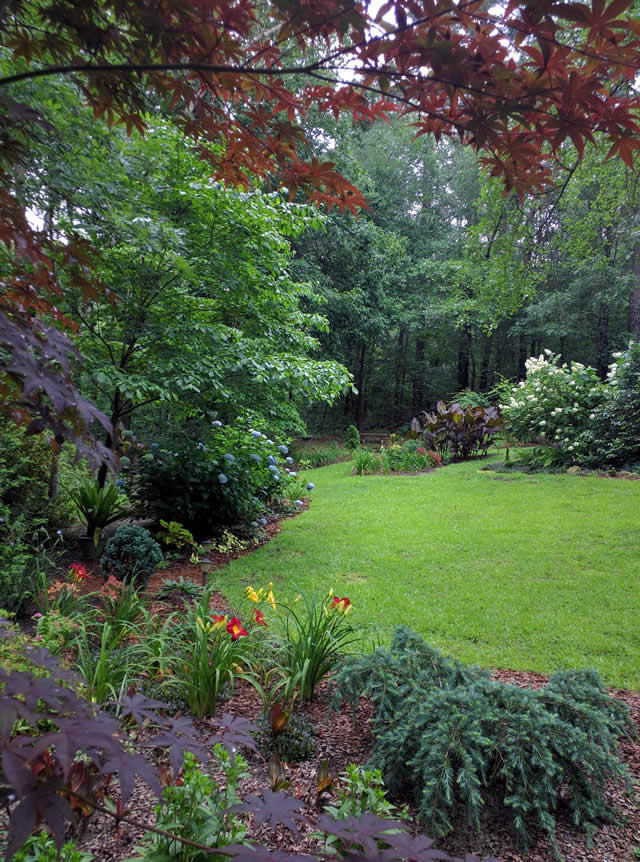 Gardening is truly a backyard passion for Laura Sheets.
"My garden is in South Carolina on the warm side of zone 7B, with partial sun and sandy soil. I work in an office, on a computer, for many hours a week, and I spend as much of my free time as possible in the garden. My (teenage) children's friends find it odd that I'm never inside. They are always questioning and making remarks to my children – "How can your mom find so much joy in the back yard?" and "I see your mom is out in her natural habitat!"
I was once asked to give a class on shrubs, and the organizer asked for a biography. I felt a little inadequate when I saw the horticultural credentials of the other presenters – from being a Master Gardener to a doctorate degree. Mine was along the lines of, "I've killed a lot of plants over the years…" I have finally figured out what grows well for me, but I'm not done experimenting! I love japanese maples, conifers, hellebores, daylilies, hydrangeas, lantana, coleus, and the list goes on and on."
Have a garden you'd like to share? Email 5-10 photos and a brief story about your garden to [email protected]. Please include where you are located!
Have a mobile phone? Tag your photos on Instagram or Twitter with #FineGardening!
You don't have to be a professional garden photographer – check out our garden photography tips!
Do you receive the GPOD by email yet? Sign up here.
Follow us: @finegardening on Twitter | FineGardeningMagazine on Facebook | @finegardening on Instagram