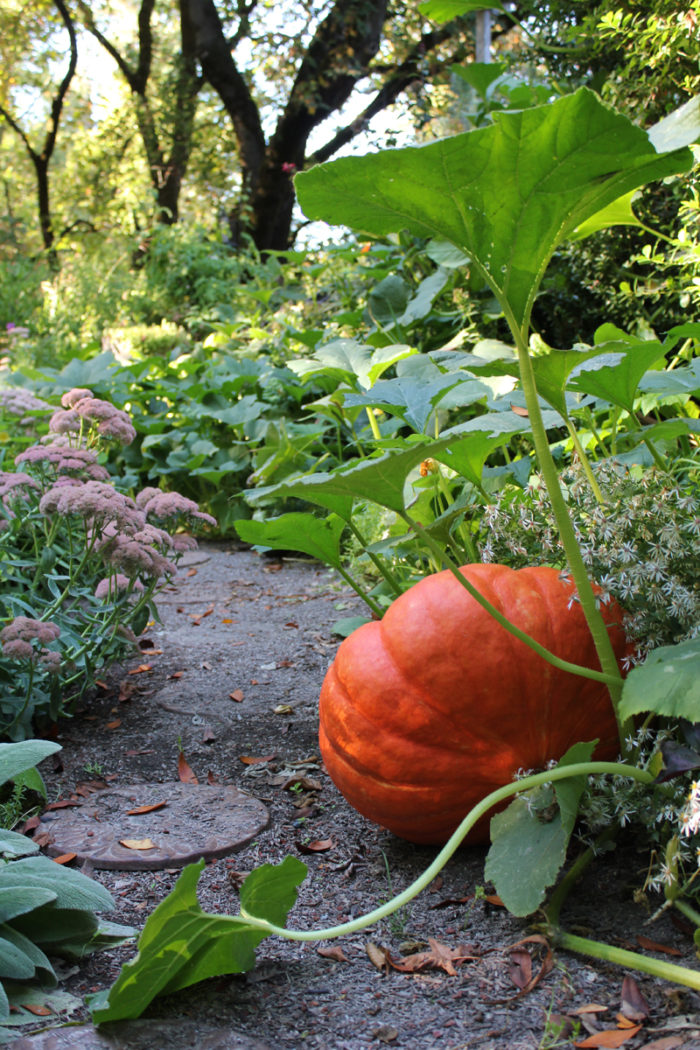 Happy Halloween, garden ghosts! We have a special treat today from Pam Wittenburg out in California, and I won't be surprised if some of you start a new yearly tradition as a result… Pam says, "Every year we have a pumpkin toss from our deck and a pumpkin slingshot from our patio as a means of getting a little more enjoyment out of our Jack O'Lanterns as we return them to the garden.
"As a result, each year we have volunteer pumpkins and gourds that hybridize and surprise us with the varieties that appear. This year the 'Cinderella' pumpkin is true to form and is the biggest bully of the garden as it has climbed the shrubs and the arbor to make its way skyward. Some pruning and a pumpkin hammock here and there have helped some of the fruits along, while others have succumbed to the critters. Here are some pics of the volunteer crop this year, along with a few pics of the slingshots and pumpkin tosses of the past."
So much fun, Pam!
**** OK, people. Big scary Halloween statement here. There was a lot of drama in the comments for the last couple of days (no need to go back–I deleted it all.) From now on, if you don't have nice things to say, DO NOT COMMENT. Unless a featured gardener asks for advice, DO NOT GIVE IT. This is a GARDENING BLOG. Bees, butterflies, and flowers, not meanness. Maybe it's just Halloween making me this way, but I'm feeling like a monster today… ****
Want us to feature YOUR garden in the Garden Photo of the Day? CLICK HERE!
Want to see every post ever published? CLICK HERE!
Want to search the GPOD by STATE? CLICK HERE!
Check out the GPOD Pinterest page! CLICK HERE!