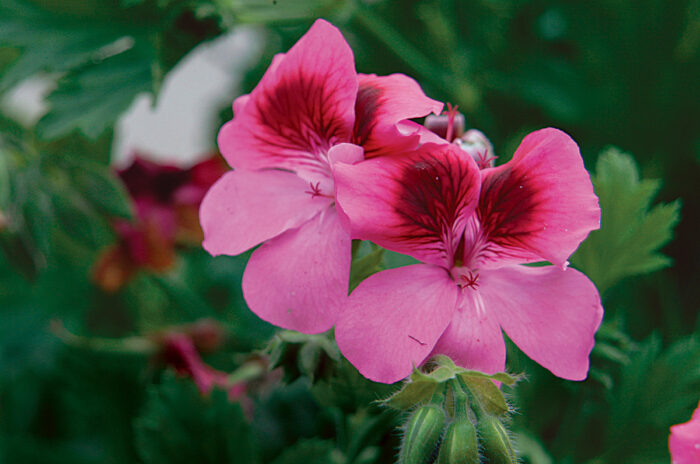 Subtlety has its place, but plants that have a knockout scent will always have a home in our garden. Though our greenhouses are cramped and crowded, we simply can't resist adding more scented pelargoniums. We are not alone in our obsession with these plants. Pelargoniums have been collected since Europeans discovered them in the 1600s. Of the 250 species, only about 20 have scented foliage, but breeding of these has led to hundreds of cultivars. The scent is contained in small beads of oil produced in the leaves. Bruising or brushing the leaves releases the oils into the air and onto your hands. Water evaporating from the leaves will also waft the fragrance throughout a room. There are several classic categories of pelargonium scent: rose, mint, citrus, fruit, nut, and the ever-indefinable catchall category, pungent. These are arbitrary classifications and are often very subjective.
You will not always agree with someone else's description. For instance, coconut pelargonium (Pelargonium grossularioides) is sweetly scented, but we have never detected any hint of coconut in the fragrance. We have never sniffed a scented pelargonium that didn't appeal to us in some way, but we do, of course, have our favorites. We love the strong fragrance of the rose-scented pelargonium (P. 'Graveolens'). Another old standby we can't resist touching whenever we walk by it is peppermint pelargonium (P. tomentosum). Its broad, velvety leaves make it our grandchildren's favorite as well. We also find it necessary to have the crisp citrus-scented pelargoniums (P. citronellum), including 'Mabel Gray' and other cultivars like 'Frensham', 'Lemonaire', and 'Bitter Lemon' in our collection. (For ideas on using pelargoniums in cooking, see "Plant Scented Geraniums for Flavorful Meals.")
---
| | | | | |
| --- | --- | --- | --- | --- |
| FRAGRANCE | NAME | FLOWERS | FOLIAGE  | HABIT |
| Apple cider | P. odoratissimum | Tiny, white  | Soft, gray-green | Mounded |
| Apple/pungent | P. 'Fringed Apple' | Tiny, white  | Fringed/serrated edge | Mounded |
| Coconut/pungent | P. grossularioides | Tiny, magenta | Round, deep green | Mounded |
| Juniper | P. 'Juniper' | Pale lilac  | Small, round, crinkled | Mounded |
| Lemon | P. crispum | Pale pink | Small, crinkled | Upright |
| Lemon | P. crispum 'Variegatum' | Pale lilac  | Small, edged with white | Upright |
| Lemon | P. 'Roger's Delight' | Large red upper, with paler lower petals | Smooth, slightly toothed | Trailing |
| Lemon (strong) | P. 'Mabel Grey' | Lavender, with dark marks | Large, sharp lobes  | Upright, tall |
| Lime | P. 'Nervosum' | Pale lavender | Smooth, slightly toothed  | Tall, lanky |
| Nutmeg | P. 'Nutmeg' | White | Small, gray-green | Mounded |
| Peppermint | P. 'Pungent Peppermint' | Mauve  | Gray-green, fine, deeply cut  | Trailing |
| Peppermint | P. tomentosum | Small, white | Large, velvety | Trailing |
| Pungent | P. 'Chocolate Peppermint' | Small, lavender | Green, with purple blotch | Trailing |
| Pungent | P. denticulatum 'Filicifolium' | Small, lavender | Deeply cut | Upright |
| Pungent | P. 'Variegated Oak Leaf' | Large, lavender | Large, coarse, variegated cream to white | Trailing |
| Rose | P. 'Attar of Roses' | Pale pink | Lobed | Trailing |
| Rose | P. 'Lady Plymouth' | Small, lavender | Deeply cut, gray-green, white edge | Mounded |
| Rose with lemon | P. 'Charity' | Small, lavender | Incised, with gold edge | Upright |
| Strawberry | P. 'Lady Scarborough' | Pale pink, with marks | Dark green, trilobed, with crinkled edge | Trailing |
---
Foliage and flowers can be bold or petite
Of course, choosing among scented pelargoniums has as much to do with leaf shape and color as it does with scent. Leaves can range in length from the scant 1/2 inch of P. 'Juniper', to the 5 inches of P. 'Chocolate Peppermint'. Some are almost circular (P. grossularioides), while others are gently lobed (P. 'Variegated Oak Leaf') or finely dissected (P. 'Pungent Peppermint'). Leaves are most often green but may also be golden, gray, or even silvery. Some are splashed or edged with white or cream (P. 'Lady Plymouth') or have golden variegations (P. 'Charity'). Others may have purplish blotches in the leaf centers or along the veins (P. 'Fair Ellen').
The texture of the leaf surface can be smooth, rough, or velvety. Most scented pelargoniums have five-petaled flowers grouped in small umbels. The petals are arranged with two at the top and three at the bottom and range in size from just 1/8 inch (P. grossularioides) to more than 1 inch long (P. 'Roger's Delight'). The colors are usually white, rose, or purplish pink. The upper two petals are frequently blotched or stippled with darker maroon or purple markings. Plants tend to bloom most heavily in early spring, then intermittently throughout the summer.
Pelargoniums are perfect in the ground or in pots
The subtle and delicately colored flowers and foliage of pelargoniums are easily intermingled throughout the home landscape. Though true perennials, they can be grown as such only in frost-free regions. Still, they can be bedded out as annuals and are a welcome alternative to pansies, petunias, marigolds, and their overused pelargonium cousins, the brightly flowered zonal geraniums (Pelargonium × hortorum). Varieties like the apple-scented (P. odoratissimum) and nutmeg-scented pelargoniums (P. 'Nutmeg') form neat mounds that are perfect for edgings and along walkways. They can even be used in a rockery. The bushy greenery of the rose-scented P. 'Graveolens' can fill in the base of a hybrid tea rose or a tall shrub. The golden foliage of P. 'Charity' is a perfect backdrop for the bright purple blooms of a shorter Penstemon fruticosus, while the silvery-edged leaves of a P. 'Grey Lady Plymouth' reflect the shell-pink flowers of Dianthus 'Inchmery'.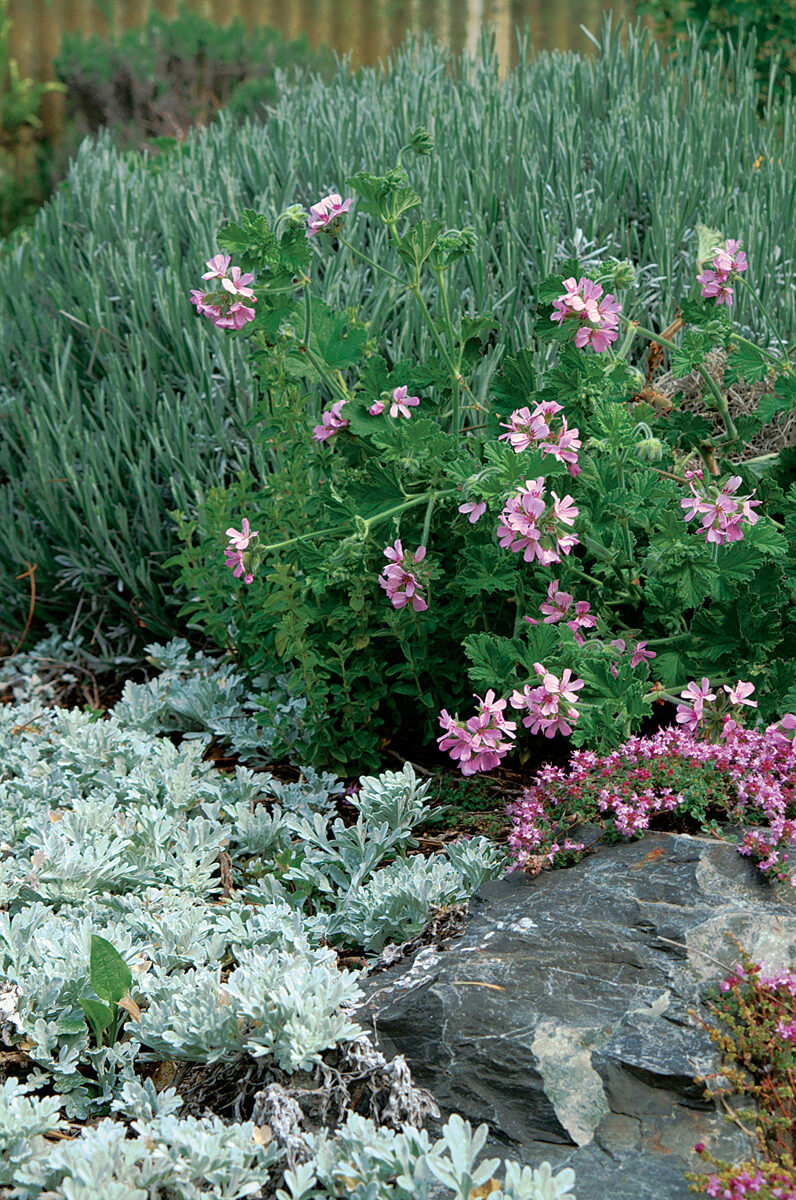 Planting in pots
As wonderful as they are in the ground, pelargoniums are perfection in pots. When they are planted in pots, you can get up close and appreciate the varied leaf shapes and flowers, not to mention the scent. Some lend themselves quite well to topiary. Our favorites for standards are P. crispum, P. crispum 'Major', and P. crispum 'Variegatum'. Crispum means "curled" or "wavy" and describes the edges of these plants' small, crinkled leaves. Small-leaved cultivars are best for standards because they produce heads of dense foliage. A good choice for a container is the rapidly trailing peppermint pelargonium, which can even be trained up a trellis. Other trailing plants for containers include strawberry (P. 'Lady Scarborough') and lemon (P. 'Roger's Delight'). Anything with an adequate drainage hole can be used as a container.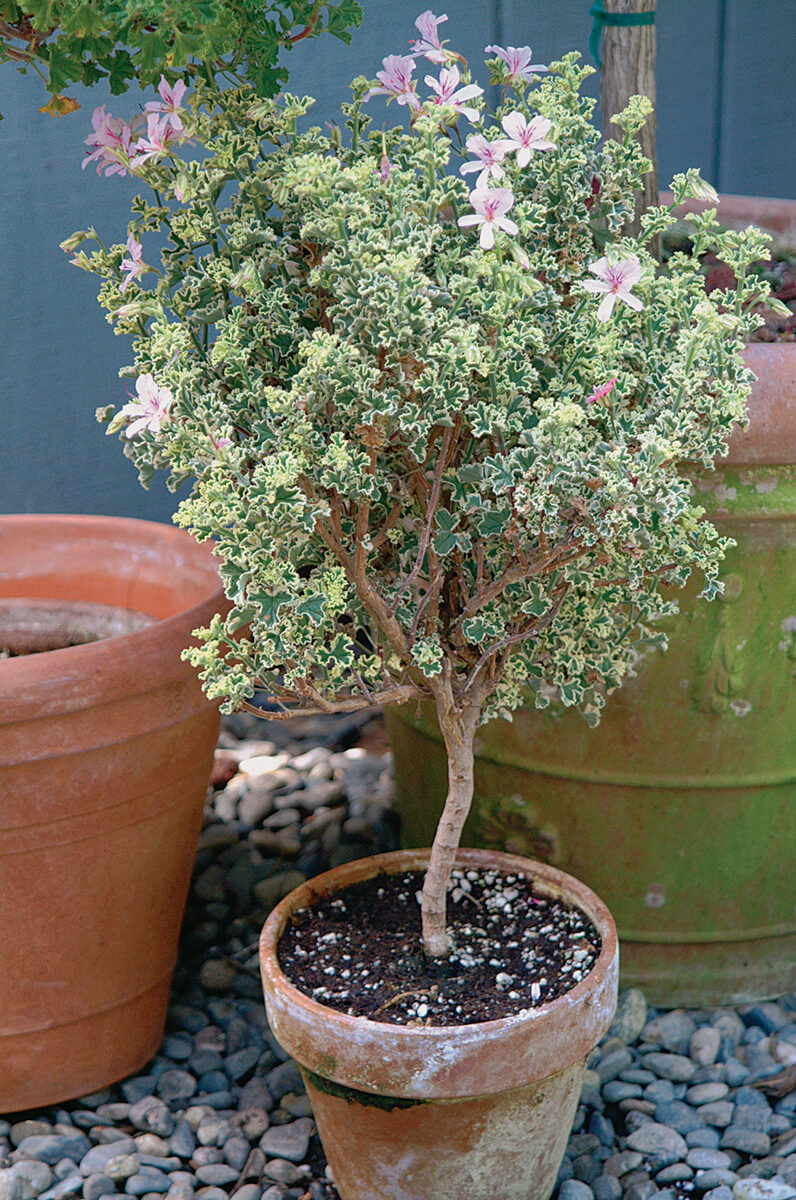 Soil and care needs
Good potting mixes contain ingredients like peat moss, pasteurized compost, and perlite, which ensure both moisture retention and excellent drainage. Use a timed-released fertilizer in the soil or an all-purpose liquid fertilizer when you water. Pelargoniums like magnesium, and a teaspoon of epsom salts (magnesium sulfate) added to each gallon of fertilizer solution every few waterings will adequately supply this nutrient.
As with plants in the ground, place containers in the full sun. When temperatures get above 90°F pelargoniums appreciate some afternoon shade. The best reason to grow scented pelargoniums in pots is that you can easily bring them indoors for the winter. Do this before outdoor temperatures drop below 45°F, to avoid shocking them. Place them in a south-facing windowsill that gets at least four hours of direct sunlight a day.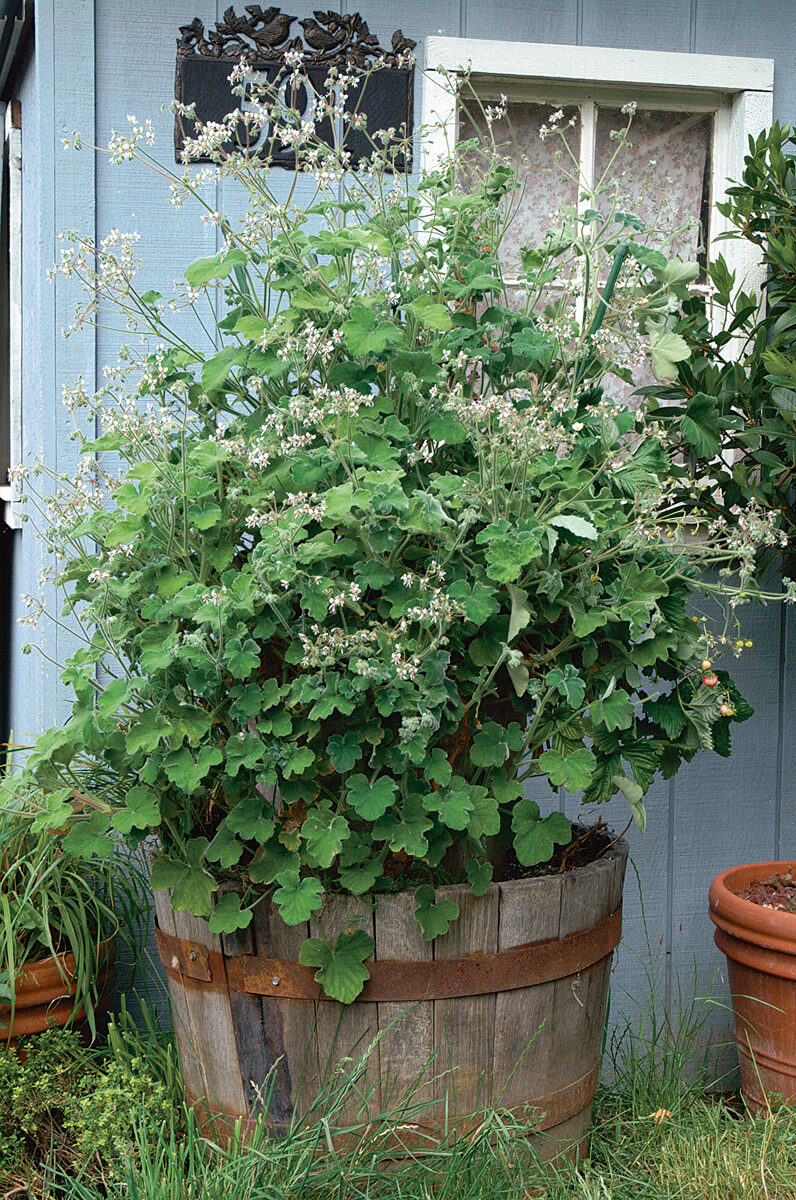 Pruning
Prune for desired shape and to propagate Whether you grow your plants in pots or in the ground, regular pruning is necessary to keep them shaped. Begin shaping a plant when it is a newly rooted cutting. When it has grown a few nodes, cut off its tip to encourage branching below the cut. Repeat this sequence for the next few series of growing shoots, until the plant has a sturdy, attractive framework of branches. Flower buds are produced at the tips of branches. After you have established the desired shape, stop pruning and allow the plant to flower. After the first and heaviest flush of springtime blooms is over, maintain the plant's shape by removing old flower stalks and dead leaves and continue to prune off shoot tips if more branching is desired.
The best time to prune older plants is in late winter or early spring. Cutting back stems by as much as half their length will stimulate new growth and prevent a woody, treelike appearance. This is also a good time to move plants into larger pots or just replace the soil. Cuttings taken during the summer will provide new plants to move indoors for the fall (see sidebar, above). Growing scented pelargoniums is easy for the novice gardener yet offers enough intricacies to stir the interest of an avid plant collector.
Any gardener is sure to delight in the heady scent these plants give off. Simply rubbing a leaf of the plant sitting on the windowsill or brushing along the edge of a pathway lined with scented pelargoniums is enough to fill the air with fragrance.
—Jim and Dotti Becker run Goodwin Creek Gardens in Williams, Oregon. They specialize in fragrant plants, herbs, and everlastings.