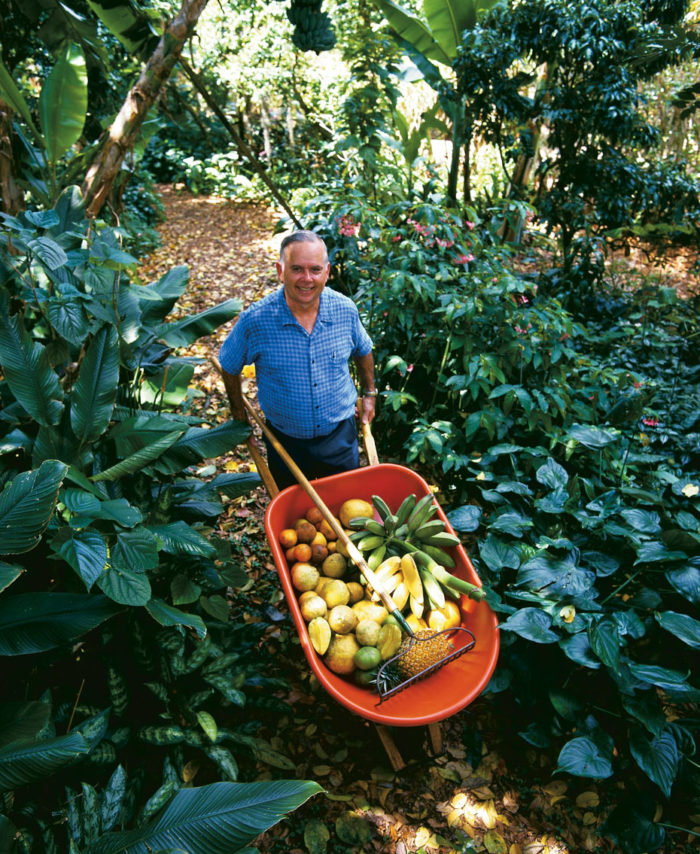 I grew up in a family that loved plants. My father was a Department of Agriculture agronomist, and my mother had a green thumb. So it's no surprise I chose a horticulture career.
Early on, I traveled to Central and South America and quickly fell for the beauty of the rain forests. It turned out that visiting two weeks a year on vacation wasn't enough; I wanted that lush serenity and beauty back home in South Florida. So I decided to grow my own rain forest and fill it with delicious fruits. Only 2 1⁄2 acres, my dense forest garden has paths winding around more than 170 unusual types of fruit, as well as a citrus grove and a wide range of colorful ornamentals.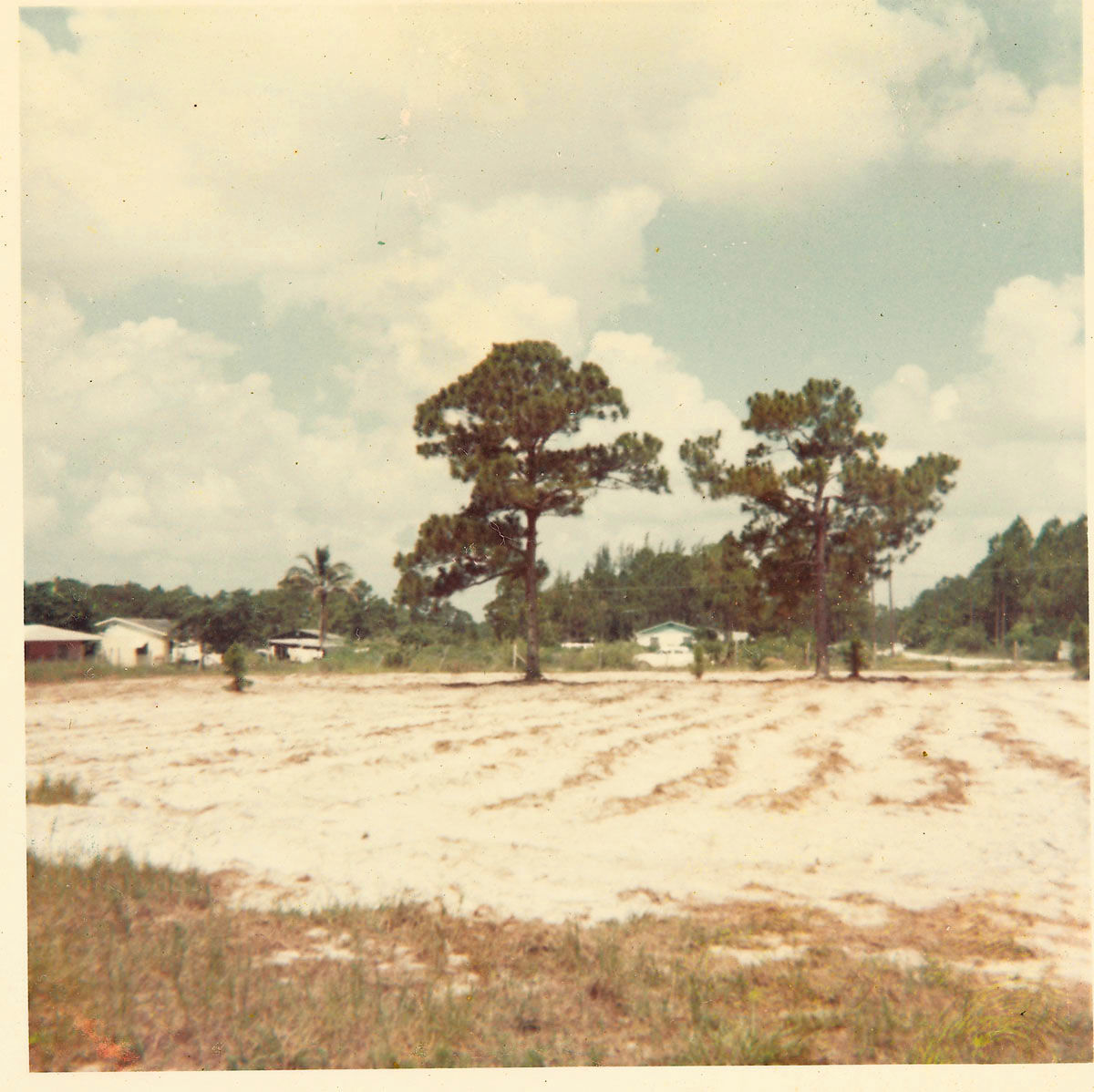 Growing a Fruit Forest from Sand
The first task back in 1970 was to clear the cattle off the property and plow up all the pasture. It took one weekend with a borrowed tractor to disc under the turf. When I was done, I had a field of sugary sand with two large slash pines in the center and a few sabal palms on one boundary by a canal.
To improve the ground, I brought in 70 six-yard truckloads of topsoil from a nearby building project. Plants were no problem. By the time I graduated from college, I had accumulated more than 4,000 containers of various sizes holding many prized plants. In one summer, all the container plants went into the ground and thousands of feet of hedging were planted to break the wind. I didn't even think about building a house to go with the forest until 1973, but in my planning, I left an open space at one end of the lot to accommodate it.
Much of the southwest part of the property is now shaded by towering trees that create a roof over the area and provide excellent winter protection. But the shade isn't so thick it excludes all the light. Filtered sunlight reaches the forest floor and helps low-lying plants like the pink pineapple grow. The tropical fruit areas are more open, since most fruit plants need plenty of light.
Always a Fruit to Pick and Enjoy
One of the great things about growing so many kinds of fruits is that I always have something that's ripe, no matter the season. Some fruits are more spectacular than others, but none has more power to stop you in your tracks than the jaboticaba. A native of Brazil, the jaboticaba produces tiny, frilly white flowers that jump right out of the thin bark on the trunk and branches. Three or four weeks later the white-fleshed fruits are ripe. With their deep purplish-black color and tough skin, jaboticaba fruits resemble  and taste something like muscadine grapes. Depending on weather conditions, jaboticaba may bear four or five times a year. Unfortunately, it takes 8 to 10 years for a jaboticaba seed to turn into a fruit-bearing tree. Most nursery plants are three to four years old, so you still have a wait before you can harvest. Jaboticabas make excellent container plants and are often used for bonsai.
Bananas can be extraordinary. If all you've eaten are store-bought bananas, you'd be surprised by the rich sweetness of a tree-ripened fruit and the grand variety of plants. Bananas aren't just yellow. There's the 'Jamaican Red', with a burgundy skin and dark yellow flesh, and 'Ice Cream', which has ornamental silver-blue skin. Another banana that gets attention here is called 'Praying Hands', a native of Honduras. The stalk produces clusters of bananas that look exactly like clasped hands.
Of the many varieties, my favorite is the 'Thousand Finger', also from Honduras. It makes a stalk almost 7 ft. long with nearly bite-size bananas that are sweet and rich. They develop brilliantly from long, burgundy-striped, yellow flowers. It's simple for me to grow these treats from suckers I buy from area nurseries, and they need very little attention.
When I look up in my forest I see star fruits. That's how carambolas are known in most grocery stores. Of course, they come in far more varieties than you will find there, 16 in my forest garden. The slightly waxy fruits range in color from light green and yellow to gold, and have subtle differences in flavor. They produce two crops a year, one in summer and one in winter, with mature trees bearing more than 300 lb. of fruit annually.
The rose apples and Malay apples I grow don't produce wonderful fruit. They're both rosy in flavor and fragrance and are part of the myrtle family. I don't know a whole lot of people who would sit there and eat them all day long. They're curiosities that happen to have fabulous blooms.
Not everything I grow is unusual. My citrus grove takes up one section of the forest. I'm drawn there not only by ripe fruit, but also by the fragrance of the blossoms. My collection includes 92 types of citrus, and many of the older trees are among the first I planted. Some varieties have green and white marbled leaves. One sour orange rootstock has 13 grafts, giving me a single tree that dangles pink and white grapefruits, oranges, and tangerines.
To mix up the color scheme I grow some pink pineapples at one corner of the citrus grove. The pineapples taste great but I really grow them for their neon color.
The southeast portion of the property is devoted strictly to edible tropical fruits. There are more than 80 different fruit trees in this section, including jackfruit, the world's largest tree fruit. The greenish-yellow fruits, with their studded skin, can grow 2 ft. long and nearly as thick. Fruits ripen during the late summer and fall and can bring $2.50 or $3 per pound in the markets.
Lychees, which are hard to come by and produced mainly in China, the apricotlike loquat, mangoes, and many other fruits grow along these paths. You might even find a seedless avocado if you're lucky. They exist. I trace mine to a tree in the yard of a Belle Glade, Florida, woman. Some years ago she noticed mutant fruits on her tree. It turned out to be a pickle-shaped avocado with a buttery yellow pulp but no seed. That's not good for reproduction, but cuttings from branches have enabled others to get the same fruits, though not very reliably.
Minimal Forest Upkeep Required
At first I watered the forest by running a hose from my father's house on an adjoining lot. Fortunately, summer is our rainy season, and the developing plants had plenty of water. My irrigation system has become somewhat more sophisticated over time.
About 50 overhead sprinklers now sprout from 2,500 ft. of PVC pipe routing around the site, all of it buried by hand. I run the system very little during the rainy summer. Once a week during the winter will usually keep the ground moist. I need to be careful in the citrus grove because the trees easily succumb to root rot.
A heavy layer of mulch from local arborists and tree trimming companies helps keep the ground moist and conserves water. I keep about 3 ft. of mulch on certain paths, which makes a quiet, cushioned surface for my bare feet and breaks up the flat terrain.
The rapid decay of the mulch means it must be replenished regularly. Several truck loads of mulch arrive at my back gate each week, and I spend 20 to 25 hours per week spreading it, which amounts to most of the maintenance. I do a great deal of pruning, too, to keep my plants in line. But I love what I'm doing.
Spending several hours a day spreading mulch or planting a newly acquired and prized plant is not really something I call work. It's pleasure, along with consuming some of the fruit of my labor and giving the rest away.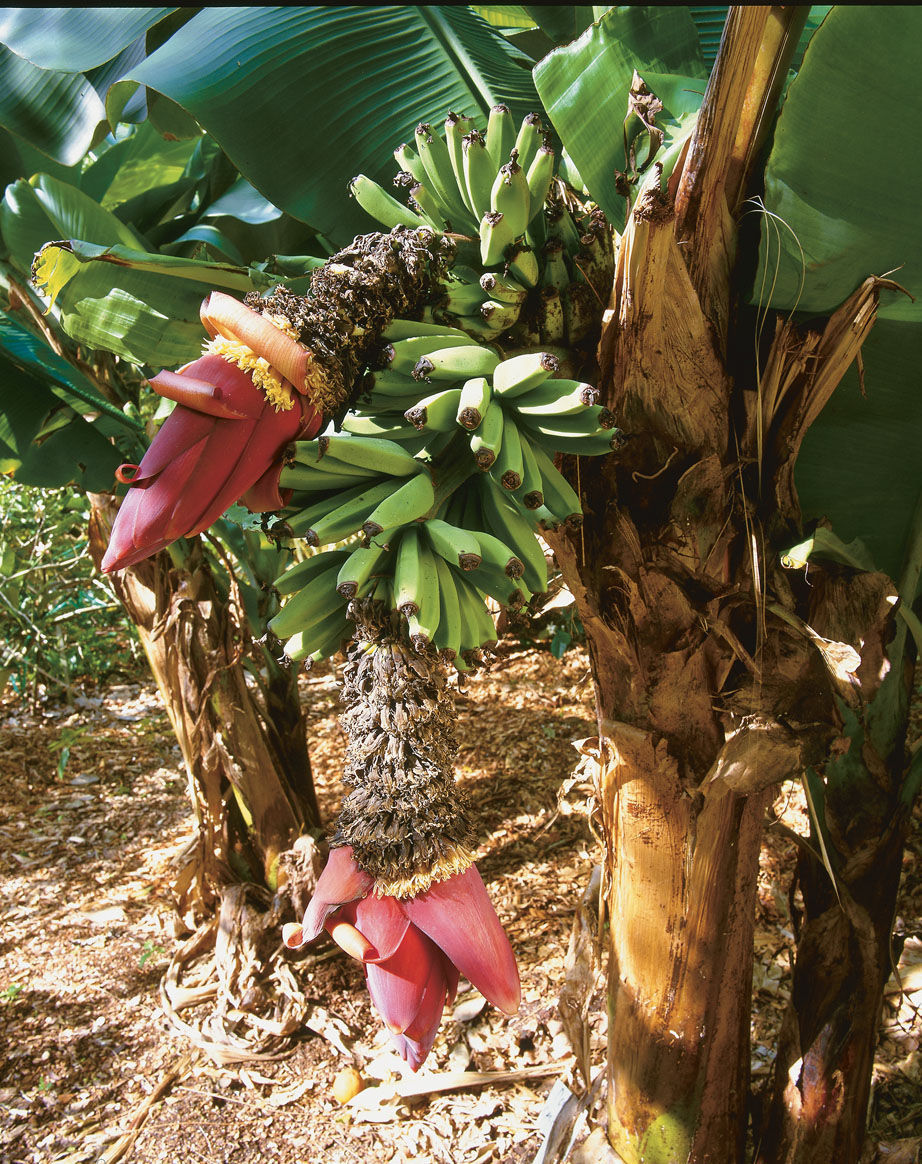 Grow Tropical Fruit Up North
If you have your heart set on picking your own lemons or bananas at your home in the North, it can be done, but not without special effort. A greenhouse, while helpful, isn't necessary if you have the will to move large pots when the seasons change.
Tropical fruit plants need steady warm temperatures above 60˚F and plenty of sunshine. Plants can spend the winter in a sunroom with a clear southern exposure and then be moved outside when spring is in full swing.
The plants will require close monitoring and moisture control, and some trees will need pruning, says Mark Fisher, foreman of the Brooklyn Botanic Garden's conservatories.
Growing tropical fruits in temperate climates is a combination of pomology and bonsai, says Murray Corman, owner of Garden Delights nursery in Davie, Florida. He says 70% of his sales go to people in regions where it freezes during the winter. Citrus and dwarf bananas top Corman's list of tropicals best suited for the North.
No matter what you select, take the time to pick the right cultivar and get the proper growing information. If you want to get a good flavor of what's going on in the tropical fruit world, check out the Rare Fruit Council International's web page at www.gate.net/~tfnews.
This article first appeared in Kitchen Gardener Issue #18.