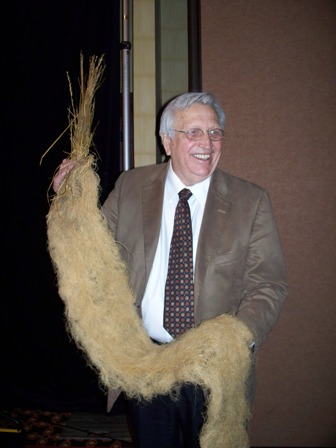 In 2009 I had the chance to hear Wes Jackson present a keynote address at the annual Water Conservation and Xeriscape Expo in Albuquerque, NM. He entertained the audience with stories about traditional agriculture in the U.S. and how those conventional systems were unstainable.
He described the research and development activities at The Land Institute near Salina, Kan., and explained his goal of developing a sustainable agricultural system that would be as ecologically stable as the prairie. One of the primary projects was research to develop a perennial grain that could take the place of annual plantings of wheat. 
He thought it might take another 20 or 30 years to accomplish that goal.
Fortunately, it didn't take that long.
Earlier this month, General Mills announced a partnership with The Land Institute and the University of Minnesota to commercialize the perennial grain Dr. Jackson spoke of more than 8 years ago.
Kernza is the trademark name for the perennial wheatgrass that General Mills will be adding to its cereals and snacks with the Cascadian Farms organic label.
This is a big step for the perennial grain that grows roots 10 feet deep. Because of its perennial nature, the grain can be harvested year after year without the need for replanting. In addition to eliminating the annual tilling of fields, Kernza's long roots help the soil by storing nutrients and water while keeping valuable soil from eroding away.
The research at The Land Institute also indicates fields of perennial grains can help keep carbon in the soil, with the potential to reduce greenhouse gases.
I had the chance to tour The Land Institute in 2015 and saw the fields of Kernza growing in the Kansas summer sun. Even then Kernza was being used by small companies to brew the grain into craft beer and bake into special loaves of bread to take the place of wheat flour.
But the partnership with General Mills means a wider audience will get to enjoy something special. People will soon be able to learn about the environmental benefits of perennial grains while enjoying their bowl of cereal at breakfast.