Today's photo is the overall winner of the Garden in Winter photo contest! It's from finegardening.com member pennylph, a.k.a. Lynette Hall from Carmichael, California, who says, "I enjoy the beauty in the simplicity of nature and have recently reconnected to my love of photography.  My love of gardening started as a small child; a gift from my mother's love, although I wouldn't say I was enjoying it when required to complete the chore of weeding between long rows of vegetables before I could participate in other activities.  The gift paid off with my desire to create my own garden havens with each home.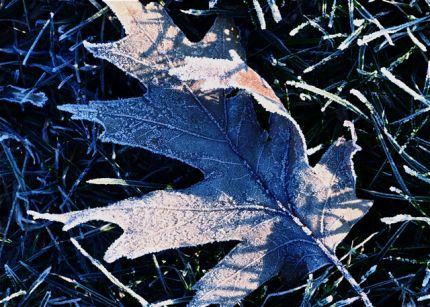 We recently moved to California from the Northwest.  Our California home was landscaped in the front with plantings and no lawn; good bones, but very overgrown.  I've had a lot of fun digging out and cutting back tired plants and reinvigorating the space with new plantings.  Its rewarding to hear neighbors tell me how much they enjoy it each time they drive or walk by.  And then there is the back yard. It was even more overgrown–to the point that you couldn't even see structures.  We have cleared the space, except for the lawn, and are now finally ready to redo some of the structures before I get to start planting.
I came upon this leaf early in the morning. It was lying just as it is in the picture.  It was at our nearby park, which I think of as an extension of my garden.  It was like nature had staged it perfectly on the lawn, frosty, cast in the light of dawn.  I thought about how we cannot improve on the beauty and simplicity of nature."
Thanks, Lynette, and congratulations! Lynette wins a $100 gift card from www.MasterGardening.com.
Oh, and special thanks to Ruth Dobsevage, our senior web producer, who thought up and produced the contest – it was lots of fun!
Welcome to the Fine Gardening GARDEN PHOTO OF THE DAY blog! Every weekday we post a new photo of a great garden, a spectacular plant, a stunning plant combination, or any number of other subjects. Think of it as your morning jolt of green.
Sign up to get new posts delivered to your inbox each morning so you'll always remember to take a look, or subscribe to our RSS feed. We look forward to sharing our garden travels with you.
READER PHOTOS: We love featuring your photos, too. If you think you have a photo that we should share on the Garden Photo of the day, email us. Send hi-res images if possible. We'll only respond if we plan to use your photo.