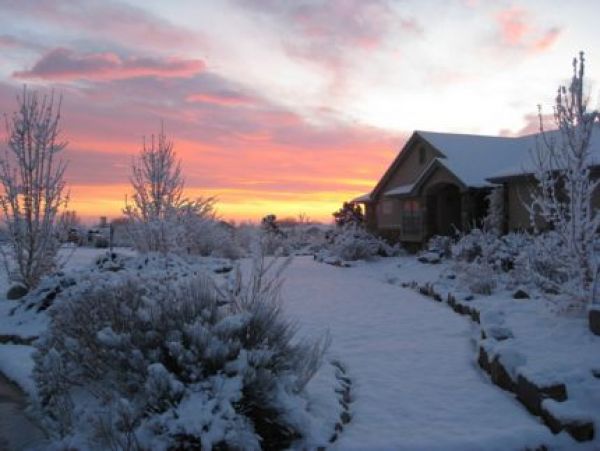 The new Garden in Winter photo contest is now on in our online photo gallery! Check out the details here. We started this tradition last year, when we asked our readers to post photos of the things that make them happy in their gardens in winter. The responses were beautiful, and we'll be featuring photos from last year's contest all this week to inspire you to take winter photos in your garden this year. Post them in the gallery and you could win a $100 gift certificate from MasterGardening.com!
Today's photo was a winner from last year's contest, and it's from Anne Clark in Loveland, Colorado. She said, "Nature is my playground. Whether I am creating beautiful landscapes, working in my garden, or exploring the Rocky  Mountains, I am always amazed at the beauty of creation. The landscape can be beautiful even in the winter. To accomplish this, I pay close attention to line, form, and texture when designing. The structural plants and boulders are the bones of my garden which compliment the home and frame the picture. This beautiful sunrise is just a reminder of Gods Beauty, Power and Glory. The title 'A Grand New Day' came from this years Women of Faith Conference.
I live in Loveland Colorado, and I am currently employed as a Landscape Designer for Empire Landscaping in Johnstown Colorado. I am also certified as a Sustainable Landscape Designer thru PACE in Boulder County, and I am passionate about creating beauty in the landscape while conserving our natural resources."
Stay tuned for more winter photos from last year's contest all this week, and get outside with your camera!
Welcome to the Fine Gardening GARDEN PHOTO OF THE DAY blog! Every weekday we post a new photo of a great garden, a spectacular plant, a stunning plant combination, or any number of other subjects. Think of it as your morning jolt of green.
Sign up to get new posts delivered to your inbox each morning so you'll always remember to take a look, or subscribe to our RSS feed. We look forward to sharing our garden travels with you.
READER PHOTOS: We love featuring your photos, too. If you think you have a photo that we should share on the Garden Photo of the day, email us. Send hi-res images if possible. We'll only respond if we plan to use your photo.