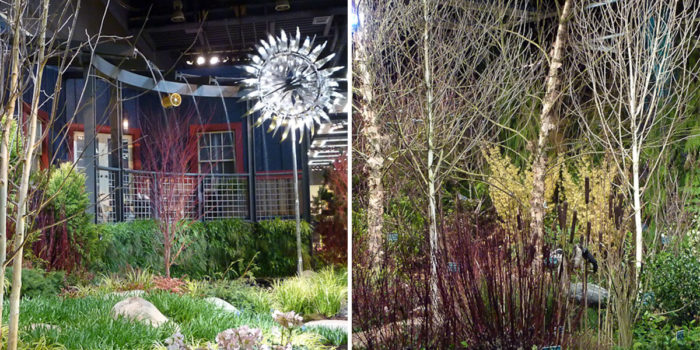 Imagine designing gardens that come to life almost overnight, then just as quickly disappear. Months of planning, locating beautiful plants and tons of soil and rock, followed by a mad dash to bring your vision to fruition.
Along with dozens of other landscapers, that's what Seattle-based landscape designers John L. Shepodd (JonLShepoddlandscape.com) and Phil Wood (philwoodgardens.com) and team did at the Northwest Flower and Garden Show  a few months ago. I'm singling them out not just for the feat they accomplished, but for their ability to create an amazingly realistic slices of nature in a cavernous concrete hall.
There are lessons in these photos I'd like to incorporate into my own work. I hope you'll find them useful in your garden.
A Walk on the Wild Side

A garden titled Birdsong was created by Phil Wood, Bob Lilly, and Roger Williams for the Washington Park Arboretum and Seattle Audubon Society. This celebration of the wildlife and sounds of the Washington Park Arboretum walked away with three major awards: a gold medal from the show judges, the American Horticultural Society Environmental Award, and the Pacific Horticultural Society Award. Complete with a Great Blue Heron replica and bird songs recorded at the Arboretum, it transported me from the hubbub of the show to a place of inner peace.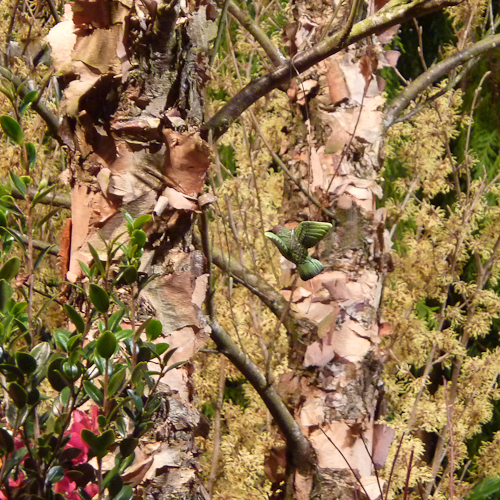 Lesson 1 – Invite nature into the garden: Quoting from the show description: "Bird gardens nurture the human spirit, not just by their visual beauty alone: Fostering bird life brings both bird song and natural balance to the world outside our doors."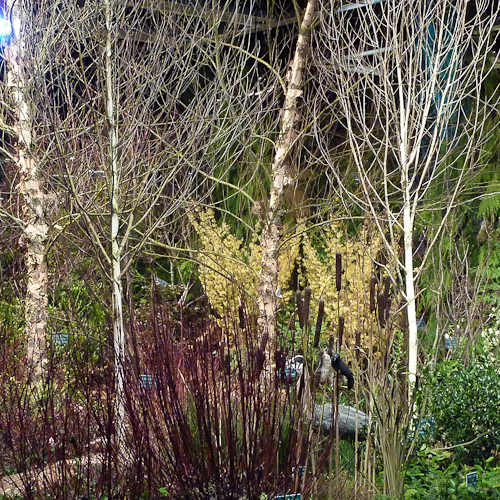 Lesson 2 – Temper diversity with unifying forms and textures: Although there are bursts of strong yellow and red, all the plants have powerful upright forms. On the ground plane, delicate ferns and grasses share the same density and shape. These repeating elements unify the garden.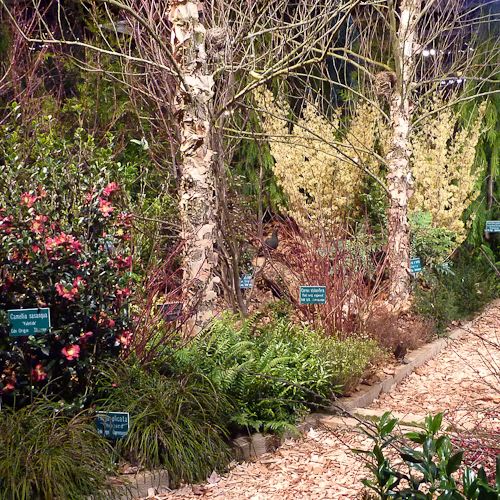 Lesson 3 – Use light colors as accents: Contrasting bright bark and yellow blooms against a dark green backdrop serve as a spotlight on the lead players.
Lesson 4 – Use local plants to attract wildlife: Oregon grape (Mahonia aquifolium) attracts bees when it blooms (thankfully, none were let loose in the exhibit hall), and the grape-like purple fruits are treats for birds who help keep insect populations in balance.
A Porch With A View
The 2012 Northwest Flower and Garden Show's theme was "A Floral Symphony" so Jon L. Shepodd Landscaping and Environmental Construction named their garden Rock & Roll Meets Heavy Metal – The Convergence Zone. Indeed, there were beautifully arranged rocks, a tapestry of grasses and perennials that gently rolled to a rain garden, and a mesmerizing metal sculpture I could have watched for hours. But the design take-aways for me reside in how they shaped their space, exquisitely combined plants, and the forged an interface between the natural world and human habitat.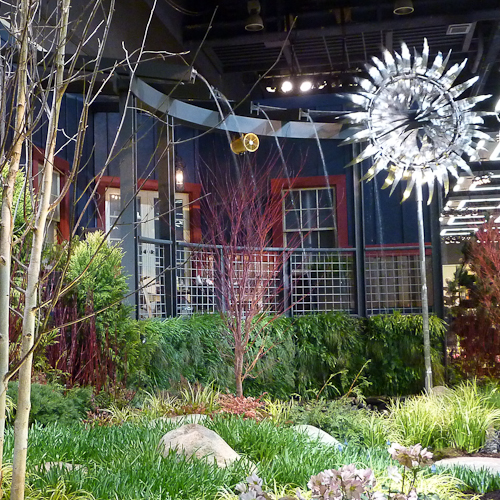 Lesson 5 – Nature and contemporary art can coexist: I'm not generally a whirly-gig kinda guy, and you can't see the vortex-like motion of the vanes, but I would have given anything to be sit on that porch on a breezy winter day and wait for the maples, dogwoods and birches to leaf out. Maybe not in the forest, but close to the house, whimsy is welcome.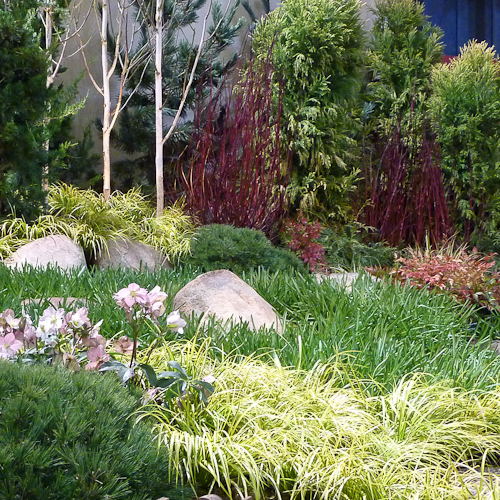 Lesson 6 – Make a statement: Just like Birdsong, you can't go wrong by spicing up a composition with daring dashes of warm colors. Yellow-bladed sweet flag (Acoris gramineus 'Ogon') is in sharp contrast with the surrounding greens and sensuous stems of redtwig dogwood (Cornus sericia).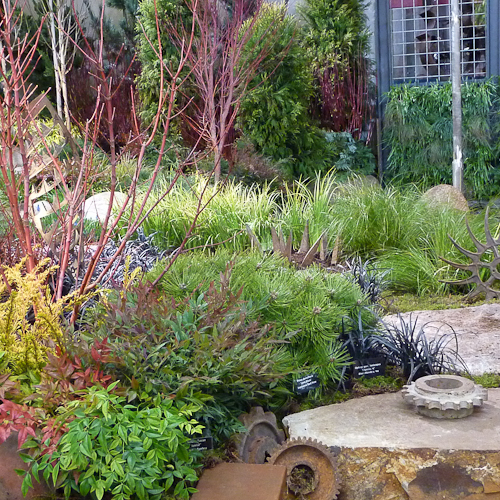 Lesson 7 – Polygamy pays: No, not that! I'm talking about multiple marriages of the foliage kind. Notice how rather than repeating one red-hued plant to play off the greens, the designers found different ways to inject contrast, using heavenly bamboo (lower left), Japanese maple, and redtwig dogwood as variations on a theme.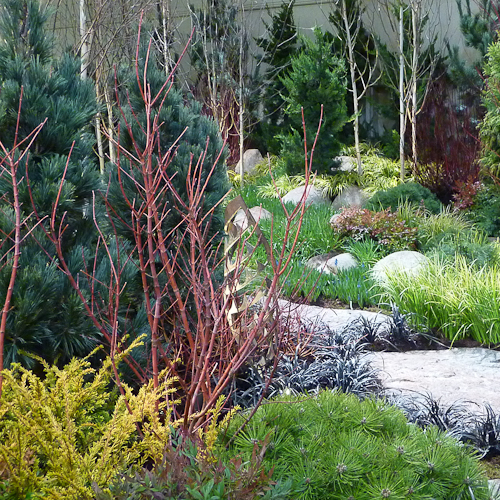 Lesson 8 – Mass and space define a garden's form: I was so impressed with the way the garden builders played with topography, creating a completely believable, gently rolling slope flowing to the "house". From the porch, the eye rides across the open panel of grasses, bulbs, perennials and rocks, framed and steered by a layered boundary of deciduous and evergreen trees and shrubs.