Normally, the best way to add balance to a design with a lot of small leaves and fine texture is to add big, bold, textured leaves. But Deborah Ellman's garden is a clear example that there is another way. Her garden sits between her home and the street on a corner lot in Seattle, with a sidewalk running down the middle of it. Most of the plants have small or thin foliage, but Deborah makes sure her garden has impact through her use of color and form.
Containers Can Create Focal Points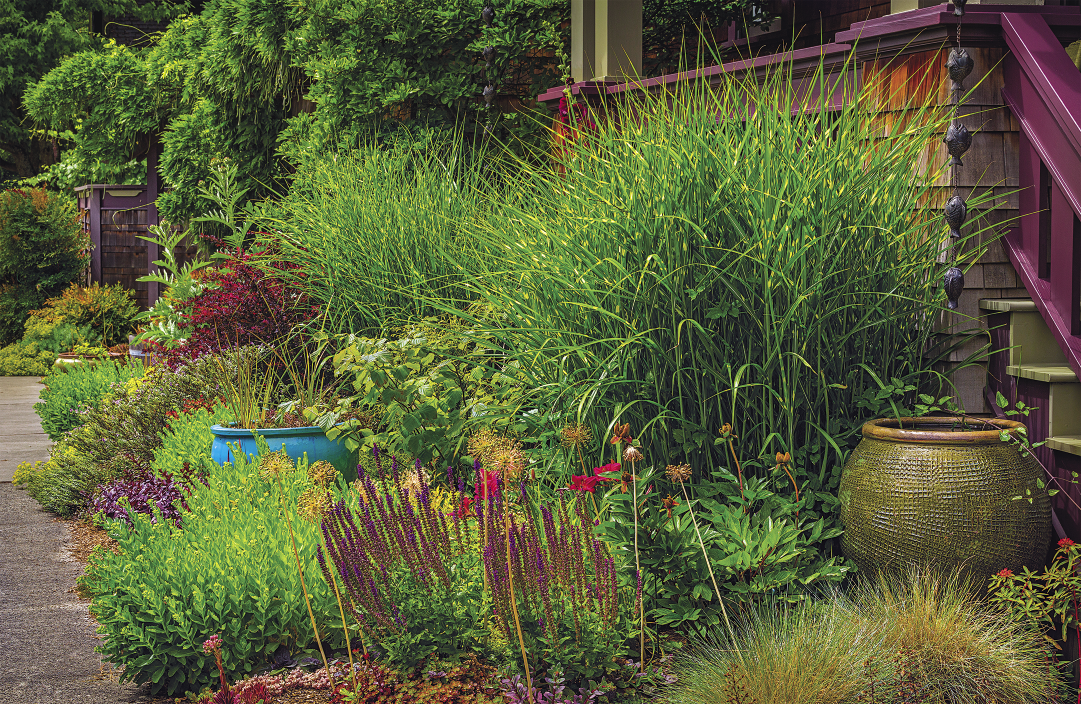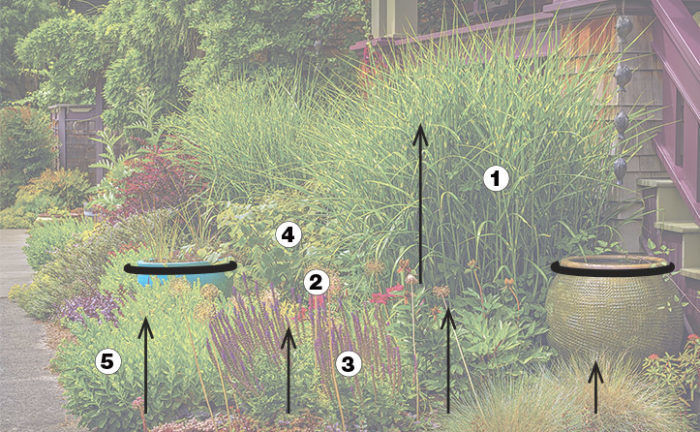 Amid the busy foliage, two containers catch the eye and turn a collection of plants into a well-designed composition. Nearly all of the plants have a strong vertical form, but the rims of the pots add a distinct horizontal element. The shade of blue on the left container gives it even more pop among the shades of purple that surround it.
1. Zebra grass (Miscanthus sinensis* 'Zebrinus', USDA Hardiness Zones 4–9)
2. Star of Persia (Allium christophii, Zones 4–8)
3. 'Caradonna' sage (Salvia nemorosa 'Caradonna', Zones 5–9)
4. 'Diane' witch hazel (Hamamelis × intermedia 'Diane', Zones 5–9)
5. 'Autumn Joy' sedum (Sedum 'Autumn Joy', Zones 3–11)
Add an Unexpected Color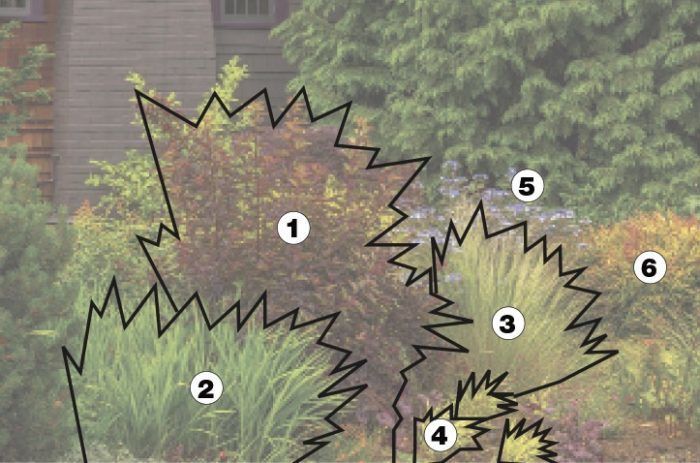 An unmistakable harmony of form and a warm color palette of reds, burgundy, and yellow hold this area together. The blue lacecaps of the hydrangea are unexpected, cooling things off with a touch of contrast. "It works because the bloom is so airy," Deborah says. That characteristic helps it fit in with the rest of the design around it.
1. Coppertina® ninebark (Physocarpus opulifolius 'Mindia', Zones 3–8)
2. 'Lucifer' crocosmia (Crocosmia 'Lucifer', Zones 6–9)
3. Mexican feather grass (Nasella tenuissima, Zones 7–11)
4. 'Aureola' Japanese forest grass (Hakonechloa macra 'Aureola', Zones 5–9)
5. 'Blue Wave' bigleaf hydrangea (Hydrangea macrophylla 'Blue Wave' syn. 'Mariesii Perfecta', Zones 5–9)
6. 'Gulf Stream' heavenly bamboo (Nandina domestica* 'Gulf Stream', Zones 6–11)
Break Out of the Clouds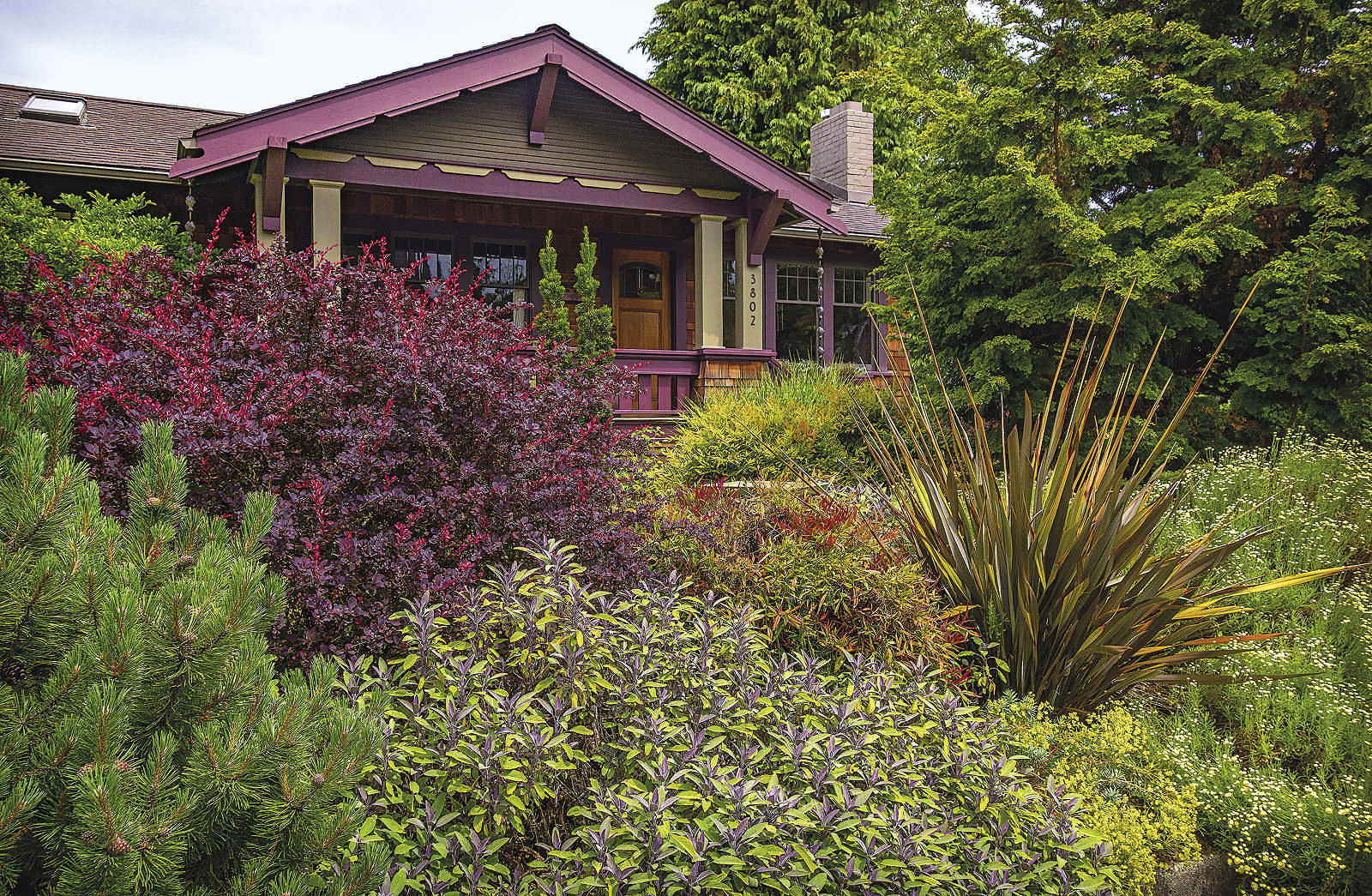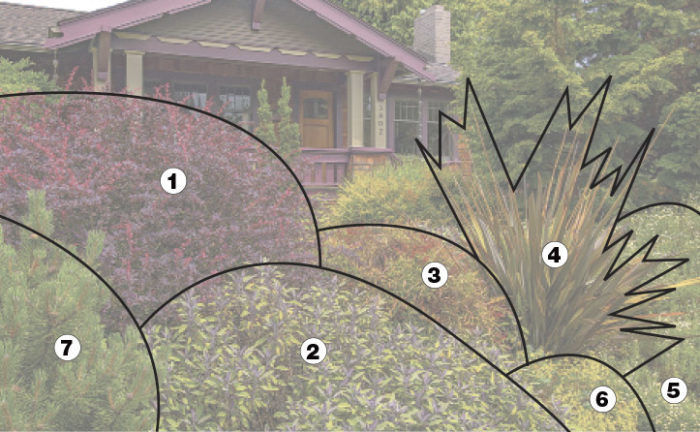 When combining many plants with small or fine leaves, it can be difficult to keep the design from feeling like a mishmash. One way to prevent that is by using large masses of those small leaves, which add weight to the design. Then add impact with a strong vertical accent bursting from amid the clouds of foliage. Dark colors, like burgundy, also help ground an area of fine texture.
1. 'Rose Glow' barberry (Berberis thunbergii* 'Rose Glow', Zones 5–8)
2. Purple sage (Salvia officinalis 'Purpurascens', Zones 5–8)
3. 'Gulf Stream' heavenly bamboo (Nandina domestica* 'Gulf Stream', Zones 6–11)
4. New Zealand flax (Phormium cv., Zones 8–11)
5. Lavender cotton (Santolina pinnata, Zones 6–9)
6. 'Blue Haze' euphorbia (Euphorbia 'Blue Haze', Zones 7–9)
7. Mugo pine (Pinus mugo, Zones 2–9)
Repeat Shapes and Patterns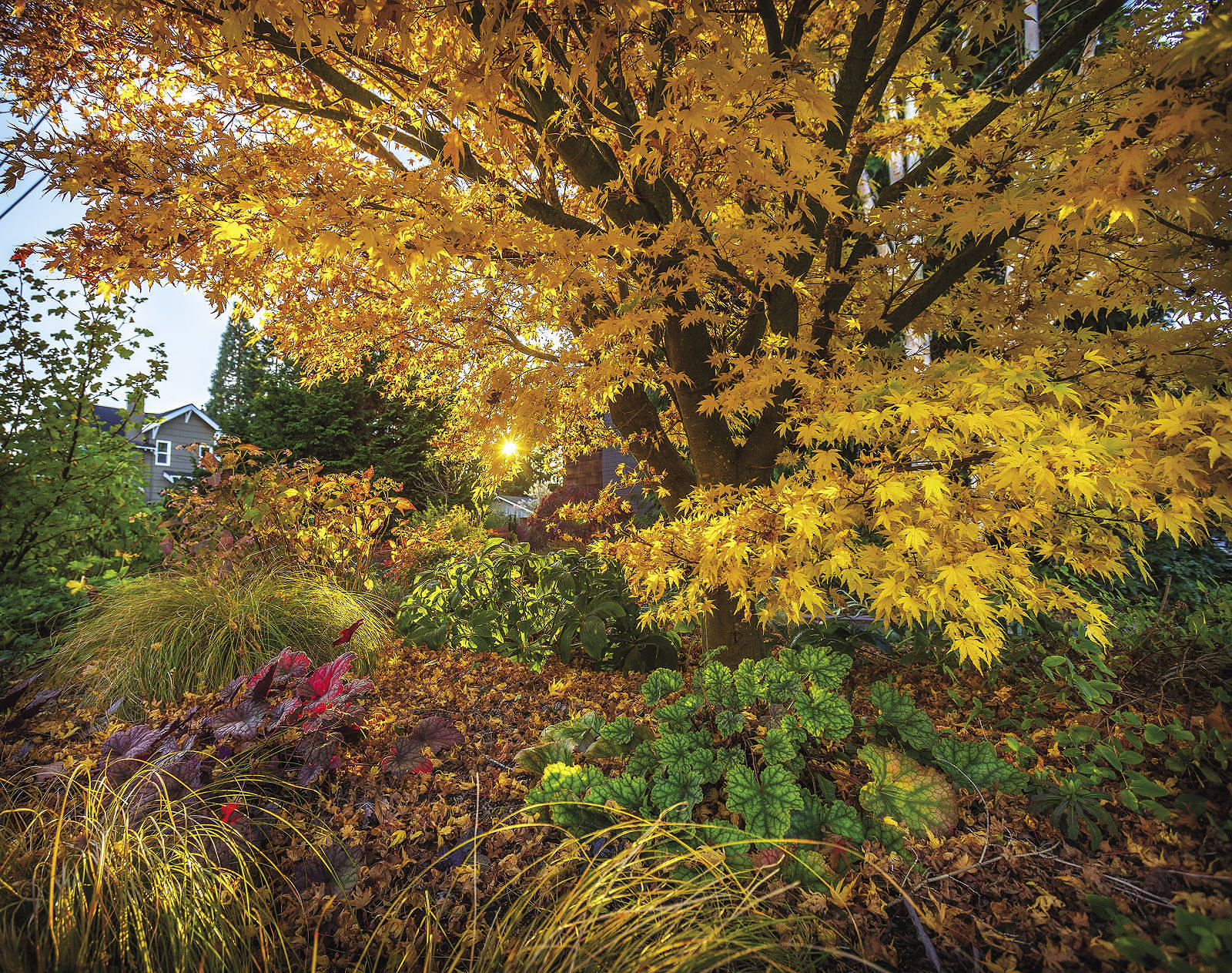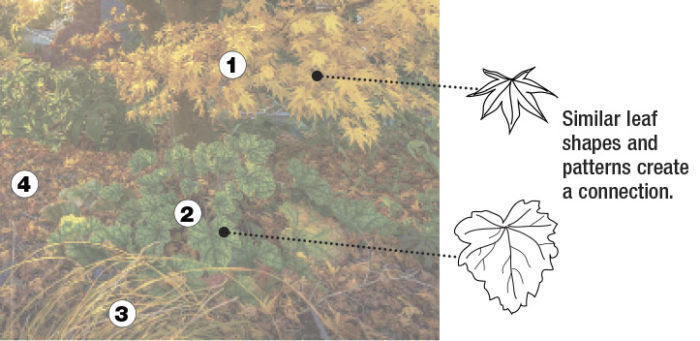 It is thoughtful design that turns a group of plants into a composition. For instance, the way the outward spread of the Japanese maple leaves is echoed in the veination of the heuchera leaves ensures that this is more than just a pretty tree at sunset. And while one must make the most of all the seasonal gold, some touches of green can keep it from being overwhelming.
1. Coral bark Japanese maple (Acer palmatum 'Sango-Kaku', Zones 5–8)
2. 'Green Spice' heuchera (Heuchera 'Green Spice', Zones 4–9)
3. Frosted curls sedge (Carex albula, Zones 6–9)
4. 'Amethyst Myst' heuchera (Heuchera 'Amethyst Myst', Zones 4–9)
---
Design
Match the House to the Garden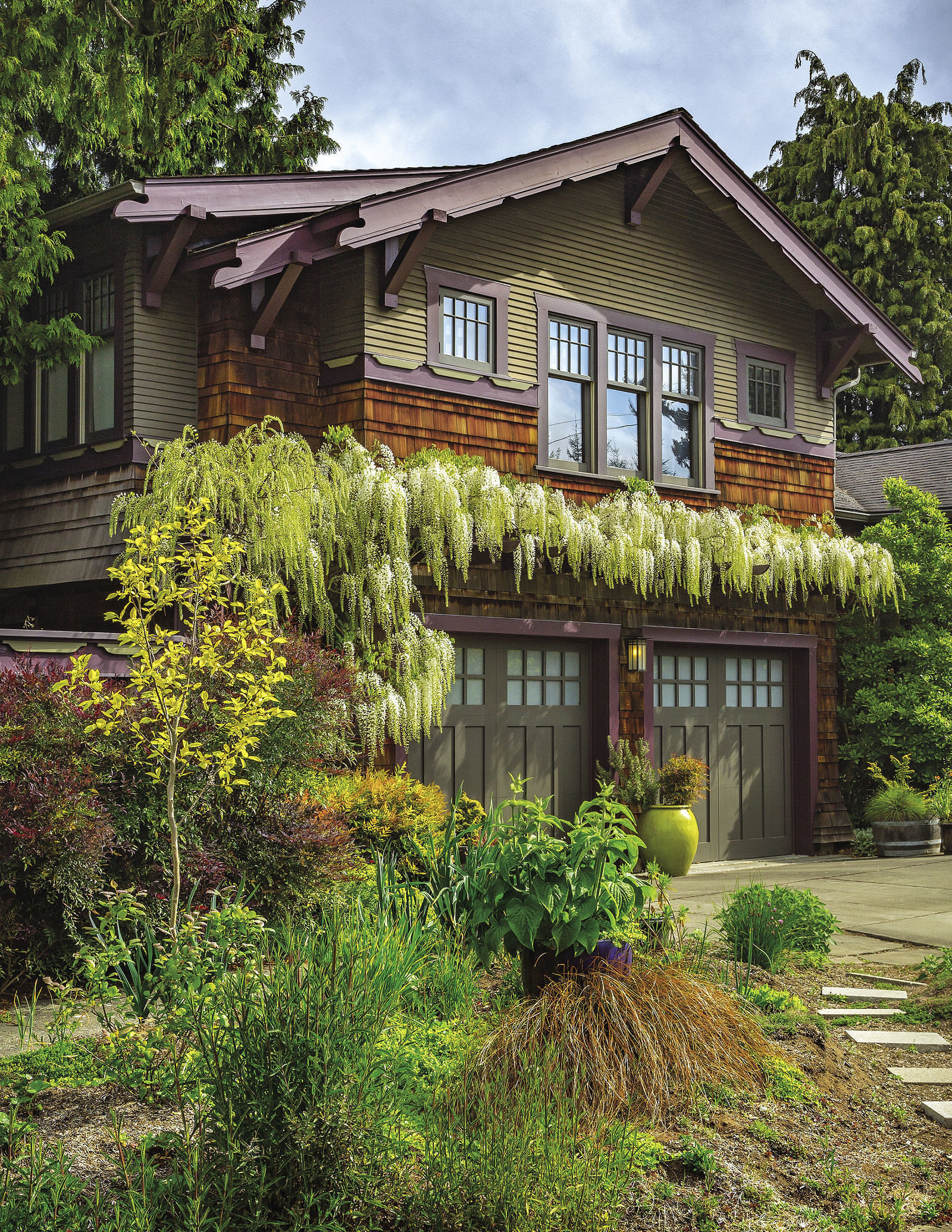 Wait. Isn't that backward? Not in this garden. Of course, the house and garden should work together. Normally, gardeners pick up color cues from the house and choose plants accordingly. But Deborah already had a color scheme that she loved for her garden. When it was time for a house remodel, she took cues from her plants for the home's exterior colors. The wine/plum/deep burgundy trim color (which even Deborah can't put a name to) harmonizes with foliage and flower colors around it.
---
Steve Aitken is the editor.
Photos: David E. Perry