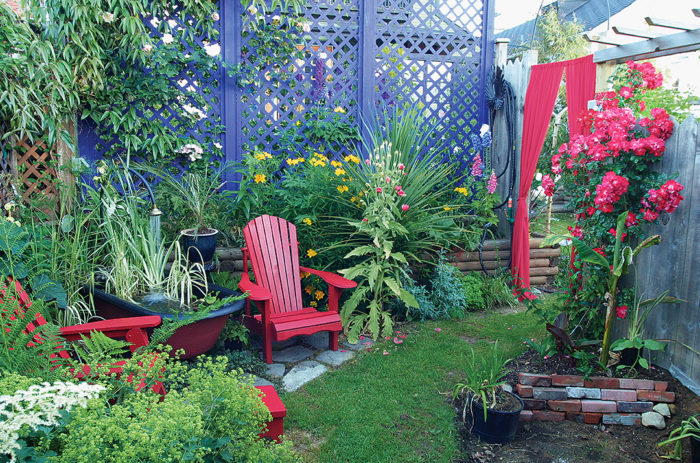 We call the small garden room at the back of our property "our folly" not only for its whimsical nature but also for the many twists and turns our design made along the way. Although it's small, this room, with its bright colors and sense of intimacy, has become our favorite place for putting up our feet and enjoying a hot summer's day. Tucked away from the high porches of our neighbors, this private sanctuary is also the farthest spot in our yard from busy traffic, making it quieter than the rest of the garden. The sound of our water feature also helps buffer the noise of the city. And its shade provides a cool respite when the sun gets too hot.
When we first moved here seven years ago, this area was part of the driveway. To claim some of the driveway for garden beds, we put up fencing, reserving a quarter of the area for parking. But instead of parking there, we used this area as a dumping ground for wheelbarrows full of sod and weeds that we removed while renovating the rest of the yard.
When we were completely out of space everywhere else and still lacked the water garden we desperately wanted, we decided to take advantage of the unused parking pad. The easiest and most cost-effective renovation was to leave the fence that already ran up the middle of the yard and add new fencing and a gate along the back. This created a 15-foot-wide by 20-foot-deep room. To make this space usable, our first task was to clear away the mountain of sod we had dumped there. With the debris removed, we were free to be creative.
Boldness works in a small space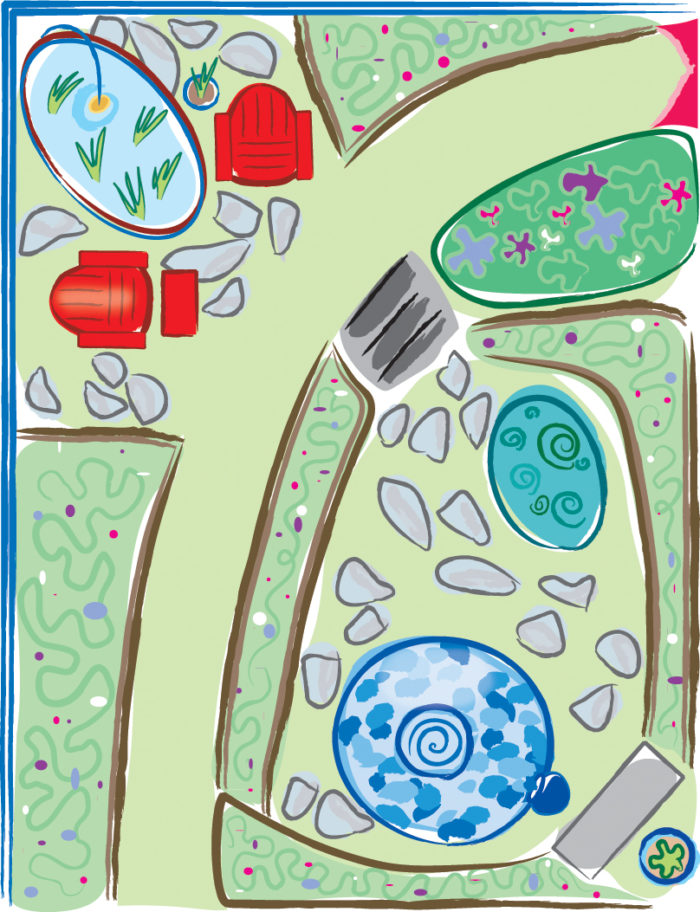 The excitement created by the combination of colors, textures, and forms make
this a garden where one wants to spend time. Only 15 feet wide by 20 feet deep, this room's combination of elements—such as fabric, mosaic, art, and plants—ensures there is always something to look at.
We laid a flagstone patio and strong-armed a claw-foot bathtub into the area to create the water feature. We added a shower to the tub by threading the cord of a recirculating pump through flexible copper tubing and feeding this up behind the nonfunctioning faucets and adding a shower rose. We opted for a strong pump to mimic the water flow of a real shower, but, in retrospect, we should have chosen one less powerful. Since the space is small and enclosed, the flow of water is too noisy for conversation; we plan to downgrade.
Partly because we live in a rain forest under perpetually gray skies, we're rapturous about strong colors. We admire their gaiety and boldness and love them as a backdrop to foliage and flowers. We chose to paint the lattice and the side of our neighbors' garage cobalt blue. (Our neighbors gave us permission to paint this wall since it's a side of the garage they never see.) We painted our chairs red, which is robust against all that blue but is also a balm to gray-weary eyes.
We then hung red curtains in the archway to the garden to increase our privacy. I remake these curtains every couple of years from cheap impervious lining; never one to court extra work, I don't even bother to sew the edges. Normal curtain rods bow when the curtains are wet, so I plan to switch to a plumbing pipe for a curtain rod next year.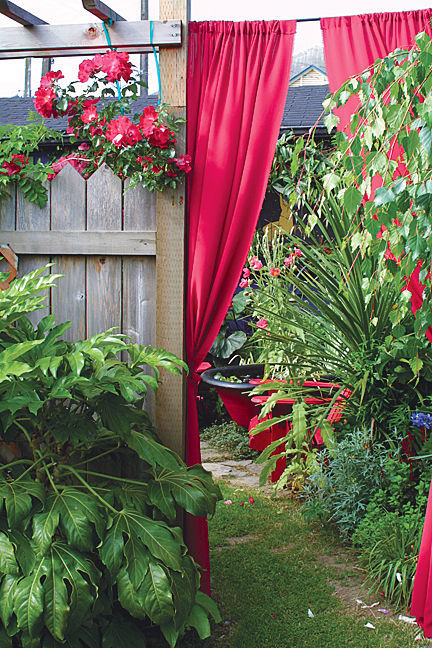 Across from our sitting area, we created an 8-foot-wide by 12-foot-deep scallop-shaped space where we origin-ally used plants with blooms of primary colors. But all that color so close to where we were sitting seemed jarring, so we toned down our color palette.
We also wanted a deep water feature to foil the raccoons that make a mess of our bathtub plants and fish, so we created a beautiful sunken space with steps leading down into a tiny bog garden and pond. And even though the waterfall wasn't hooked up, we went ahead and bought goldfish and plants.
Before we'd even had a chance to snap a photograph, the raccoons attacked. We'd thought the pond was deep enough for fish to hide, but the critters merely ripped out the flexible liner and then scooped out the fish. The plants were ruined. We reconstructed the pond, but the raccoons returned nightly for more fun and mayhem. In frustration, we drained the water, yanked out the liner, and filled the pond back in.
One of our cobalt blue pots had cracked over the winter, and this gave my partner, Joy Masuhara, the notion to use the pond area to create a mosaic in the form of a spilled wave. Using the cracked pot, some concrete, and a torrent of glass beads to signify water, we made a unique mosaic. Although it isn't a water feature, it is water themed.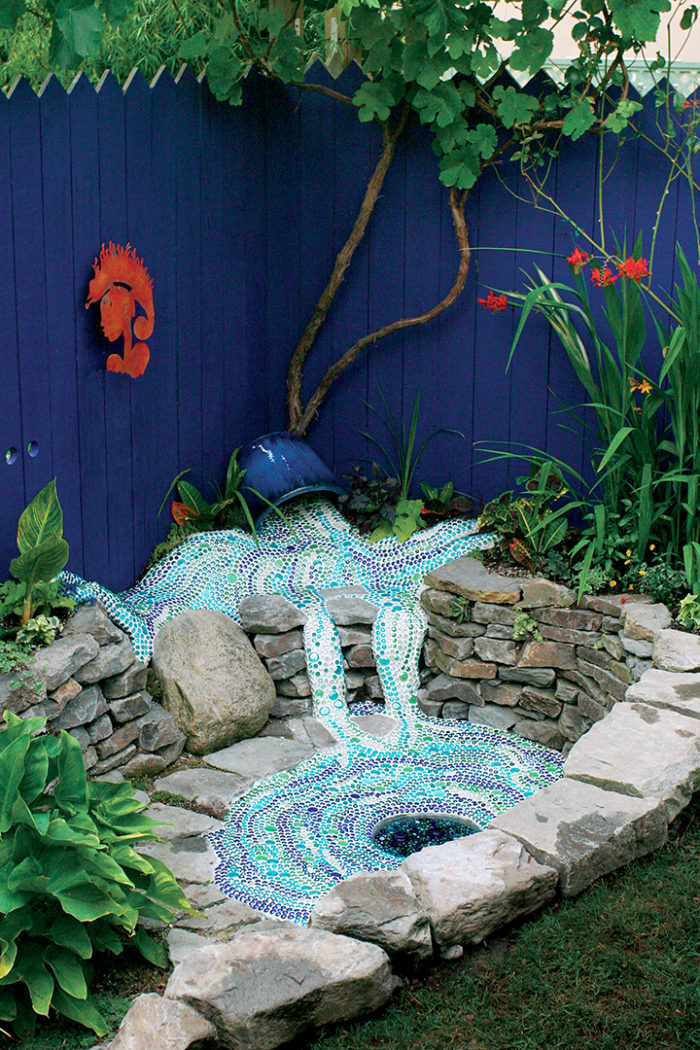 The result of all our work is a charming surprise tucked away at the back of a conventional cottage garden where the comforts of home—deep-seated chairs, good company, and glistening glasses of iced tea—meld with the pleasures of being out of doors.
Jane Eaton Hamilton gardens, writes, and lives in Vancouver, British Columbia.