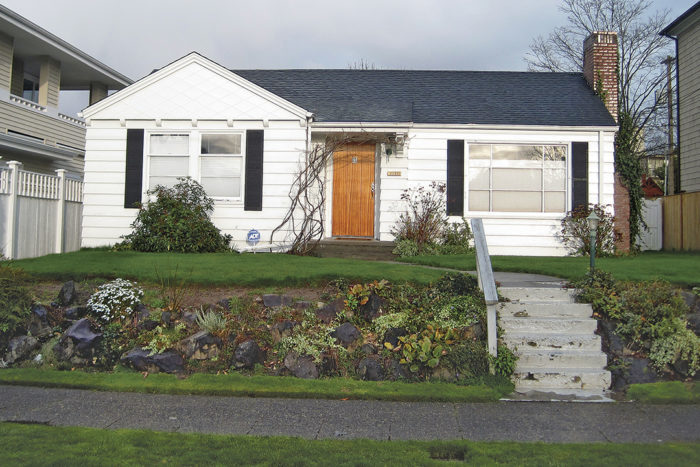 We've all been there—standing amid tired plantings and lackluster hardscaping, longing for a professional designer to come along and transform our landscape into a garden worthy of . . . well, a magazine feature. The staff of Fine Gardening spotted just such a garden and, with the home owners' permission, invited designers and landscape architects from across the United States and Canada to demonstrate how each would transform this specific space. All contestants were given a photograph of the front yard, along with infor­mation about the area: dimensions, light exposure, and site-specific considerations, including requests by the property owners to replace or dress up the entrance, leave a space for their pet schnauzer to run, and create a bit of privacy without blocking off the neighborhood. Designers submitted plans using a hardiness zone of their choice.
We present here the contest winner and two finalists. We hope you will appreciate the diversity of ideas as much as we did when selecting the top designs. Thanks to all who submitted plans, and congratulations to Tana, Joseph, Stuart, and Paula.
T
h
e Win
n
er
A design that engages all senses
Tana Oscanyan; Stone Creek Landscape Design, Provo, Utah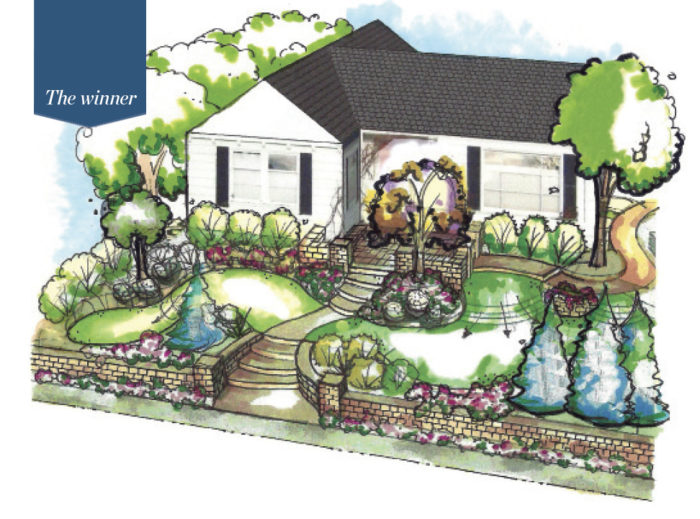 Tana says: I designed this landscape to provide color and interest for all seasons and for there to be a beautiful view from every window of the house. The plan engages all senses: It features unique focal points and a variety of color; water flows from a stone bubbler under the weeping redbud; peonies satisfy a desire for fragrance; strawberries are a treat as a ground cover; and the soft silvery needles of Korean fir call out to be touched. Even the family dog has his own spot of lawn within which to play—one that also creates a small manicured area amid more natural plantings. The curvi­linear path is wide and welcoming, the walk to the front door is gradual, and terraces soften transitions between spaces. A 2-foot-tall retaining wall allows for privacy while maintaining visibility, and passersby are treated to a view of a beautiful landscape from the sidewalk.
A sampling of plants:
1. 'Daybreak' magnolia (Magnolia 'Daybreak', USDA Hardiness Zones 5–9)
2. 'Vossii' golden chain tree (Laburnum watereri 'Vossii', Zones 6–8)
3. Lavender Twist® weeping redbud (Cercis canadensis 'Covey', Zones 5–9)
4. French Lace™ weigela (Weigela florida 'Brigela', Zones 4–8)
5. 'Silberlocke' Korean fir (Abies koreana 'Silberlocke', Zones 5–8)
6. 'Alexander Fleming' double peony (Paeonia 'Alexander Fleming', Zones 3–8)
7. 'Prairie Blue Eyes' daylily (Hemerocallis 'Prairie Blue Eyes', Zones 4–11)
8. 'Yakushima' dwarf miscanthus (Miscanthus sinensis 'Yakushima', Zones 4–9)
T
h
e F
inalists
Sustainability defines this design
Joseph R. Leo and Stuart McPherson; Evergreen, Toronto, Ontario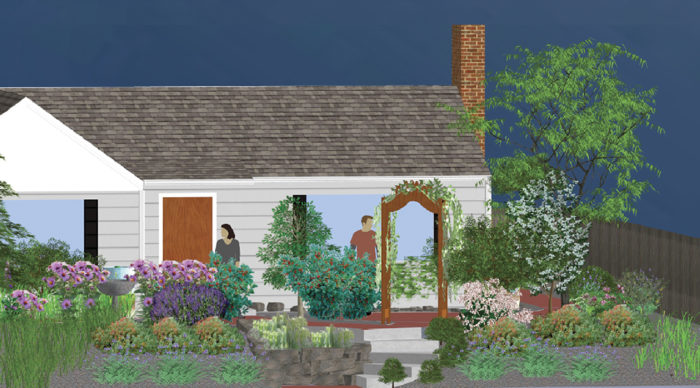 JR and Stuart say: The theme of this landscape is sustainability: With the exception of herbs, all plants are native; the lawn is significantly reduced; and a new walkway is made out of recycled, porous materials. The use of native plants ensures performance, reduces maintenance, lowers energy costs, and provides sustenance for local wildlife. Woodland gardens situated under mature canopies and understory trees provide a realistic tiered environment. The home owners' desire for privacy is addressed by appropriately placed plants; the front is partially obscured by two varieties of grasses and two small trees. The spruce and cedar trees add privacy and shade, creating a cool space within which to relax. And the benefits of this garden extend well beyond those to the home owners—seasonal berries planted throughout the landscape provide something for all creatures.

A sampling of plants:
1. Blue beech (Carpinus caroliniana cv., Zones 3–9)
2. Pagoda dogwood (Cornus alternifolia cv., Zones 4–8)
3. Shagbark hickory (Carya ovata cv., Zones 4–8)
4. White cedar (Thuja occidentalis cv., Zones 2–7)
5. Elderberry (Sambucus sp., Zones 3–9)
6. Foam flower (Tiarella cordifolia cv., Zones 3–8)
7. Northern sea oats (Chasmanthium latifolium, Zones 5–9)
8. Purple coneflower (Echinacea purpurea cv., Zones 3–9)
A gardener's garden filled with flowers and fragrance
Paula Wendland; Sturgeon Bay, Wisconsin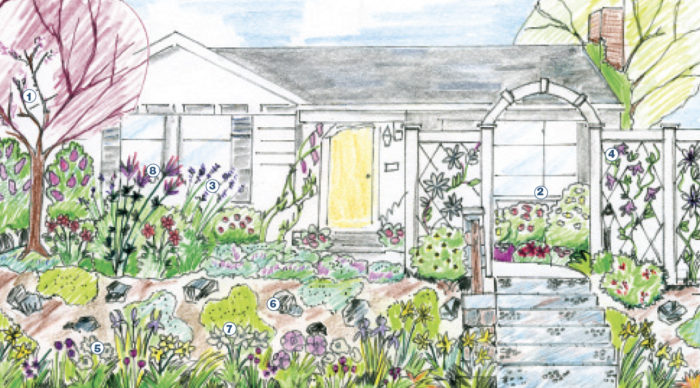 Paula says: Fragrance sets this garden apart. Too often fragrance is ignored, so I went a little wild with it and used as many scented plants as I could. The structure is multilayered: The first layer creates privacy, the second features a rock garden, and the third is a closely planted strip at the base of the rock garden—a "hem" that stitches the garden together. One half of the lawn is replaced with thyme, while the other half remains for the family dog. The latter area is screened by a white arbor and trellises planted with a variety of flowering vines. The former area is planted with a redbud and tall, airy perennials that provide an open, veil-like screen for additional privacy. Dark gray slate tiles and a lighter pebble mosaic on the risers replace the concrete steps and walkway. The stair rail is rebuilt using stone columns supporting a cedar railing. I included a mixed border of perennials and annuals, which provides color from early spring through fall.
1. Eastern redbud (Cercis canadensis cv., Zones 4–9)
2. 'Lemon Lights' azalea (Rhododendron 'Lemon Lights', Zones 5–9)
3. Bloomerang® Purple lilac (Syringa 'Penda', Zones 3–7)
4. 'Betty Corning' clematis (Clematis 'Betty Corning', Zones 4–11)
5. Blue star creeper (Isotoma fluviatilis, Zones 5–9)
6. 'Doone Valley' lemon thyme (Thymus 'Doone Valley', Zones 6–9)
7. 'Newberry Borrowed Time' daylily (Hemerocallis 'Newberry Borrowed Time', Zones 4–11)
8. 'Fascination' Culver's root (Veronicastrum virginicum 'Fascination', Zones 4–8)
---
Lynn Felici-Gallant is the associate editor.
Photos and illustrations: courtesy of the designers; courtesy of David Clough