On a scale of one to 10—with 10 being the greatest concern—seasonality should rank about eight or nine when it comes to designing a garden. But developing a year-round powerhouse landscape is easier said than done. It's almost impossible to have all of the plants in the garden looking good all of the time. My partner and I decided, instead, to do a few key things in each of our beds to ensure continual interest. The end result may not be a garden that sparkles 365 days a year, but it does have something interesting going at some point, each month.
This approach is best illustrated by our pond garden that is just off the back terrace to our house. Because of its location, this area is always in the spotlight. At first, this bed (along with the rest of the garden) was filled primarily with summer stars because we used plants from our nursery, which specializes in unusual tropicals. It only took one season to figure out that we had to add some different elements to make the area more compelling throughout the year. We increased the seasonal impact of this visible spot using tactics that can help any gardener achieve a boost of seasonality.
Large trees and shrubs are more important than you might think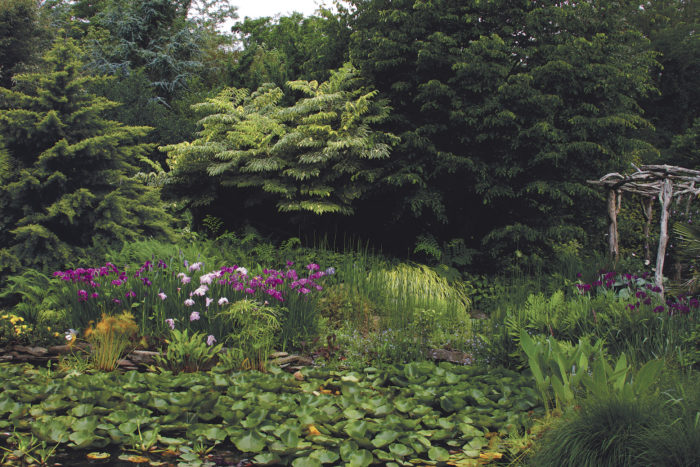 We've all heard it a million times before: Woody plants (evergreen or deciduous) are crucial for seasonality. They are often called the "bones" of the garden, but this isn't just because they look good in winter when not much else does. Large trees and shrubs provide an ever-present backdrop, so smaller hits of color or texture (from perennials, annuals, and tropicals) are visually magnified. With this in mind, we planted a mix of bamboo, deciduous trees, and some evergreens at the back of our pond that lend continuity to the view, month after month. Even though they take a back seat in the garden, these background plants don't need to be boring. The 'Golden Pyramid' Arizona cypress (Cupressus arizonica var. glabra 'Golden Pyramid', Zones 6–9), for instance, is one of my favorite trees, not only because of its yellowish evergreen foliage but also because of its unique, airy silhouette (photo, above).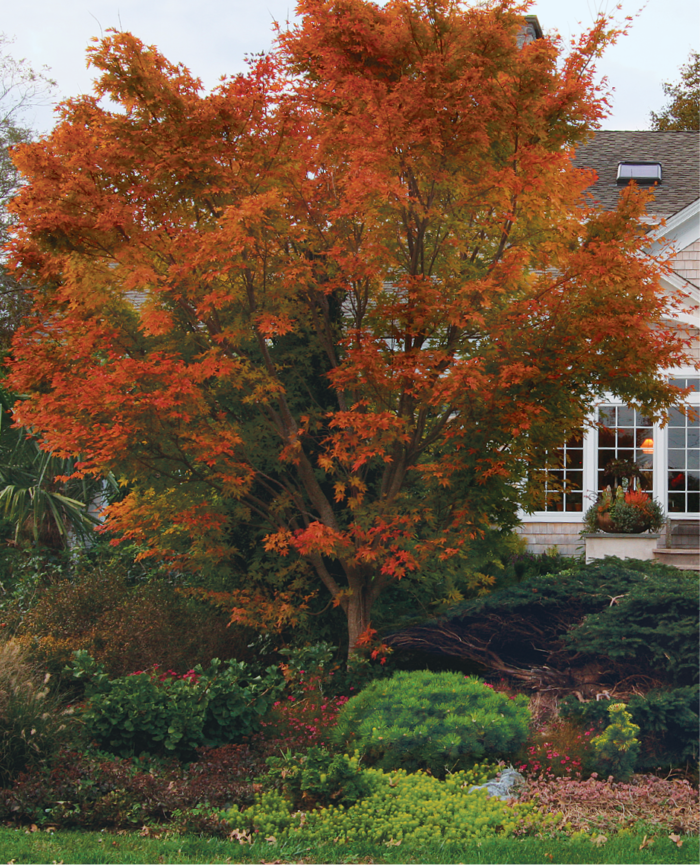 These woody plants significantly enhance the interest level during fall and winter, as well. The Japanese maple (Acer palmatum* cv., Zones 5–8), for instance, which sits just on the edge of the pond, doesn't really stand out during most of the year and serves mainly as a backdrop plant. But come September, its color shifts, and it steps forward to really shine (photo, above).
Add a few stars to pump up the color and texture interest
Once you have a consistent background, you'll need to pick out a few essential seasonal stars. These are not necessarily plants that shine every day of the year, but they are exceptionally eye-catching—because of their color, texture, or form—during a brief window of time. For this bed, we selected a handful of choice plants that steal the show at specific times of the year.
The purple Siberian iris (Iris cv., Zones 3–9) in spring, for example, adds a vibrant shot of color that is impossible to ignore. By summer, when the iris has gone out of bloom, the lotus (Nelumbo cv., Zones 4–11) shoots up with its smooth, broad leaves and steals the show. Later on, the lotus adds another element of interest when it bursts into bloom and then boasts interesting seedpods for weeks after. By the time the lotus fades in fall (after the first frost knocks it down), the Japanese maple becomes the focal point of this bed with its brilliant coloring. Variegated aralia (Aralia elata 'Variegata', Zones 4–9) is another seasonal player that provides interest almost all year, due to its ornate branch structure (highlighted in fall and winter); bold, colorful foliage (which is at its best in spring); and showy summer blooms.
Include water if you want year-round amusement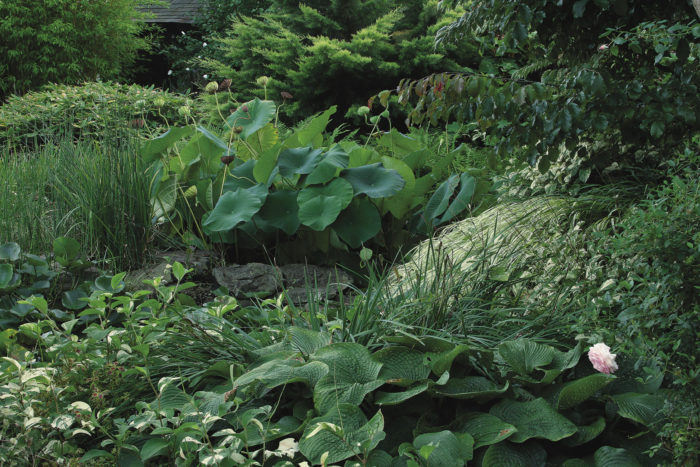 Although we didn't initially install the pond at the front of this garden as a seasonal feature, it has become a major element that gives this setting interest during all months. The pond is always teeming with activity. Aside from the flowers and foliage that reside within the pond, the water attracts all kinds of wildlife: birds bathing and drinking; frogs hopping around; dragonflies hovering; and osprey, kingfishers, and herons eating the fish. There's always some drama unfolding in the pond. With its close vicinity to the house, it's easy to view the never-ending show. I realize not every­one has the room or resources to install a large pond. But any water feature—regardless of scale—is an excellent way to ensure excitement in the garden on a daily basis.
Everyone wants his or her garden to look good all the time. But unfortunately, most of us live where there are certain "off seasons" when our gardens look less than stellar. With a few simple steps, however, you can ensure that your space shines just as brightly in April and November as it does in July.
---
Seasonal S
tandouts
The following are a few of my go-to seasonal stars—not because they look good for a week while they're in bloom but because they shine for several weeks or months per year.
Photo: Stephanie Fagan

Photo: Michelle Gervais

Photo: Danielle Sherry

'Hawera' daffodil

(Narcissus 'Hawera', USDA Hardiness Zones 3–9)

Noteworthy traits: Its fragrant, pale yellow blooms shine in spring. Annuals can be carefully planted on top of the bulbs when they are finished blooming.

Mexican

bush sage

(Salvia leucantha, Zones 9–11)

Noteworthy traits: The plant's tall stature of soft, gray-green leaves commands attention, and a flash of electric purple blooms in late summer is an added bonus.

'Heritage' river birch

(Betula nigra 'Heritage', Zones 4–9)

Noteworthy traits: It has wonderful exfoliating white bark all year and catkin blooms in spring. New, soft green leaves appear in spring and summer before taking on a yellow color in fall.

Photo: Michelle Gervais

Photo: Danielle Sherry

Photo: Danielle Sherry

Crape myrtle

(Lagerstroemia indica cvs., Zones 7–9)

Noteworthy traits: It has great peeling bark, beautiful and delicate new spring growth, outrageous summer flowers, and bright burgundy-red fall leaf color.

Ornamental kale and cabbage

(Brassica oleracea cvs., annual)

Noteworthy traits: These plants display good foliage color in fall and winter. If the plants survive into spring, they can bolt up and bloom with pale yellow flowers, adding a welcome surprise to the early-spring garden.

'Miltoniana' copperleaf

(Acalypha wilkesiana 'Miltoniana', Zones 10–11)

Noteworthy traits: Its colorful foliage looks fantastic from late spring into late fall.
---
Dennis Schrader is co-owner, with Bill Smith, of Landcraft Environments, a specialty nursery in Mattituck, New York.
Photos, except where noted: Danielle Sherry