First Signs of Spring Photo Contest 2020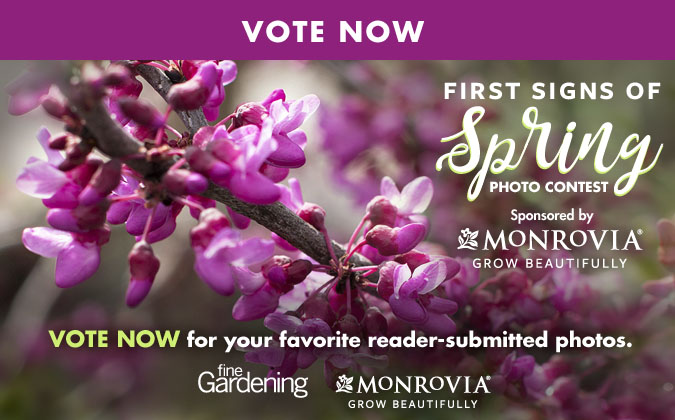 Starting May 5th
Join Fine Gardening and Monrovia in celebrating spring with our First Signs of Spring photo contest. Starting May 4th, photographers can vote for their favorite entries and give three lucky winners a gift certificate worth up to $500 from Monrovia.com!
What does spring mean to you?
Photographers were asked to submit photos that they believed express the essence and spirit of spring. They were asked to consider the following when submitting: What makes you excited for spring? What do you look forward to when spring comes? Vote for photos that you think display this meaning.
What does the winner get?
The winner of the photo contest will receive a $500 gift certificate to Monrovia.com, the second-place finisher a $350 gift certificate, and the third-place finisher a $250 gift certificate. Winners will have their photo featured in Fine Gardening magazine. See official contest rules and enter below.
First Signs of Spring Photo Contest
Phase 1: Participants enter to win!
From March 19 to April 30, 2020, photographers may submit up to five (5) photos to the contest displaying their favorite first signs of spring. Photos do not need to have been taken this year, but they should not have been entered in a photo contest previously.
Phase 2: Vote on your favorites!
On May 4, 2020, our editors will post ten (10) photo semifinalists from the submissions, and YOU will pick the winner. Get your friends and family involved. Participants can vote up to one time each day until May 15, 2020. Winners will be announced after voting has concluded. See official rules below.
Make your garden dreams come true!
Winners will receive gift cards to Monrovia.com!
1st Prize – receives a $500 gift card
2nd Prize – receives a $350 gift card
3rd Prize – receives a $250 gift card
Plus, the winners will be featured in Fine Gardening magazine's
September/October issue!
See official rules below.
---
2020 Monrovia's First Signs of Spring Photo Contest 

Official Rules and Regulations

2020 Monrovia's First Signs of Spring Photo Contest Official Rules and Regulations

NO PURCHASE NECESSARY TO ENTER OR WIN.

ENTRY PERIOD:  Entries for the 2020 Monrovia's First Signs of Spring Photo Contest (the "Contest") will be accepted from 8:00 a.m. ET on March 19, 2020, to 8:00 p.m. ET on April 30, 2020 ("Contest Entry Period"). All entries must be received during the Contest Entry Period.

ELIGIBILITY:  Contest is open to legal residents of the United States (including the District of Columbia and Puerto Rico) and Canada (except Quebec) who are at least 18 years old at the time of entry, and who are not employees, officers, directors, representatives, or independent contractors of The Taunton Press, Inc. ("Contest Administrator"), of Monrovia ("Contest Sponsor"), or of their respective affiliated companies, subsidiaries, or distributors (the "Entrants"). Contest is void in Quebec and wherever else it is prohibited.

HOW TO ENTER:  To enter the 2020 Monrovia First Signs of Spring Photo Contest, go to https://www.finegardening.com/firstsignsofspringcontest and submit up to five (5) photos featuring your favorite signs of spring that make you excited to start gardening! The photos must be original and taken by you. No stock photos or photos taken by another person will be accepted. Winners will be asked to sign an affidavit affirming that no other person has copyright or ownership rights to the photos submitted.

PHOTO JUDGING:  From the eligible entries received, the editorial staff of Fine Gardening magazine will choose the "Top 10 Semi-Finalist" photos, which will be posted at https://www.finegardening.com/firstsignsofspringcontest. The public may then vote on the photos from 8:00 a.m. ET on Thursday, May 4, 2020, until 8:00 p.m. ET on Monday, May 15, 2020. To vote, go to the same website and vote for your favorite photo.

WINNING:  On or about May 22, 2020, the three (3) Entrants who submitted photos receiving the most votes will be announced as the first-, second-, and third-place winners. The winners will be notified by email initially and then by mail within ten (10) days of the winners' selection. Odds of winning will depend upon the total number of eligible entries received.

PRIZES/VALUES

FIRST PLACE:  (1) Monrovia Gift Card valued at $500.00

                                   

SECOND PLACE:  (1) Monrovia Gift Card valued at $350.00

                                   

THIRD PLACE:  (1) Monrovia Gift Card valued at $250.00

 

CLAIMING YOUR PRIZE:  The winners must sign and return an Affidavit of Eligibility and Liability/Publicity Release within ten (10) days of notification, or their prize may be forfeited. The winners will also be required to provide proof of age with a photo ID. (Tennessee residents will not be required to sign a Publicity Release as a condition of winning a prize.) Once the winners are verified, Monrovia will send them the code they need to redeem their prizes through Monrovia.com. The prizes are not transferable or redeemable for cash. No substitutions will be allowed for the prizes awarded except those made by the Administrator, in which case a prize of equal or greater value will be substituted.

TERMS/CONDITIONS:  Entrants must abide by these Official Rules and Regulations ("Official Rules"), and by entering the Contest, Entrants agree to be bound by these Official Rules. All entries become the property of the Administrator.

Administrator is not responsible for photos not received due to unavailable network; failed server or other connections; miscommunications; interrupted, misrouted, or scrambled transmissions; or other errors or problems of any kind whether mechanical, human, electronic, or otherwise. Administrator assumes no responsibility for lost, stolen, delayed, damaged, or misdirected photos; for any failure of the website during the Contest Entry Period; for any problems or technical malfunction of any telephone network or lines, computer online systems, access providers, computer equipment, software, failure of any e-mail entry to be received by Administrator due to technical problems or traffic congestion on the Internet or at any website; or of any combination thereof, including any injury or damage to an Entrant's or any other person's computer related to or resulting from playing or downloading any material related to the Contest. Administrator reserves the right, in its sole discretion, to cancel or suspend this Contest should a virus, bug, or other cause beyond the reasonable control of Administrator corrupt the security or proper administration of the Contest. Any attempt to deliberately damage any website or to undermine the legitimate operation of this Contest is a violation of criminal and civil laws. Should such an attempt be made, Administrator reserves the right to seek remedies and damages to the fullest extent permitted by law.

CONTEST SPONSOR:  Monrovia Nursery Company, d/b/a Monrovia®, 817 East Monrovia Place, Azusa, California 91702 USA

CONTEST ADMINISTRATOR:  The Taunton Press, Inc., 63 South Main Street, Newtown, CT 06470 USA, publisher of Fine Gardening® magazine and https://www.finegardening.com.

PRIVACY DISCLOSURE:  Personal information provided for entry into this Contest and to receive Fine Gardening emails is subject to the Privacy Policy of The Taunton Press, Inc., located at https://www.taunton.com/privacy-policy/. Personal information of Entrants opting to receive emails from Monrovia is subject to the Privacy Policy of Monrovia, located at https://www.monrovia.com/privacy-policy. You can unsubscribe to any email list at any time.

RELEASE: By participating, Entrants agree to release, discharge, indemnify, and hold harmless the Contest Sponsor, Contest Administrator, and their respective officers, directors, owners, employees, representatives, and agents from and against any claims made by the winner, Entrants, or any other third parties, related in any way to the operation of this Contest as well as any other claims, damages, or liability due to any injuries, damages, or losses to any person or property of any kind resulting in whole or in part, directly or indirectly, from acceptance, possession, misuse, or use of any prize or participation in any Contest-related activity or participation in this Contest.

TAXES:  Any federal, state, and/or local tax liabilities resulting from winning a Contest prize, including but not limited to luxury, sales, and income, if any, are the sole responsibility of the winners.

WINNERS LIST:  Send a self-addressed, stamped envelope by June 30, 2020, to Fine Gardening, 2020 Monrovia First Signs of Spring Photo Contest Winners List, 63 South Main Street, Newtown, CT 06470 USA.