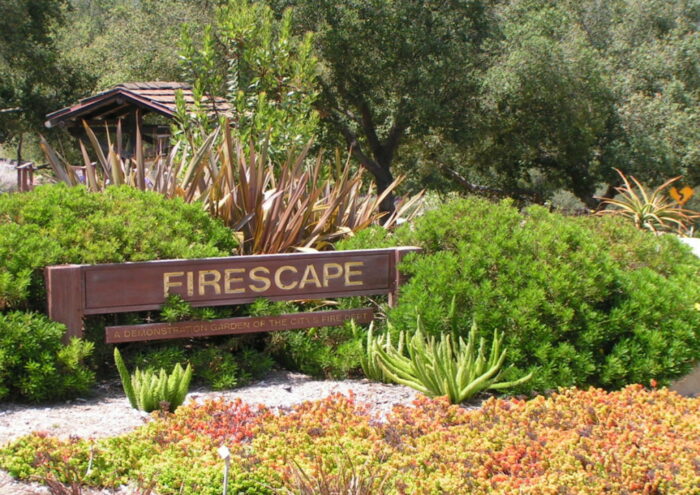 Here is some information that might help save your home from a fire. If you live in a high-fire area, you should already know this stuff and be putting the principles into practice.
Wildfires can happen anywhere
Perhaps you are thinking, "Wildfires only happen out west. I'll just worry about floods and tornadoes and blizzards and hailstorms and plagues of flying garden gnomes."
Ponder this: The last time I checked, Myrtle Beach, South Carolina, was on the Atlantic coast. We call that "back east." The fire that broke out there on April 24, 2009, burned 19,600 acres and consumed 80 homes. So listen up, please. To paraphrase Bob Dylan, the climate, it is a changin'.
| | |
| --- | --- |
| At times, the flames would calm down, but the smoldering continued, ready for the next 70 mph gust to rekindle the blaze. | When the smoke comes, life becomes a sci-fi movie. Vocabulary words include "apocalypse," "Armageddon," and "OMG!" Photo: Billy Goodnick. |
I was at a presentation by Santa Barbara's retiring fire chief, Ron Prince, a few weeks ago regarding the devastating Tea fire we experienced in November 2008. Ron and his staff were describing how at the peak of the firestorm, "strike teams" cruised into actively burning neighborhoods and decided where to take a stand. If the landscaping around a house jeopardized the movement of the firefighters and equipment, or contributed to the fuel load around the structure, these guys hit the accelerator on their 38,000-lb. rigs and went looking for better odds. I can't say I blame them.
Creating a fire-wise landscape
The key to creating a fire-wise landscape around your home is to provide "defensible space." In other words, you increase the odds of surviving a wildfire by managing the fuel around your property. There are no "fireproof" plants. OK, if you want to quibble, the kelp that grows off the shores of Santa Barbara beaches has never burned in a brushfire. I'm no expert, but I think it might have to do with being surrounded by seawater. But I digress.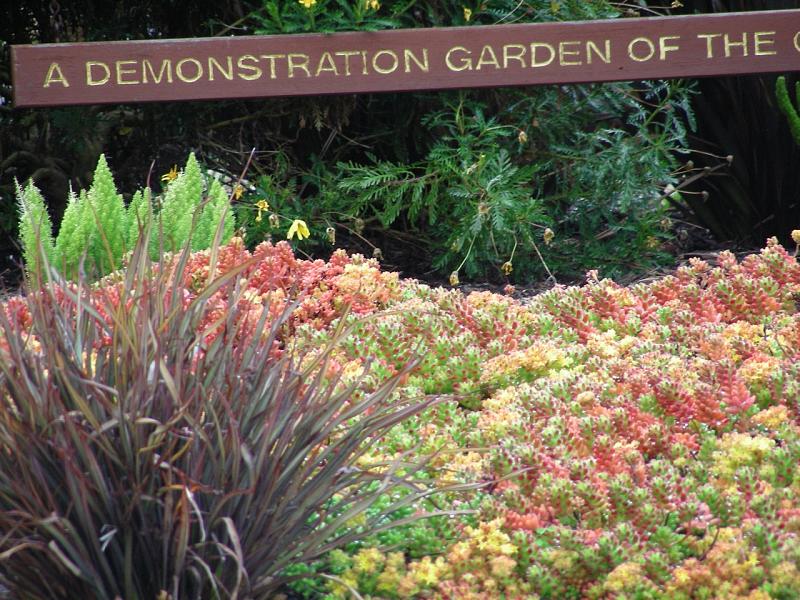 How to firescape
Your objective is to minimize the amount of fuel that fire can feed off of. Aside from the obvious steps—cutting back tree branches that overhang your roof, eliminating flammable construction materials like wood decking, and clearing dried weeds and grasses—there is a systematic zone approach that makes a lot of sense.
Picture a bull's-eye with roughly circular zones emanating outward from your house.
Zone 4 is the outermost portion of your property. For homes right on the "fringe of civilization," this is called the wildland/urban interface, where native vegetation comes right up to your property line. In Santa Barbara, these plants are usually part of the chaparral ecology—plants designed by nature to burn. It's part of the renewal process.
Visualize islands of vegetation separated by areas of low-fuel plants or at least 20 feet of mulch. This arrangement breaks up the fuel that could serve as a fuse leading to your house. The technical term for it is "discontinuous fuel source."
Zone 3, closer to the house, consists of low-growing, fine-leafed plants that burn quickly and produce short flame lengths. This way, the fire consumes the fuel in a flash and the spread of the flames is reduced. A good palette might be gazania daisy, Lavandula 'Provence', Geranium incanum, and Lantana montevidensis. There are sure to be similar plants in your gardening zone.
Zone 2 is juicy. No, not the clothing brand adorning the posteriors of plush sweat pants. I'm talking about plants that store a lot of moisture in their tissue. This should include very low-growing plants that are harder to burn. In SoCal, we have a diverse palette to choose from: Agave, Aloe, Crassula, and Agapanthus are a few of the soft-tissue varieties, complemented by low growers like Nepeta faassenii, our native Heuchera maxima, and Erigeron karvinskianus.
Zone 1 is where you make your last stand. Give up the picturesque, old-school idea of foundation plantings. The last thing you want to do is mound fuel against the house; you might as well put gasoline in your sprinkler system. The plants you choose can come from the same palette as Zone 2, but it's a good idea to include some irrigated lawn and spaces with inert materials like gravel mulch.
There are no guarantees that heeding these guidelines will save your home if a wildfire is raging your way. You can create the textbook-perfect fire-wise garden and still lose everything. If you embrace and implement these ideas you might have passing fire crews look up your driveway and think, "It looks like they did it right. Let's make a stand."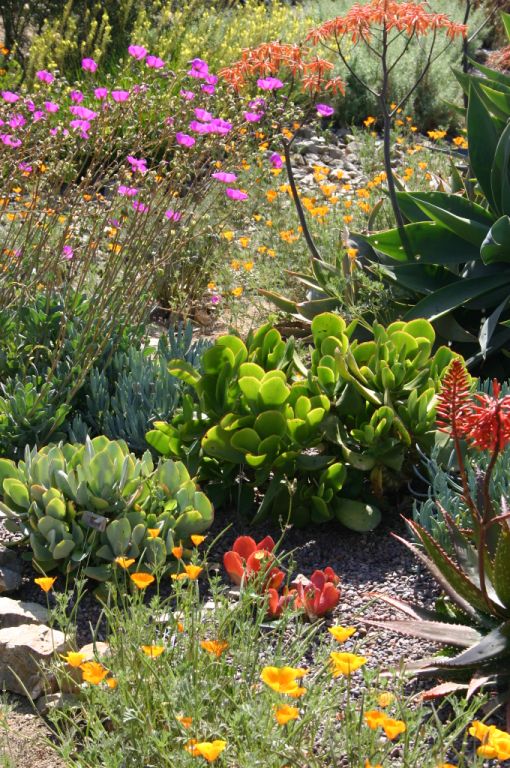 Informative Links
Federal Alliance for Safe Homes – Disaster preparedness nonprofit
Debra Lee Baldwin article – "Did Succulents Save Her Home?" L.A. Times