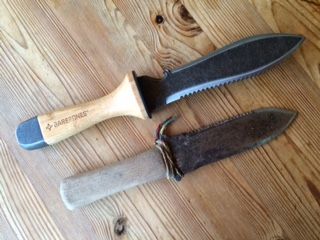 I've had my hori hori (Japanese weeding knife) for more than 25 years. It is the tool that I use most often in the garden other than my Felcos. I have bought many of these useful tools for gifts. This past summer I went online to order one for a bithday present for my daughter Lucie and found a new and improved model… read all about it…
I bought my first hori hori from Lee Valley, a purveyor of fine gardening tools. (https://www.leevalley.com/us/garden/page.aspx?p=10504&cat=2,51810,10504) My garden fork is also from them and it is one of my most-used garden tools; it is sturdy and good quality. Over the years, I have shopped around and bought a cheaper hori hori–and you get what you pay for–beware of imitiations. In fact, I'd given a hori hori to my daughter's boyfriend Matt, who is a gardener, and it inadvertently got run over by a tractor. So when he asked for a replacement, I bought one from somewhere else and he decided to return it since it wasn't up to the same standards as the old one.
My original tool had a carbon steel blade which will rust if not cared for after using (just wipe it free of dirt and moisture after each use and scrub clean occasionally, then wipe it down with alcohol and dry it), however now Lee Valley also offers it in stainless steel. Since the blade is dark and the handle is wooden it is very easy to misplace it in the garden. Therefore I tied rainbow-colored string around it, along with a number of other wooden-handled tools, so I could spy them easier if I sat them down while working or needed to find them at the end of the work day. (Thus the holster is a good idea if you wear a belt). I usually start out with it in the long pocket of my overalls.
So I found a new updated version of the hori hori at https://www.barebonesliving.com/p/75/The-Ultimate-Tool. It is not only handsome, with an ergonomic handle made from bamboo, it comes with a tool sheath that has a stainless steel belt clip. This Ultimate Tool can:
1. Pound in tent stakes with the flat pommel base.
2. Measure planting depth with the handy inch marks.
3. Saw a branch or whittle some kindling with the rust-resistant, double-edged blade.
4. Cut twine or be used as a bottle opener.
It feels good in the hand, though it is quite a bit heavier than my original hori hori. I am looking forward to using this ultimate tool, though I won't give up my old faithful one. Every gardener needs their own hori hori.