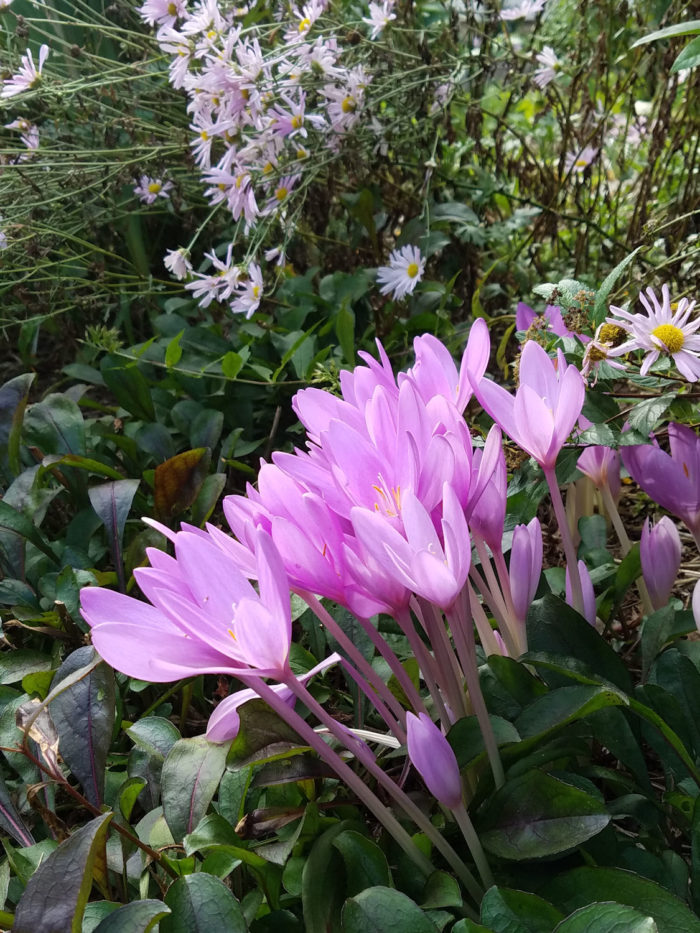 Today's photos come from Kathy Purdy, a great collector of fall-blooming colchicum.
I garden in Oxford, New York, which I like to say has a Zone 5 winter (sometimes even Zone 6!) with a Zone 4 growing season (late spring frosts and early autumn frosts). I first encountered colchicums when we moved into our first home, a 19th-century farmhouse, over 25 years ago. Some gardener before me had planted Colchicum × byzantinum among the peonies.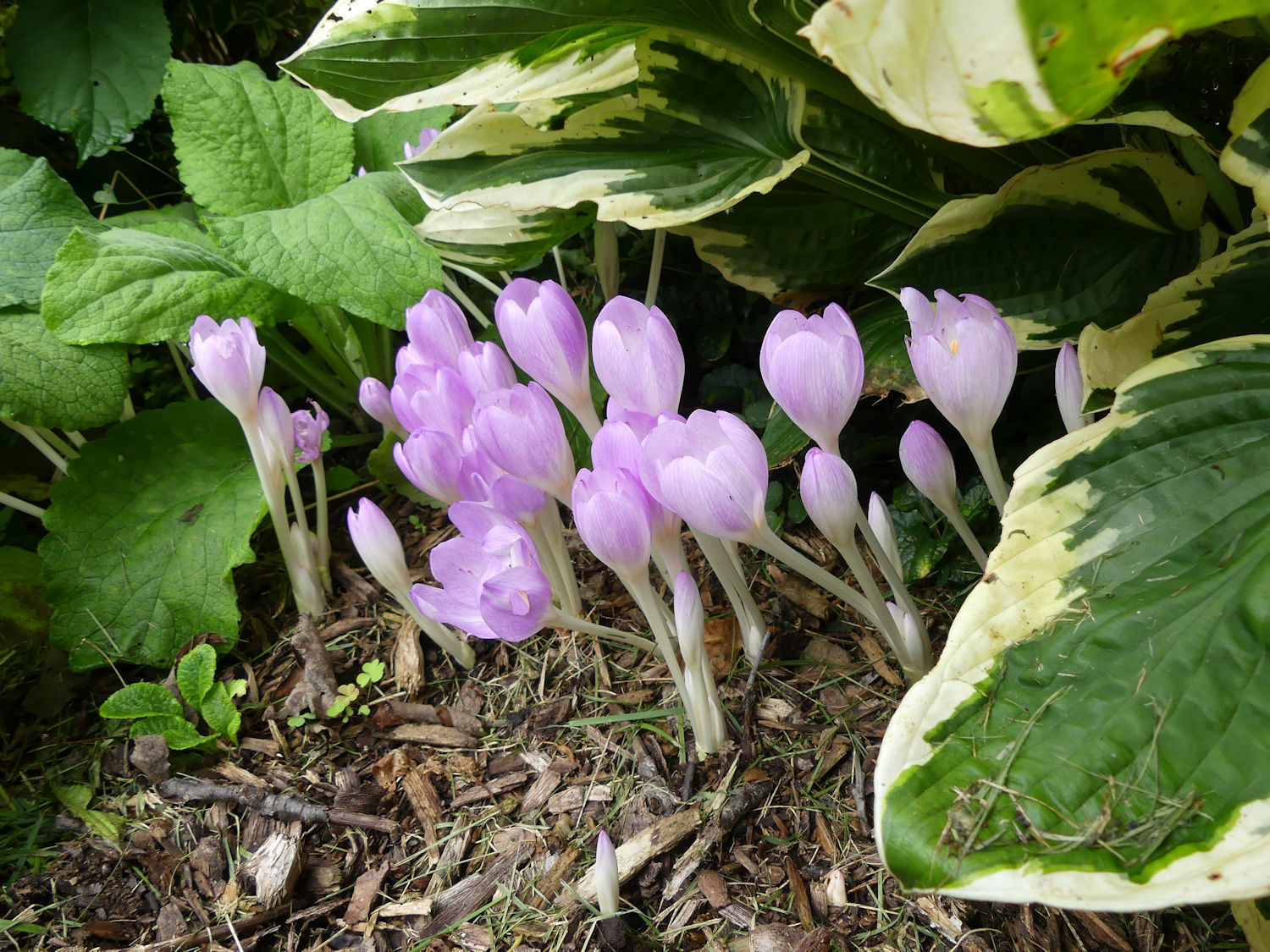 C. × byzantinum at my current home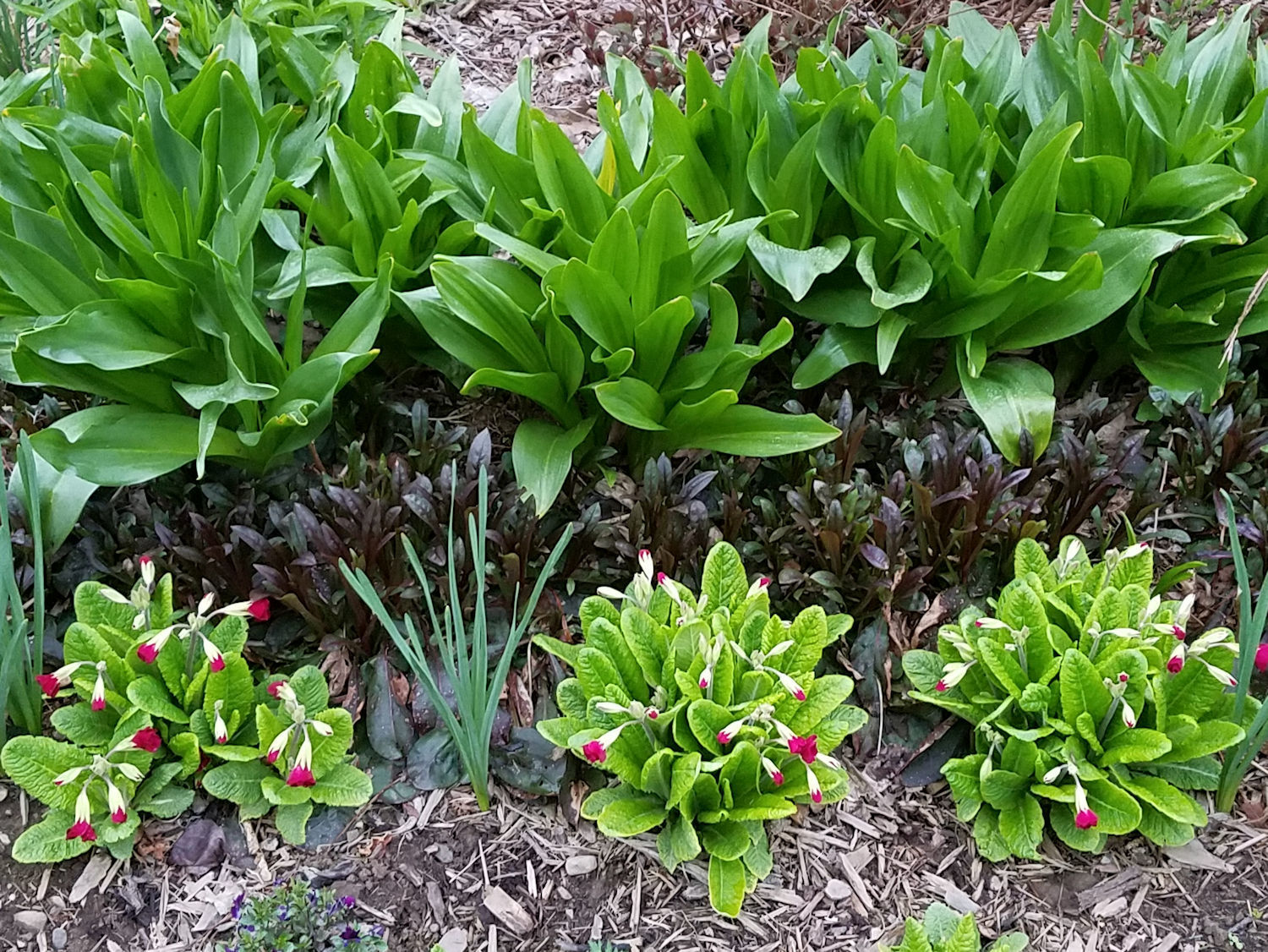 At first I was content to learn the weird ways of colchicums. Their leaves come up in early spring. The colchicum leaves are in the back. In mid-May they are an attractive feature of the garden.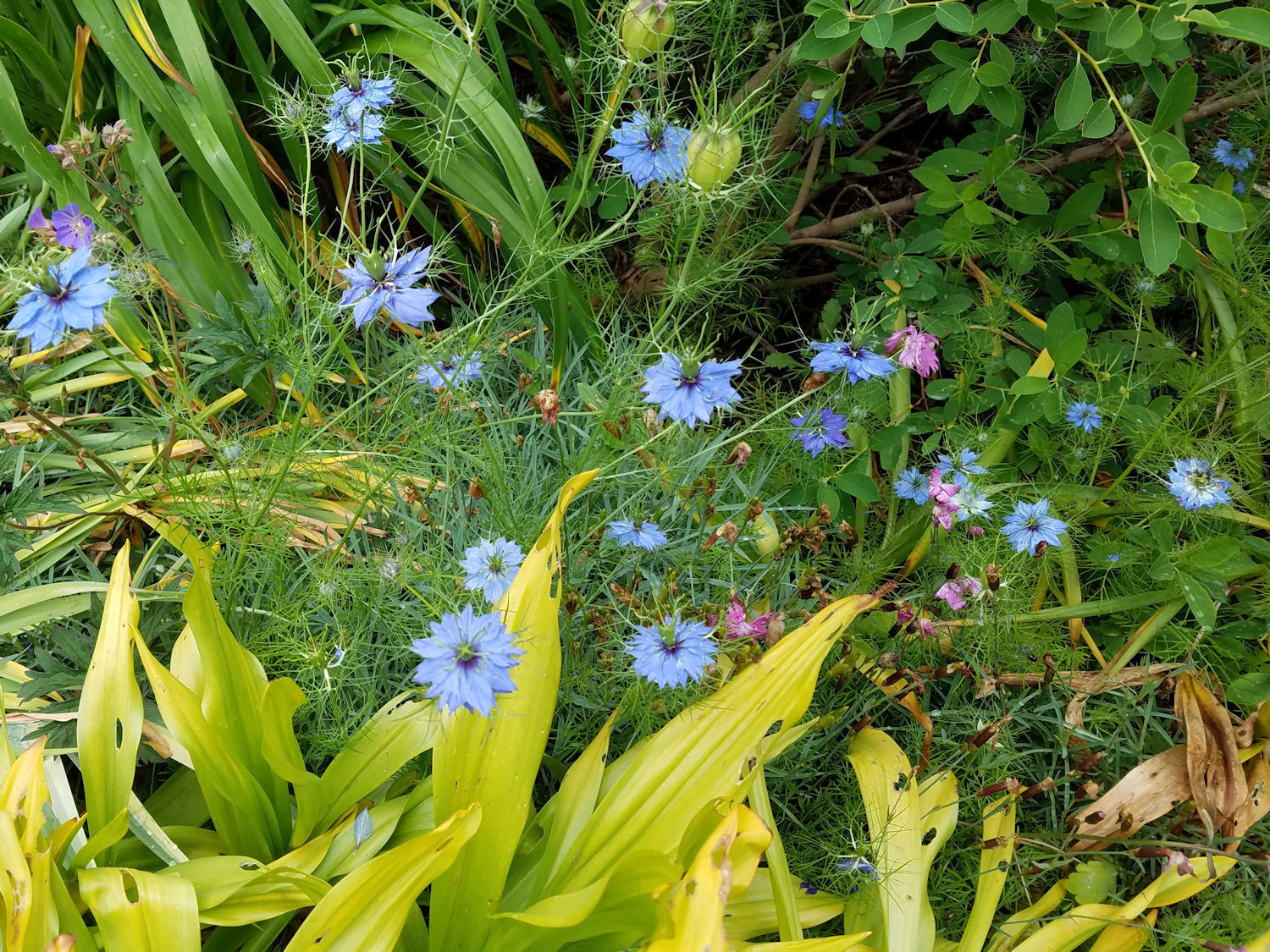 As the weather warms up, the colchicums go dormant, meaning the leaves turn a sickly yellow, eventually flop over, and turn brown. The yellowing colchicum leaves are not the most attractive companion for the blue love-in-a-mist, and they will only get worse before finally disappearing. This is enough to put some gardeners off from growing these lovely fall-blooming plants, but I prefer to call it a design challenge. There are many ways I have met this challenge, but the easiest is to plant them on the outskirts of hemerocallis, heuchera, and hosta clumps.
Back to my story. Once I had come to understand the colchicum lifestyle, I started looking for and growing others. I soon learned that the few companies that sold colchicums didn't sell the same ones every year, which encouraged me to buy any I didn't already have as soon as I came across them.
I have over fifty different kinds in my garden now. Some have already finished blooming for this year, and some have yet to start. But here are a few that are blooming right now.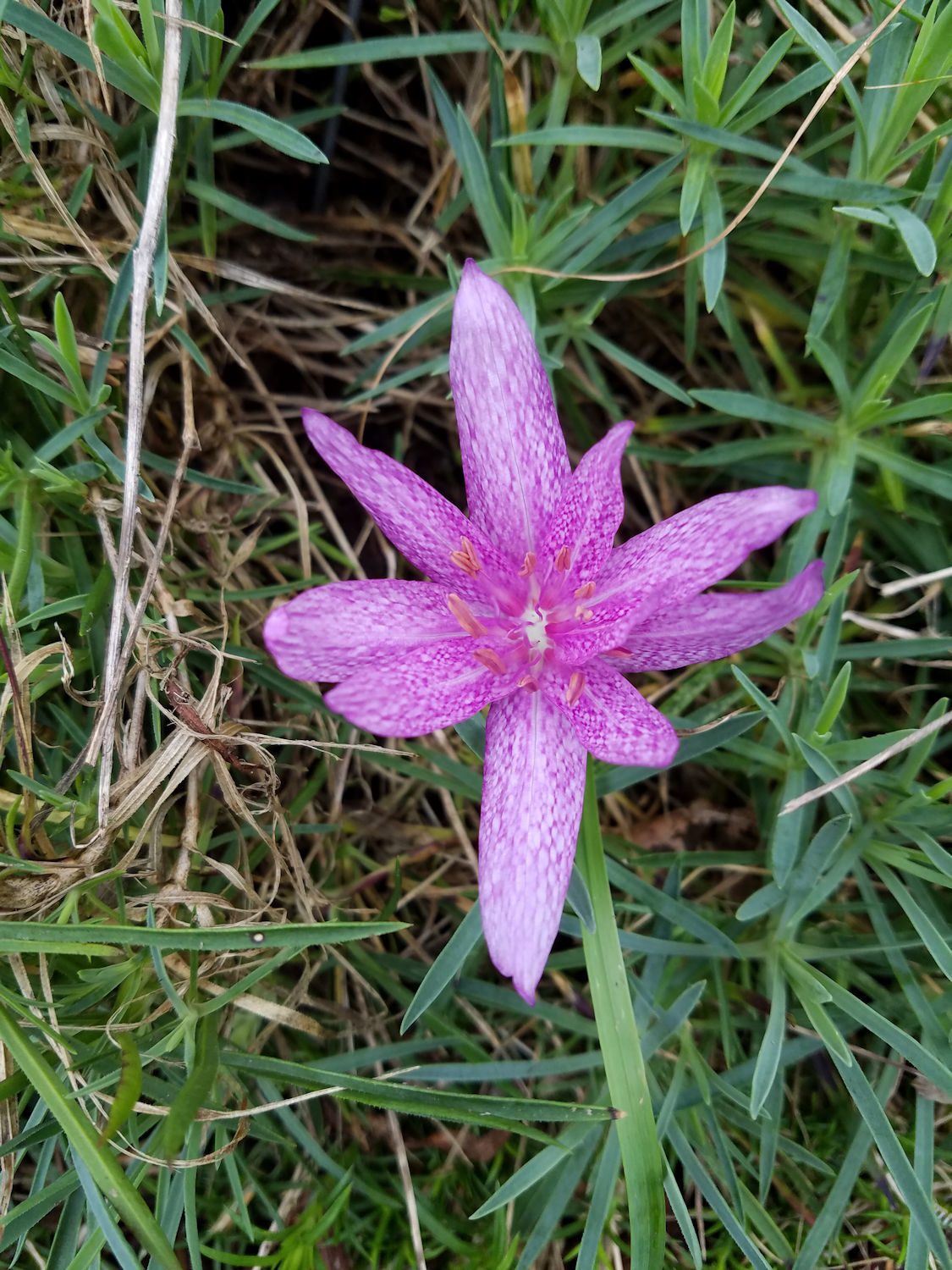 C. × agrippinum has very distinct checkering (which botanists call tessellation) on its petals. Other colchicums have this checkering, but it's more subtle.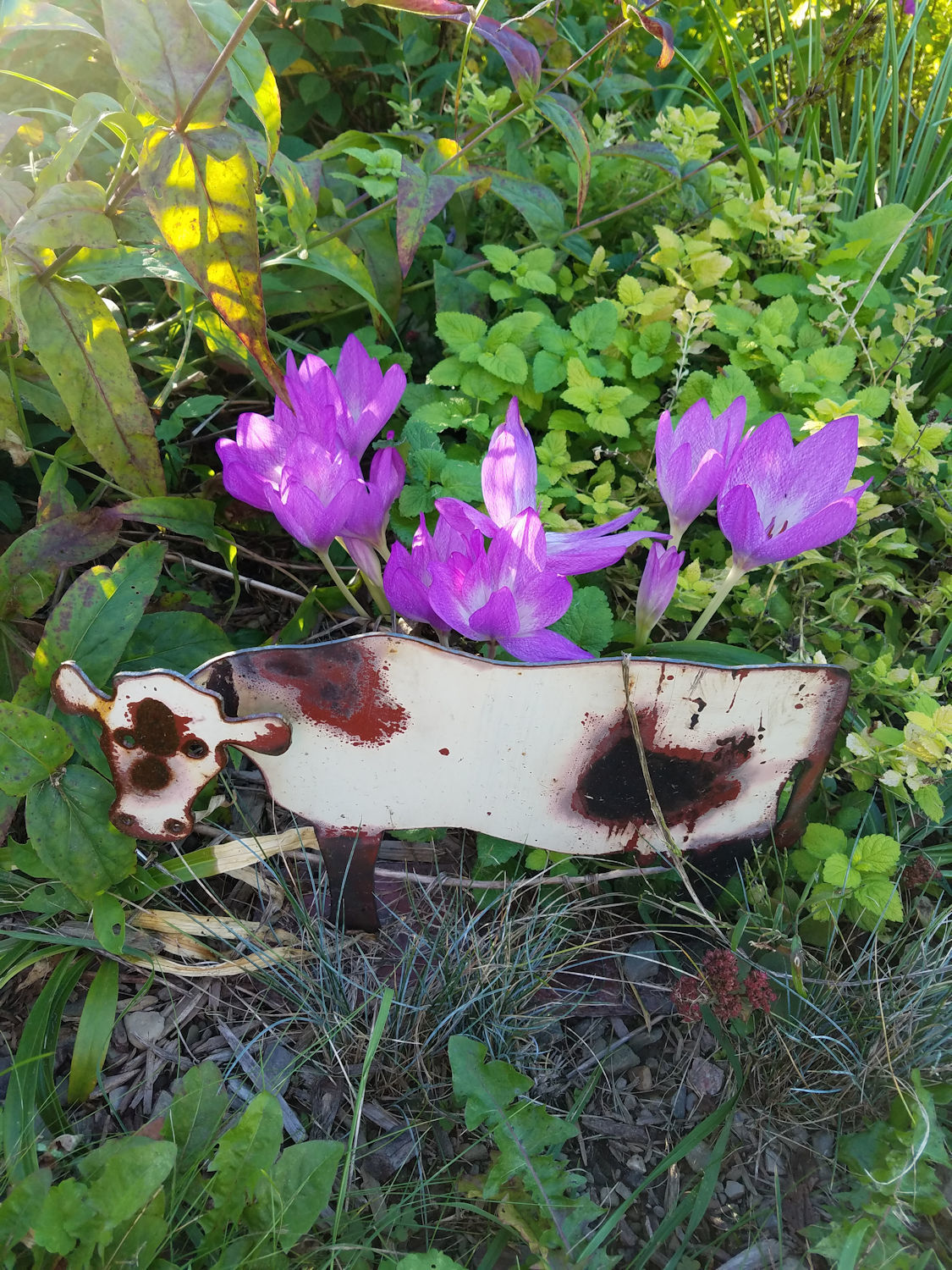 'Beaconsfield' is one of the more brilliantly colored colchicums in my collection. It looks great backed by golden lemon balm . . .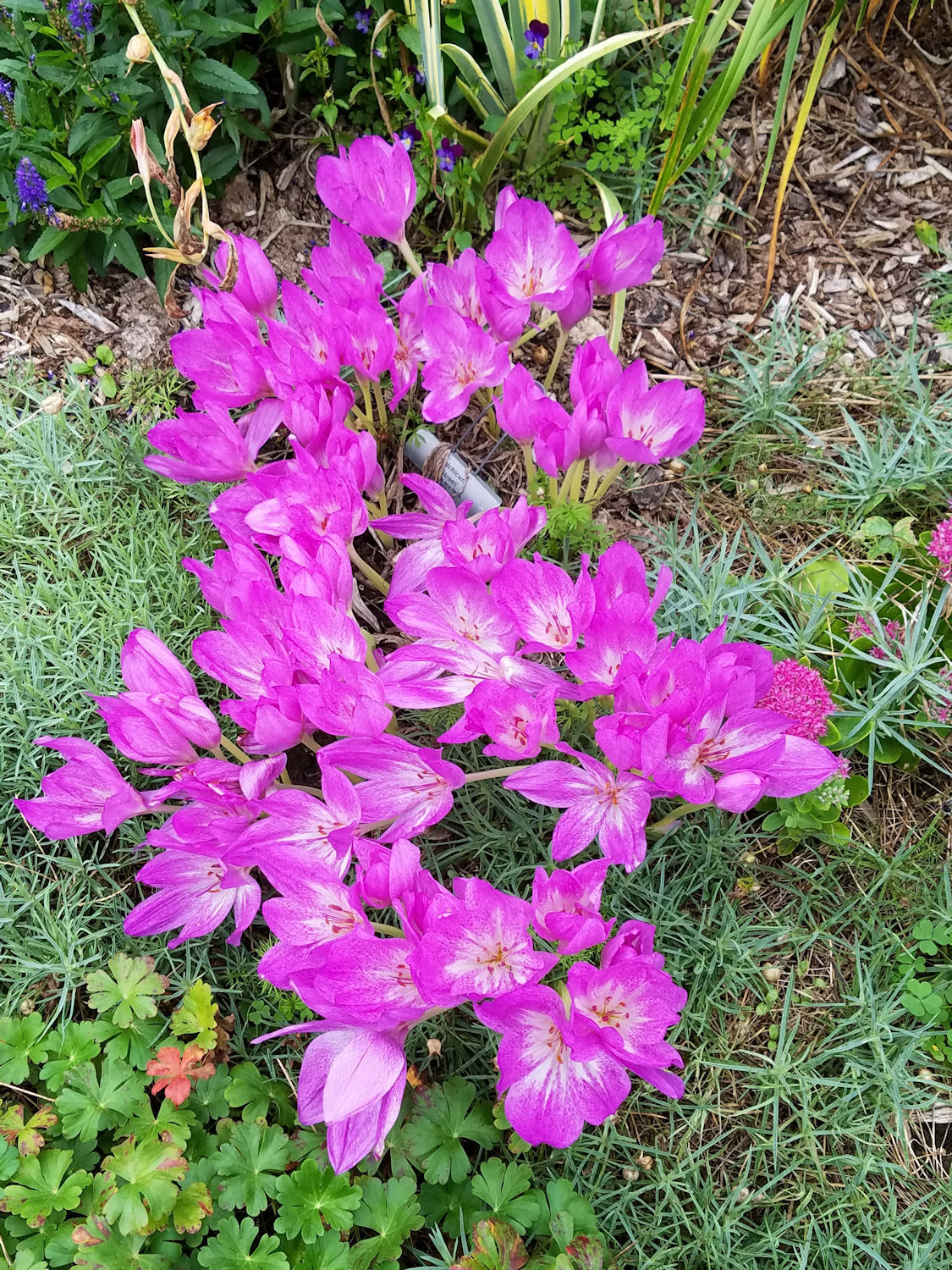 . . . and it really knocks your socks off when planted en masse.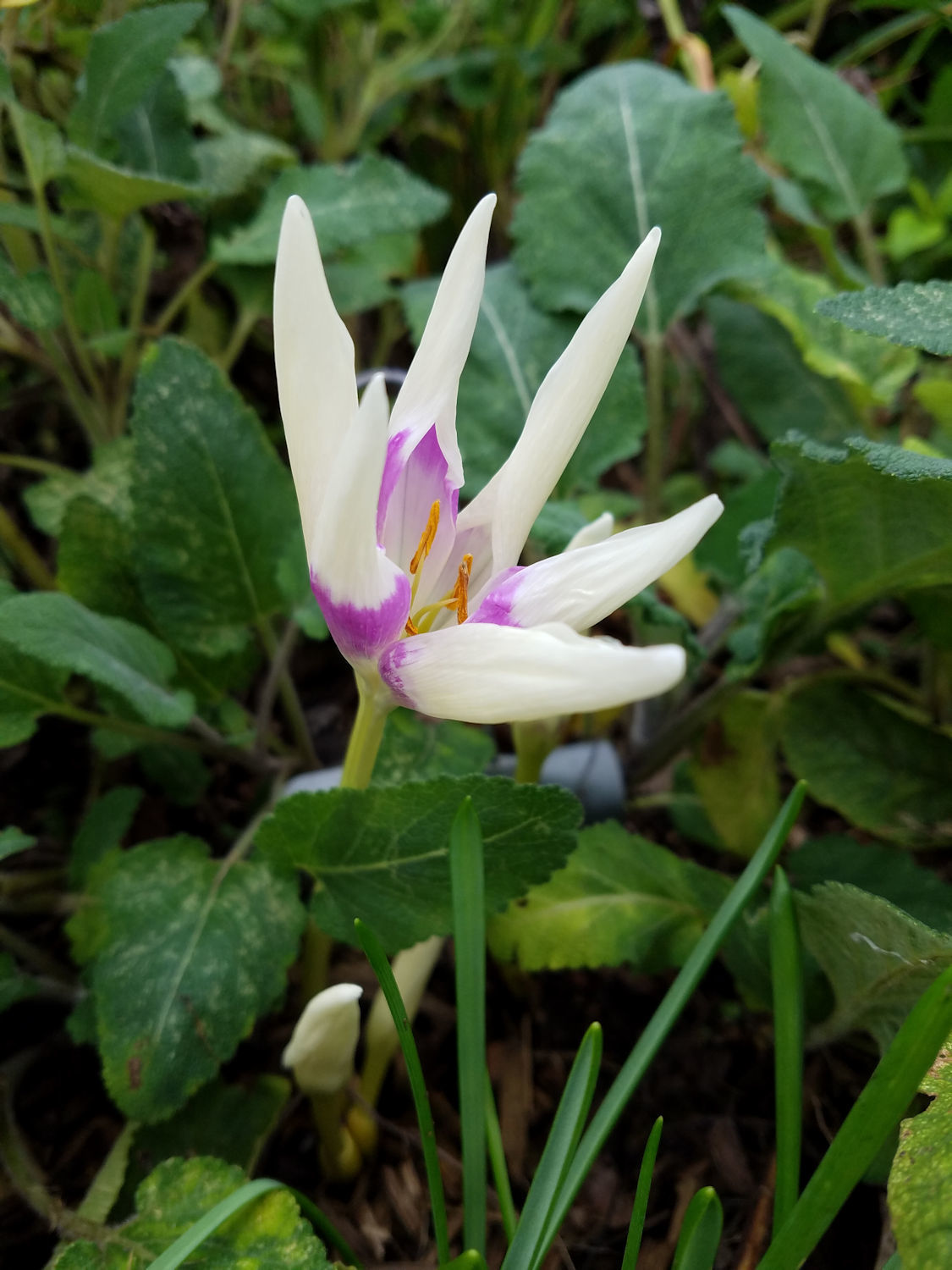 'Harlekijn' is probably the weirdest looking one in my collection. A harlequin is a jester, and from a certain angle, 'Harlekijn' looks a bit like a jester's cap.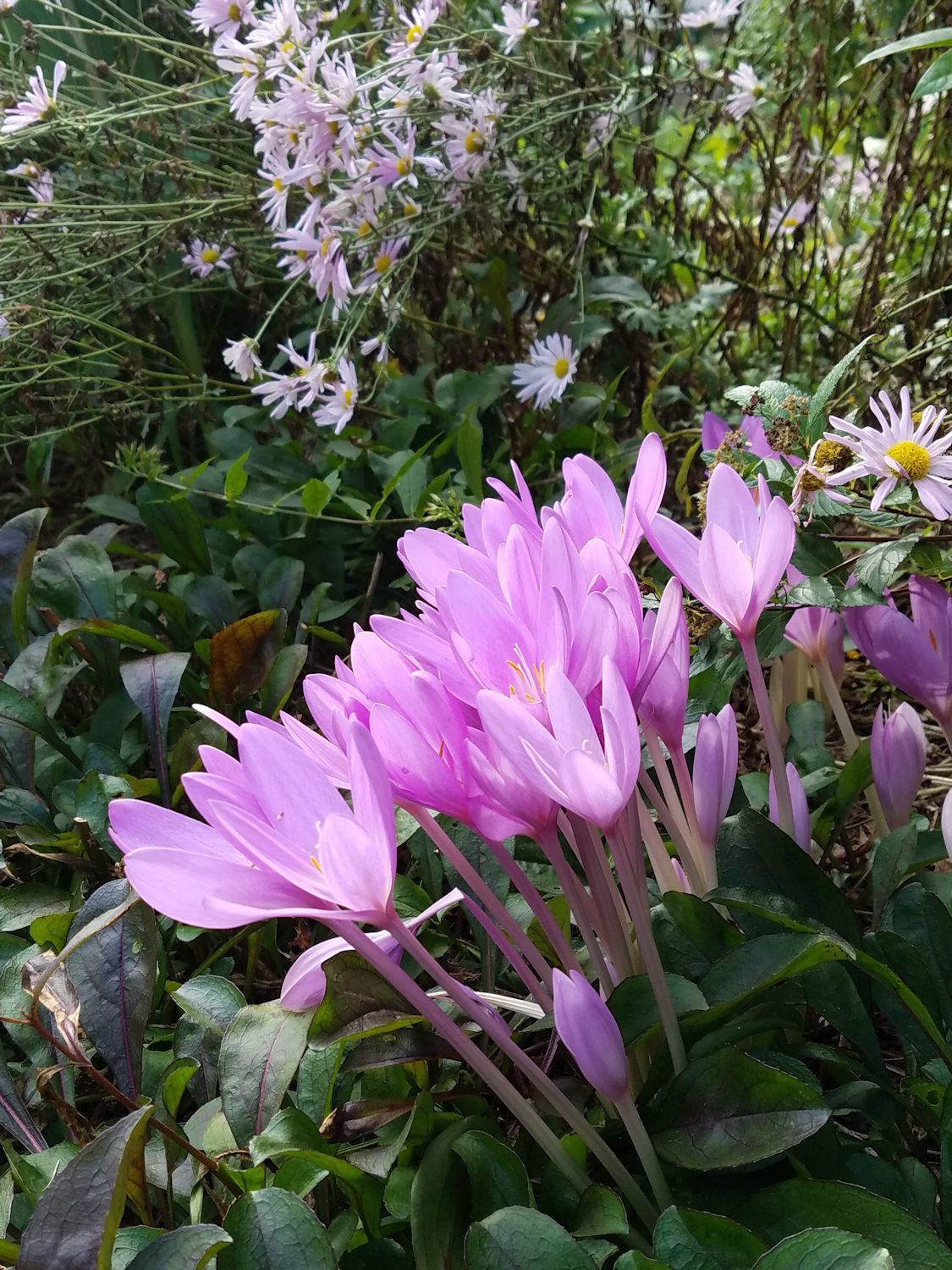 'Poseidon' is a vigorous grower, and it has another attribute I prefer in a colchicum: a purple tube. (Colchicums have a tube of petal tissue instead of a bona fide stem.)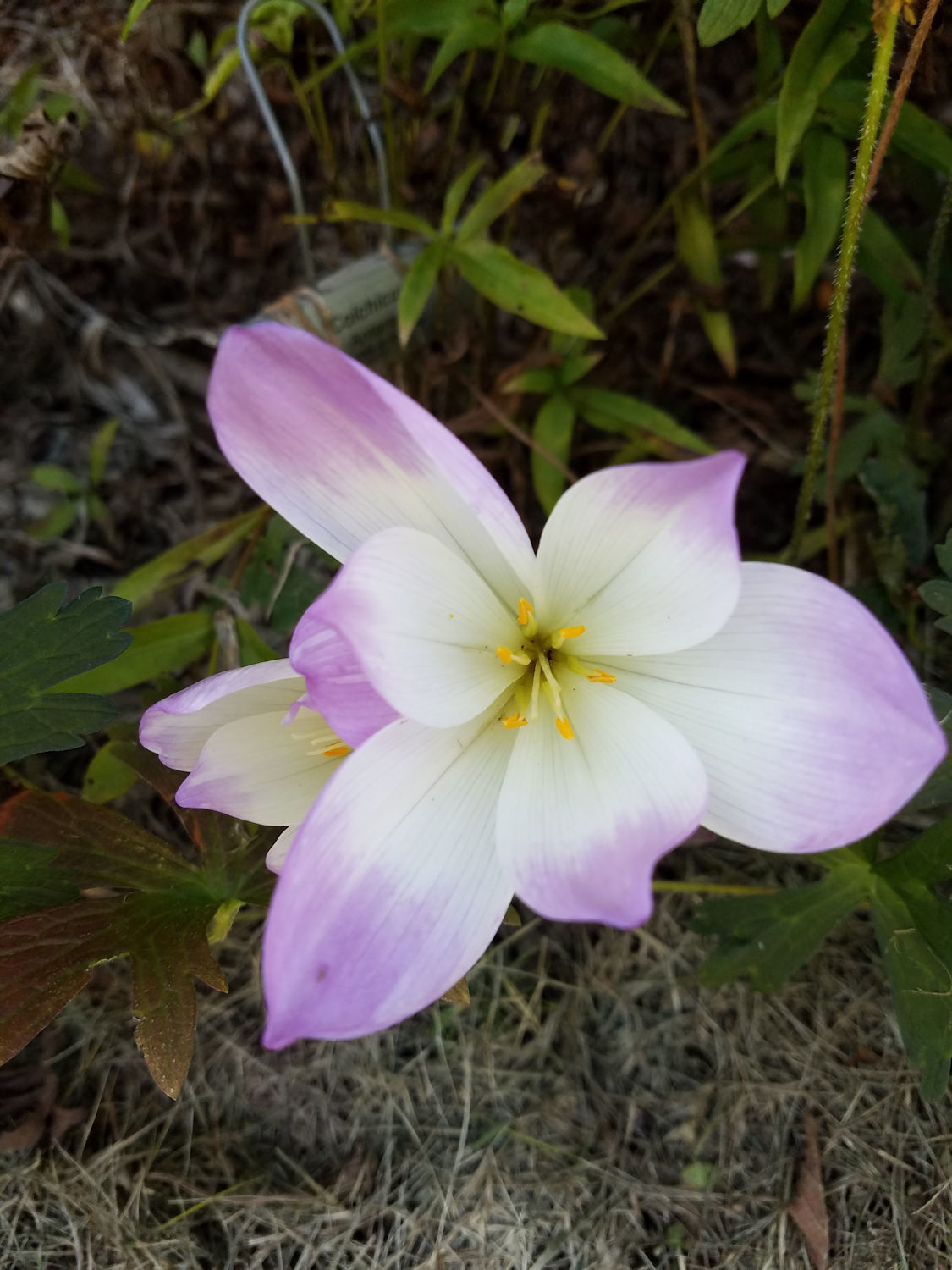 'Antares' is delicately flushed with pink. There are pure white colchicums as well.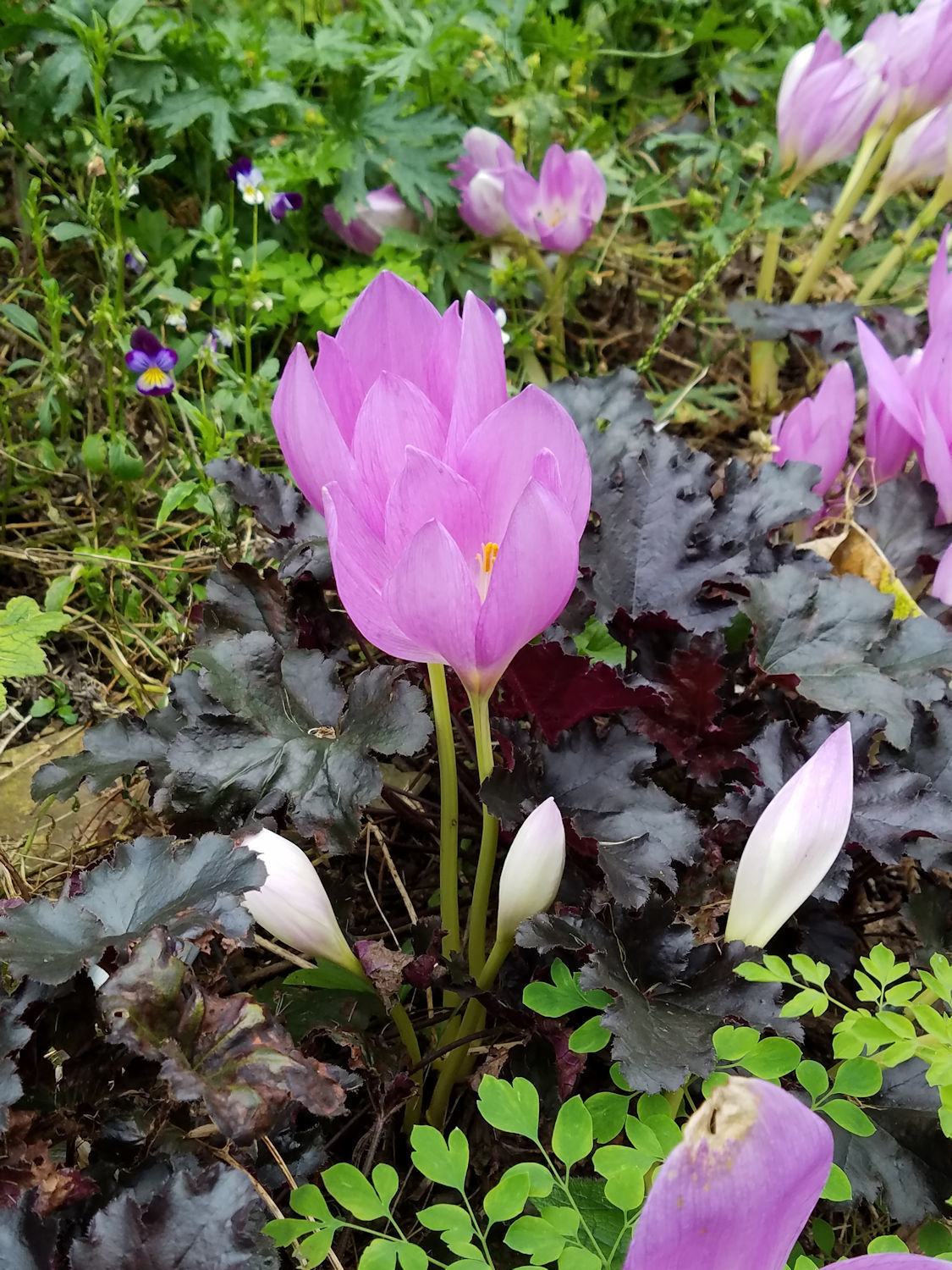 At over a foot tall, 'World Champion's Cup' is the biggest colchicum I grow. It's surrounded by Primo Black Pearl heuchera, with a ferny bit of mountain fringe for contrast.
Have a garden you'd like to share?
Have photos to share? We'd love to see your garden, a particular collection of plants you love, or a wonderful garden you had the chance to visit!
To submit, send 5-10 photos to [email protected] along with some information about the plants in the pictures and where you took the photos. We'd love to hear where you are located, how long you've been gardening, successes you are proud of, failures you learned from, hopes for the future, favorite plants, or funny stories from your garden.
If you want to send photos in separate emails to the GPOD email box that is just fine.
Have a mobile phone? Tag your photos on Facebook, Instagram or Twitter with #FineGardening!
You don't have to be a professional garden photographer – check out our garden photography tips!
Do you receive the GPOD by email yet? Sign up here.