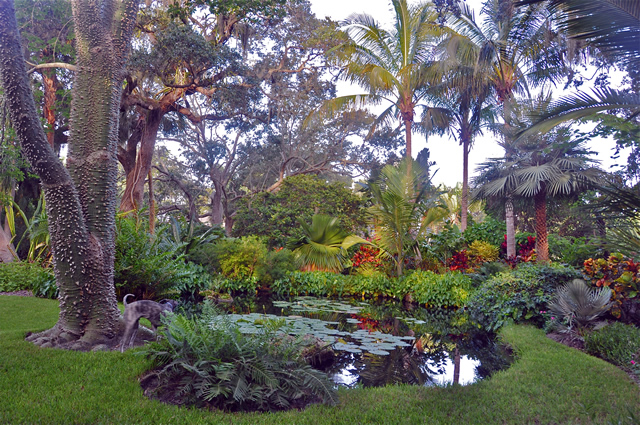 Ana Bowers shares her resilient thoughts with us after the passing of Hurrican Irma.
"Our Sarasota, Florida garden is my passion. However, it can be trying to garden in an area which is prone to having drought for several months at a time, then floods the next month. This month we dealt with Hurricane Irma. Although the direct, most forceful hit was in the Naples/Marco Island area of Florida, Irma still punched us with sustained 80mph winds and gusts to 115mph. It has taken us ten days of working several hours daily just to carry fallen branches near the road for FEMA pickup. We had five uprooted small to medium trees, a palm with a crown that snapped off, and much thinning of our generous live oak tree canopy. However, our garden is resilient and I already see the recovery process happening. Soon we will be doing more planning and planting again, as now we have more sunshine streaming in to many areas, giving opportunity for change! This garden affords me the pleasure of gardening and being with nature every day of the year, and soothes me daily down to the core! Foliage is the main interest in our garden, and being in this subtropical climate, there are many interesting plants that love living here. The main requirement is improving the sandy soil- which we do regularly by adding oak leaves, compost and chipped hardwood mulch (recycled trees). The pond we've created has invited many creatures to spend time here or live here, and their antics keep us marveling at the wonders of nature. I have a Facebook gardening page where I enjoy sharing thoughts, photos and ideas with other gardeners several times weekly. Please feel free to check it out: www.facebook.com/MovementintheGarden."
Have a garden you'd like to share? Email 5-10 high-resolution photos (there is no need to reduce photo sizing before sending–simply point, shoot and send the photos our way) and a brief story about your garden to [email protected]. Please include where you are located!
Sending photos in separate emails to the GPOD email box is just fine.
Have a mobile phone? Tag your photos on Instagram or Twitter with #FineGardening!
You don't have to be a professional garden photographer – check out our garden photography tips!
Do you receive the GPOD by email yet? Sign up here.
Follow us: @finegardening on Twitter | FineGardeningMagazine on Facebook | @finegardening on Instagram