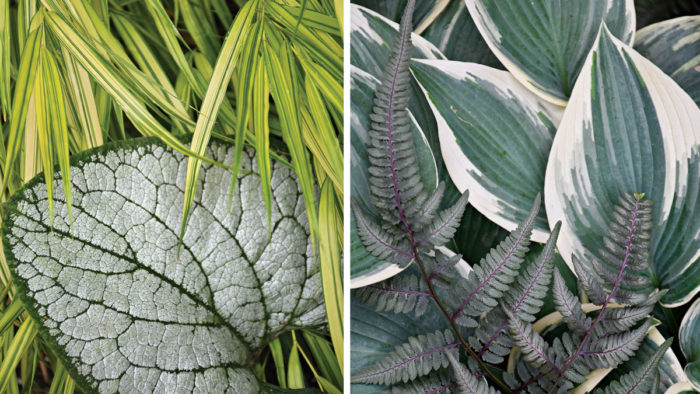 In the shade, where foliage often trumps blossoms, it is important to take into account the size, shape, color, and texture of leaves and how they relate to each other. Silver foliage is an exciting option to add to the mix. In general, strive to provide enough interest in colors and textures to avoid boredom and enough restraint to avoid visual chaos. See more shade plants with shiny foliage.
Let it attract attention
Do you have areas or focal points in your garden you want to feature? If so, consider using silver foliage to direct attention to these. Take, for example, a stepping-stone path through a hosta and fern garden that ends with a favorite sculpture. Lining that path with the bright and dramatic foliage of 'Sea Heart' brunnera will immediately draw your attention to the path and sculpture in a way the subtle variations of hosta and fern foliage never can.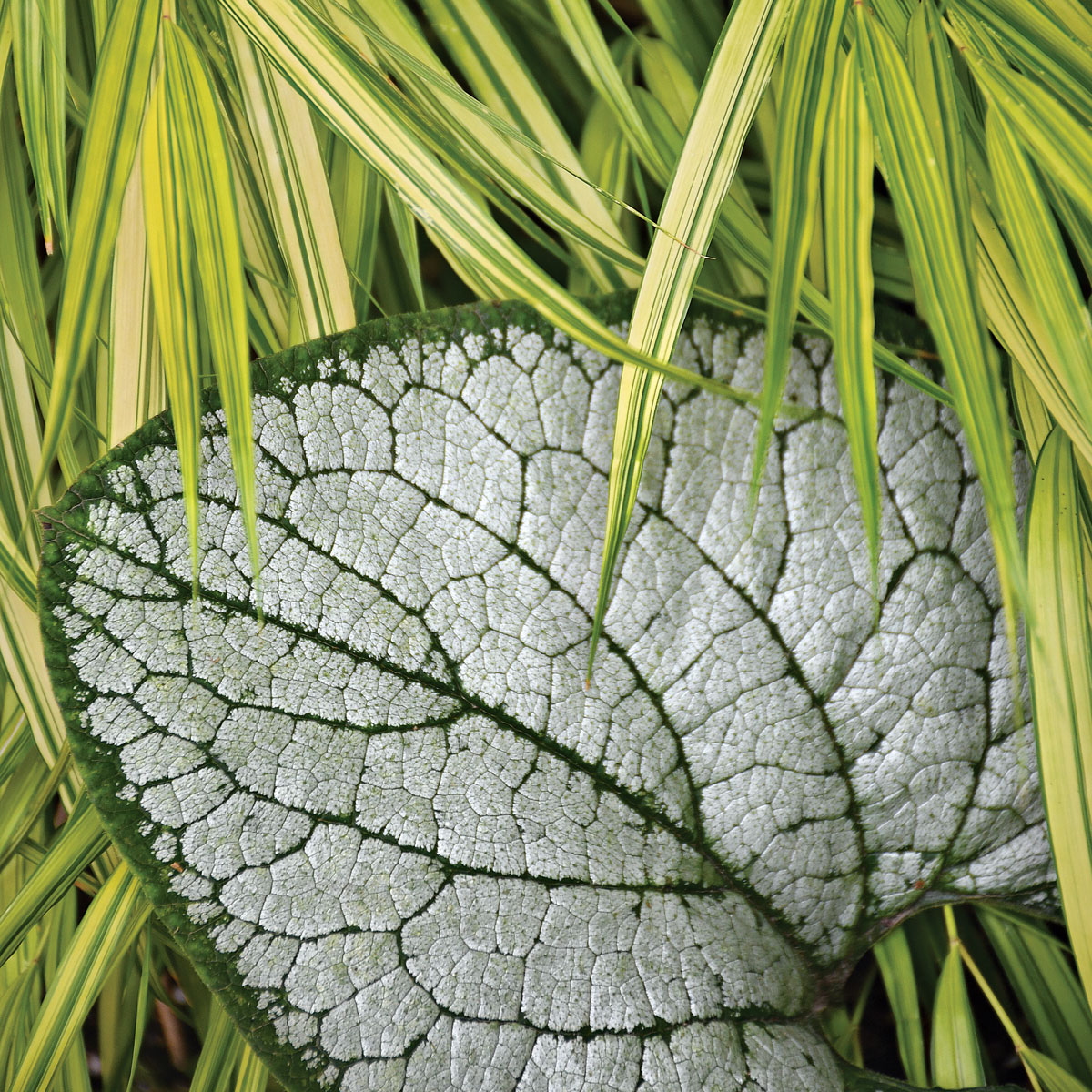 Mix it with chartreuse or blue
I was surprised to find in my own garden that silver can mix nicely with chartreuse. With that said, you have to proceed with caution, as it is easy to overdo this mix; too many bright yellow-greens paired with silvers can be chaotic. Take a leaf off of your favorite silver-foliaged plant and walk it over to something with chartreuse leaves. What do you think?
You cannot, however, go wrong in mixing silver and blue foliage. The muted, delicate foliage of a silver-gray fern paired with a blue hosta is refined elegance at its finest. A garden of greens, blues, and silvers will be very calming. I like to add white flowers to this combination too.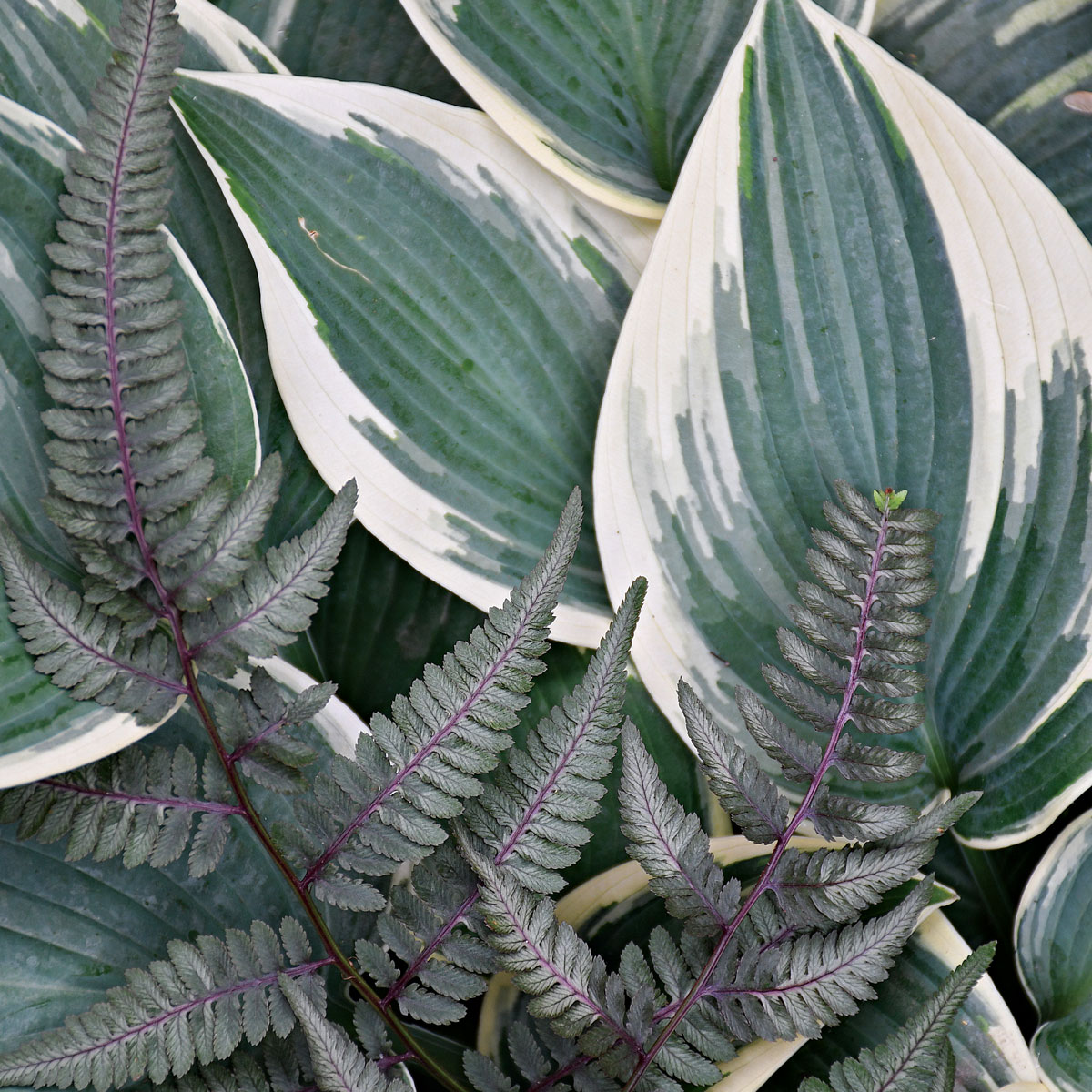 Contrast the foliage form to highlight the colors
Silver foliage provides a soft and elegant pop of brightness in the subdued lighting of the shade garden. This pop is even more pronounced when paired with contrasting foliage. For example, the delicate muted silver-gray of a painted fern is elegant when surrounded by the dark green foliage of a hosta. The contrast of leaf colors and forms plays up the strengths of each plant. How do you decide if different types of foliage will look good next to each other? When I am trying to find a home for a newly purchased plant, silver or other, I often walk around the garden and hold the plant next to its potential neighbors to see how they play with one another. The same can also be done with a leaf clipped from an existing plant you are thinking of moving.
---
Frank Fitzgerald is a landscape architect and plant expert from Minneapolis.
---
" Silver foliage is a useful tool in garden design, as it provides subtle variety that easily pairs with almost all other

foliage and flower colors. Unlike attention-getting chartreuse

hostas or in-your-face burnt orange heucheras, silver-foliaged plants provide a soft glow in the subdued light of a shade garden. They don't shout for attention; they gently pull you in." Learn more about shade plants.