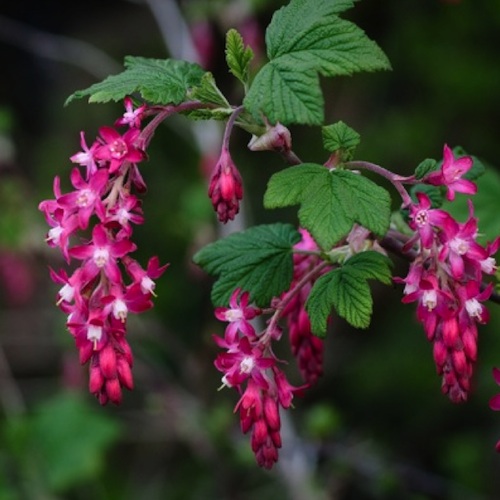 You've researched every plant that grows in your zone and lusted over the ones that won't.
Now what?
One of the toughest parts of planning a garden is figuring how many of which plants to put where. Have I got a system for YOU?!
After teaching design to home gardeners for the past 20 years, I've developed a simple system that organizes all the plants into one of four categories. Once you've got that done, it's just a matter of doing a schematic plan to figure out the overall massing of the plants.
Here's a design I'm working on for a client, using California native plants, but this technique works with plants from any region. We'll assume you've been coveting dozens of plants and through divine intervention (or checking your bank balance) you've narrowed your palette to your top ten, including a few from each of the following groupings.
Four Categories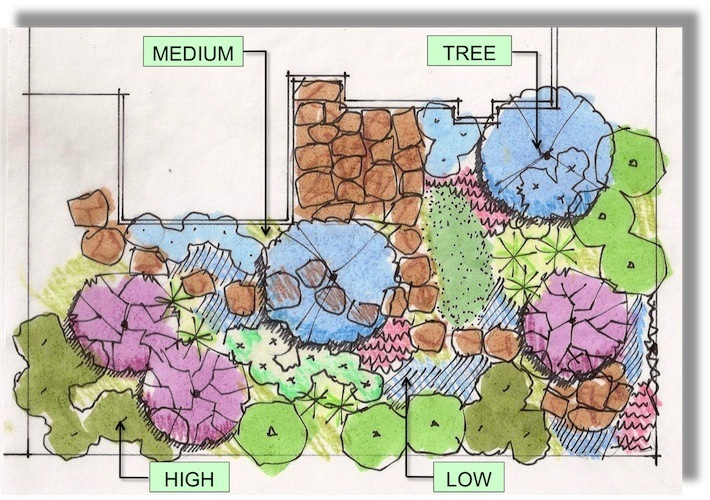 Trees: I was going to define "trees" for you, but I've got smart readers so I'll save us time. Use trees to provide shade, screen unpleasant views, and add visual scale.
High: These are shrubs and supported vines that grow higher than eye-level. Think of them as the skeleton of the garden. Plants from this category act as screening and backdrops for smaller plants. They reduce wind (I was going to say "break wind" but that would be embarrassing), frame views, and serve as barriers.
Medium: This category includes of shrubs, stout perennials and ornamental grasses growing between eye-level and knee-high. These plants are the muscle we add to the skeleton. Use them to fill in spaces and as star performers in your color scheme.
Low: These are subshrubs, perennials, and ground covers that stay below knee level. They're workhorses in my designs, providing seasonal color, foreground for deep beds, slope protection, and walk-on living carpets. Meadows fall into this category and so do lawns.
Here's the finished schematic planting plan. Refer to it as I break down my rationale for plant placement.
What Goes Where?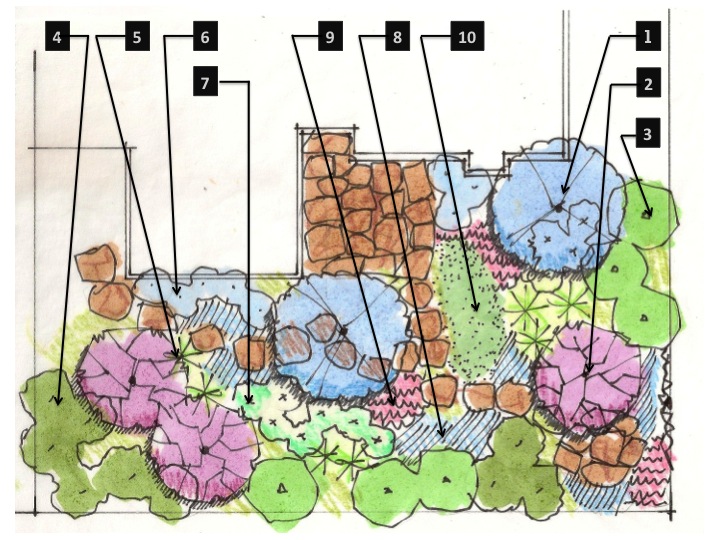 When it comes to placing plants in the garden, start with the trees. They're the dominant element and usually included in the plan because they've got work to do. (See above). In this example, I'm using two species of trees: Mountain Lilac (Ceanothus 'Ray Hartman' [1]) and Western Redbud (Cercis occidentalis [2]). Each has a rounded canopy, multiple shrubby branches, and will reach a height of no more than 20-feet, perfect for this small yard. Notice the irregular balance of their placement and how they define the space while screening outward views from the house.
Next up are the high shrubs, Tasselbush (Garrya elliptica [3]) with its dramatic catkins, and Flowering Currant (Ribes sanguineum [4]), sporting a similar flower form and sultry ruby flowers. I've placed them in irregular groupings for a naturalistic effect. I'm keeping them away from the property line to prevent having to cut them back, which would destroy their natural character.
Medium size plants come next. The real workhorses in this garden will be bursts of Deer Grass (Muhlenbergia rigens [5]), selected for its exuberant vertical form, and Cedros Island Verbena (Verbena lilicina 'De la Mina' [6]), because its name sounds like the heroine in a children's story (and because it's as beautiful as lavender and smells like carnations!). Again, I used them in natural drifts and repeated in different parts of the composition to create continuity.
Small shrubs, perennials and ground covers complete the line-up, sweeping along and leaping across the path. Island Alum Root (Heuchera maxima [7]) adds elegance, and Beardtongue (Penstemon 'Margarita BOP' [8]) bursts forth in blue. For contrast, soft pink Coral Bells (Heuchera species [9]) dot the ground, and small patch of Dune Sedge (Carex praegracilis [10]) serve as a walkable lawn substitute adjacent to the patio.
Ten varieties of plants is all it takes to make a beautiful, diverse garden. When in doubt, rather than dilute the design with too much variety, use more of the same plant in multiple locations. Pay attention to characteristics shared by a few of the plants, like flower color, the underlying form of the plant, or foliage size.
I'd love to hear whether you have a similar approach to planting your garden or if you'd like to share your approach.