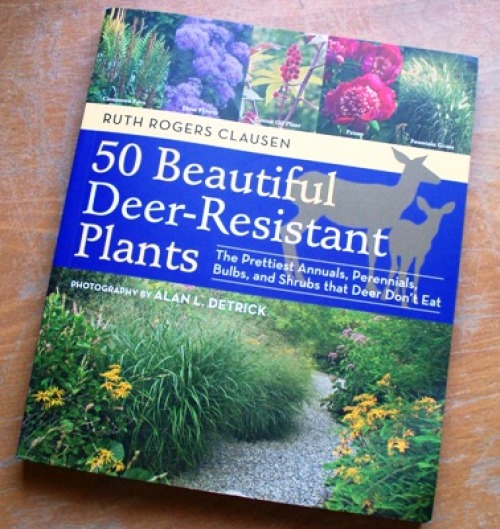 I enjoy attracting all kinds of wildlife to my backyard, until they start to take advantage of my good nature. It seems the squirrels always know which tree is my favorite or which tomatoes I'm looking forward to eating.
Even though no deer stop by to browse in my suburban backyard, I understand how frustrating it can be to have deer as regular diners. One of my friends lives in the mountains and assures me her 16,000 square feet of deer-fenced gardens are the only way to grow.
Physical barriers, like 10-foot-tall fences, are one way to keep deer out of the garden. Another way is to choose plants that deer don't like to eat.
In her new book, Ruth Rogers Clausen has catalogued 50 plants with features that aren't appetizing to deer. As an expert plantswoman, award-winning garden writer, and former horticulture editor for Country Living Gardener magazine, she has a unique perspective for keeping deer out of gardens.
Instead of fences, sprays, or repellents, she recommends creating gardens with deer-resistant plants.
As soon as I received a complimentary review copy of "50 Beautiful Deer-Resistant Plants: The Prettiest Annuals, Perennials, Bulbs, and Shrubs that Deer Don't Eat" (Timber Press, $19.95), I thumbed through it and was pleased to see such a wide range of lovely plants that deer won't eat.
Even though the majority of the book covers ornamentals, Ruth also has a chapter of culinary herbs she rates from 7 to 10 on her deer resistance rating scale. The scale ranges from deer sometimes nip off flowers, but leave the foliage alone to deer avoid the plant altogether.
The deer-resistant herbs with these high ratings include basil, Greek oregano, rosemary, sage, and thyme.
Deer keep their distance from these delicious herbs because of the plant's strong-smelling essential oils or the foliage's intense aroma.
I like Ruth's approach to her book because she helps gardeners understand deer behavior before describing the deer-resistant plants and how to use them in the landscape. The descriptions are accompanied by full-color photography by Alan L. Detrick.
Ruth is careful to remind gardeners that no plant is really deer proof. Just like some people, deer will eat anything when they're hungry.