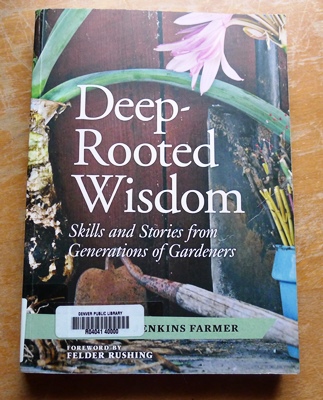 I'm not sure how I missed Jenks (Augustus Jenkins) Farmer's book last year, but I'm so glad I found it now. Reading about sourthern gardens warmed my heart during chilly winter days.
Deep-Rooted Wisdom: Skills and Stories from Generations of Gardeners (Timber Press, 2014) is meant to inspire readers while reminding us about the romance of gardening.

It's all too easy to get caught up in the planting, amending, watering and fertilizing that gardeners can forget the wonder of it all.
Jenks reminds us that it's important to stop and learn the story of a place, before planting a single seed.
"Remembering how we got to where we are today affects how we go forward," he writes.
In addition to including planting and gardening tips from his own vast experience, he includes interviews from gardeners who influenced him. His family, his friends, mentors and instructors. No gardener is a stranger after spending but a few minutes with him.
All gardening starts with plants, and I appreciate his vivid descriptions. While his gardens in the South can grow the foliage that Western gardeners (like me) can only dream about, his garden philosophy closely mirrors mine.
When I hit the chapter on "Watering by Hand," I knew I had found a kindred spirit.
Gardeners can learn a lifetime of gardening skills by reading his book. But it will also take a lifetime of gardening to perfect them. Whether you're a new or experienced gardener, there's plenty to glean from the deep experience of other gardeners.
Chapters like "Stacking Up," "Building Fertile Soils," and "Stop the Tilling Cycle" will cause you to think about your standard gardening practices in new ways. You'll also learn how to root in the ground, save seeds, create handmade structures with available materials, scavenge free plants, and how to take a holistic approach to dealing with insects and weeds.
I think Jenks' book is a nice complement to Amy Goldman's Heirloom Harvest. While her book shows the inherent beauty of vegetables, Deep-Rooted Wisdom explains the simple joy of planting, growing and tending them.