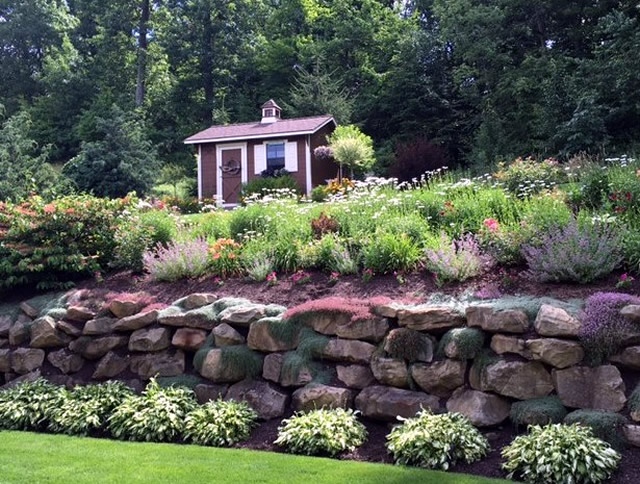 Rose and Larry's teamwork and beautiful garden results are inspiring.
"Rose & Larry built their home in 2007; a typical new construction lot with all of the trees cleared. Having the vision to create gardens that wrapped around the house with meandering sidewalks they had their work cut out. Compost & several hundred tons of rock were brought in before the house was completed, laying the groundwork for the garden beds. Next, more compost & topsoil for the couple to seed their own lawn. It was quite a project. Several years later, the landscape has been transformed with the addition of a 25' waterfall and hundreds of perennials. Larry continues to maintain the lawn and Rose the landscape; making a perfect team!
As you walk up the driveway you are flanked by a mass planting of 'Grey Owl' Juniper and 'Goldtide' Forsythia, dappled with lots of 'Walkers Low' Catmint. Another standout are the red 'Knockout' Roses. As you come up the walk towards the house you're greeted by a 'Honeycrisp' espalier apple tree on your left. Rocking chairs surrounded by various annuals in pots invite you to come up to the porch and meander around the corner. There you will find a walkway with a perennial garden on your left and a hedge of 'Green Mountain' Boxwood to the right. A pergola covered patio invites you into the main part of the backyard where there is a 5' stone wall bursting into color as the 'Whooley' Thyme is in full bloom. Above this wall encompasses the main perennial garden. The seating area around the fireplace is home to several containers filled with annuals and a potted 'Chicago Hardy' Fig tree.
Around the back of the house you'll find smaller gardens tucked close to the home. Two 'Annabelle' Hydrangea are surrounded by several varieties of Hosta and a birdbath fountain. As you round the corner another small garden containing shade loving plants like 'Jack Frost' Brunnera and more Hosta varieties underscores a garden bench near a custom made arbor supporting 'Collette' a blush pink Climbing Rose. A stone staircase takes you up to the second tier of the yard where there is a garden shed surrounded by a lilac tree, various perennials and a seating area just for two. This part of the yard offers a great vantage point of the entire backyard.
With over 30 varieties of trees & shrubs and countless perennials it's no wonder this garden won the Pittsburgh Post Gazette's Great Gardens Contest, large garden category-year round interest in 2012. The property has also been certified a Backyard Wildlife Habitat by the National Wildlife Federation."
Have a garden you'd like to share? Email 5-10 photos and a brief story about your garden to [email protected]. Please include where you are located!
Have a mobile phone? Tag your photos on Instagram or Twitter with #FineGardening!
You don't have to be a professional garden photographer – check out our garden photography tips!
Do you receive the GPOD by email yet? Sign up here.