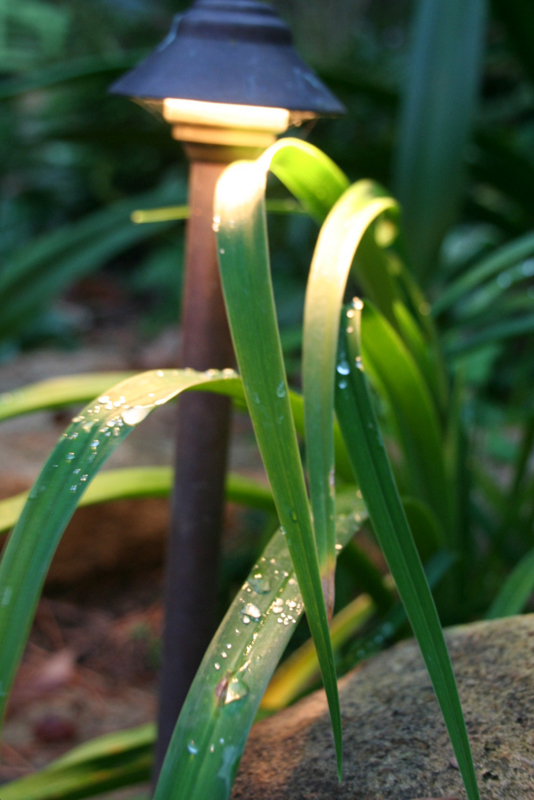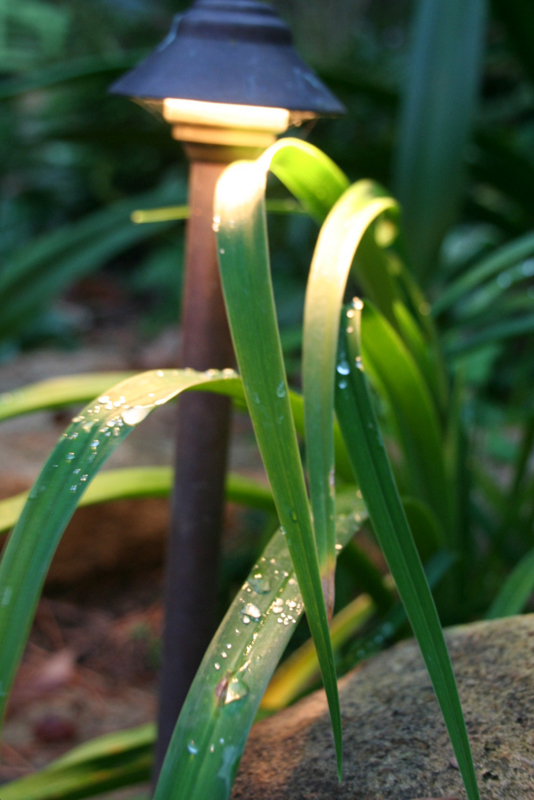 When I decided on a winter walk, it was at the point in the evening when dinner was done and sleep was still a ways away. I topdressed with a goofy hat, gloves, and scarf for a journey down the garden path.
The evening was amazingly quiet. Of course, I have no point of reference since I rarely go into the dark. I usually spend my winter evenings inside, waiting it out. I don't do dark well. I wait, in anticipation, for the Winter Solstice, the one day I am a pagan.
Along with the moon and anxious eyes, I walk in the winter wonderland. To my delight, the paths are cheery from the glow of the low-voltage lighting. The paths and garden beds make shapes that are familiar, yet different. Uplighting shines on selected trees, whose winter form and color are valuable in the landscape. A tree or shrub that would otherwise go unnoticed when in leaf takes center stage now; bare, cold, and in flower or in color. The Acer palmatum 'Sango-kaku', (coral bark maple) is living up to its common name–lighting brings out the color.
The Cornus sericea (yellow twig dogwood) poses next to the path, basking in the evening light.
The Edgeworthia chrysantha 'Gold Rush' has lost its leaves, leaving an interesting shape and hanging flower heads; there are two in my garden, but I can only see one from the path.
The form of the fig wows me as the path gently turns, revealing a mass of little branches, fat-pencil thick. I realize an added value as my neighbor's back porch lighting illuminates the upper branches.
As I journey through the herb garden, the lighted natural stone statue, created by Phil Hathcock, takes center stage. Named by my then 8-year-daughter, Guardian of the Gnomes multitasks while also watching over the wintering herbs.
Winter twinkle lights on the arbor seems so cliche until I pass through. Sometimes, the obvious is all that's needed.
The winter garden reveals the garden's form. Without this time of dormancy, I would be lost at knowing the garden's true identity. Night lighting reads like a sign that says, "Open Garden," allowing me to spend time with her in the evening. The season may be dark, but the garden doesn't have to be. It is quiet, rewarding, and just what I need get through the winter season.