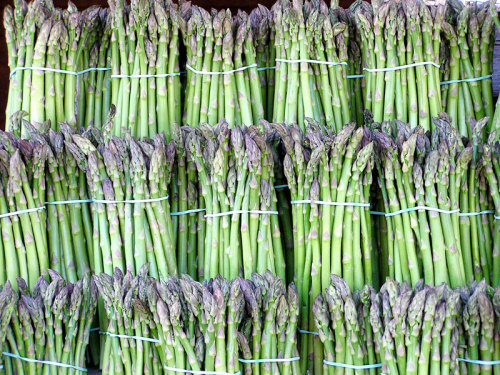 by Edon Waycott
April 2000
from issue #26
Growing asparagus requires patience. Typically, it takes a season or two after plant­ing the crowns before you can pick anything, and waiting those two years for the first harvest builds anticipation. When those delectable spears break through the soil in the spring, reward is in sight.
I never tire of this classic spring vegetable. Just-picked asparagus is good enough to eat then and there, after you give the spears a good rinsing to wash off any soil. But there are many ways to serve cooked asparagus. The simplest way is unadorned, except for a drizzle of warm butter and a sprinkle of salt and pepper.
A light lemon-butter sauce gracefully accents asparagus when served with sautéed trout or poached salmon. Top a platter of warm asparagus with a simple sauce made of sieved hardboiled eggs, melted butter, and a little lemon juice. Or after blanching, bite-size chunks of asparagus can be combined with Parmesan cheese and chopped ham and stirred into a light cream sauce spooned over fettuccine. Of course, the rich and indulgent hollandaise sauce is always a delicious partner.
As spring passes into summer, I turn to my market to supplement my garden's supply of asparagus. The first to appear in the markets are usually very thin, sometimes less than the diameter of a pencil. It is not until later that the plump spears arrive. Treat the spears like cut flowers: Snip off the very end of the stalk and store the spears upright in a container with about an inch of water. They will keep in the refrigerator for a week.
Pickled asparagus spears: a way to extend the season
When summer turns into fall, I miss asparagus, so going under the premise that no one can have too much, I created a recipe that would give me the springtime freshness I get from my home­grown asparagus at any time of the year.
Choosing the freshest stalks available, I pickle them in a light tarragon vinaigrette. Although the vinegar causes the color to fade a bit, the crispness and shape of the asparagus remain.
Choose a wide-mouth canning jar whose height corresponds to the length of the asparagus you want to preserve. I often use a quart jar, but the tall 10-ounce or pint jars make good choices, too. If your asparagus is more than 1⁄2 inch thick, peel the lower half of the stalk. You'll reveal the more tender inner core, and you will almost double the edible quantity in the jar. If you would rather have intact versus peeled stalks, stick with the pencil-thin size that doesn't have to be peeled. Or save the lower, tougher part of the spear to use in soup stock. To snap off the woody end, hold an end of the spear in each hand and bend it. The spear will snap where the tough portion begins.
These pickled spears are perfect as hors d'oeuvres. (The English eat their asparagus with their fingers.) Make a salad in a flash by pulling a few of these zesty spears from the jar and positioning them over lettuce topped with thin slices of sweet onion. Drizzle with olive oil and serve. Get fancy by wrapping each spear in a slice of prosciutto and serving them as a first course with a light mustard sauce. Fan them out on a decorative serving tray surrounding a small bowl of aïoli or hollandaise. Dust the spears lightly with chopped fresh herbs. These low-cal munchies will satisfy cravings for crisp, cold, and light fare. Real food, real fast.