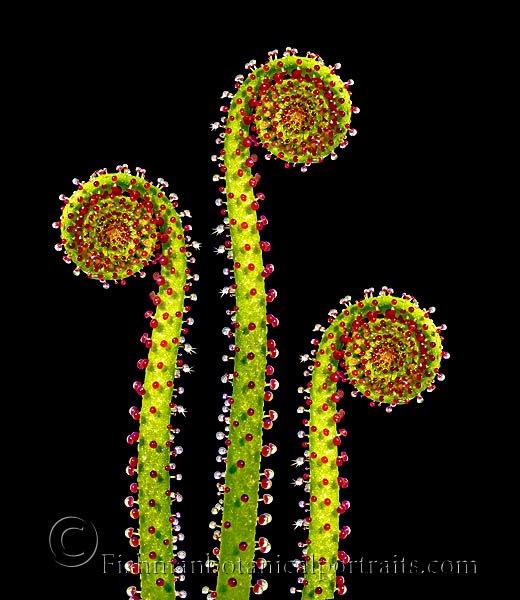 Botanical photography wizard David Fishman must have racked up a lot of frequent flier miles. How else can I explain his galactic road trips where he photographs plants that obviously don't grow in our solar system?
David and I run in the same chlorophyllian circles at Facebook. We had exchanged comments and expressed the hope of running into each other some day. I hadn't found the time to dig into his website, Unique Botanical Portraits, so I was a little unsure of what his gig was, but I knew it had something to do with plants and photography. As the Northwest Flower and Garden Show approached, he invited me to stop in at his booth to see first hand.
Shocked, I Tell You!
I was cerebrally unprepared to absorb his jawdroppingly rich and exotic images. Where do I begin? David's work starts with insanely clear close-up photographs of plants I've never heard of (Arisaema, Meconopsis) and some very common ones (Borage, Gloxinia, Castor Bean). Then he trims away everything but his subject and sets them on a jet black background, fixing our total attention to the subject.
Next, something I can't explain. If I didn't already know that photo-enhancing software exists, I'd have to assume he waits for a moonless night, burns sacred incense, recites ancient incantations, sacrifices a small warm-blooded creature to the gods, and implores them to cast a enchantment on his pictures. However he creates his final images, it's evident that software alone doesn't account for the results. It's the man behind the shutter and on the end of the mouse that matters.
David explained his passion. "Ever since I can remember, I have always been attracted to uncommon, rare and unique botanicals. Being detail oriented I am captivated by uncommon colors, alien shapes and unique patterns of plants."
Alien shapes? No kidding, Dave…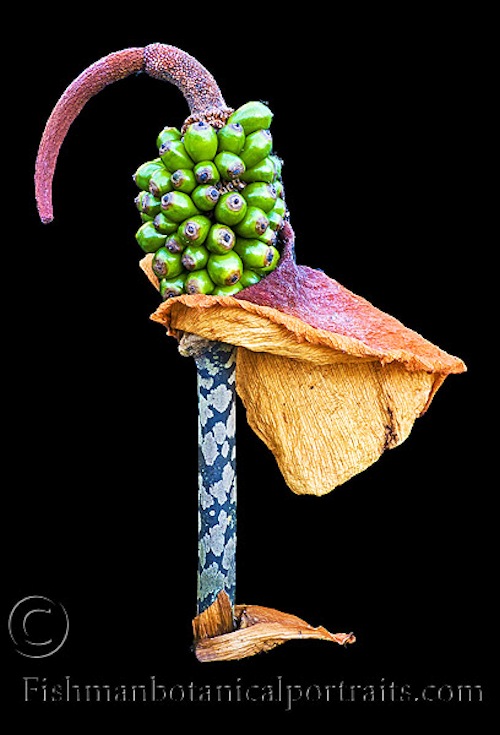 Behold Voodoo Lily, aka Amorphophallis (G-rated definition: Misshapen naughty bit). In Dave's hands (did I really write that?), it reminds me of a multi-eyed, one-legged, clown-suited, hopping pelican, complete with convenient carrying handle.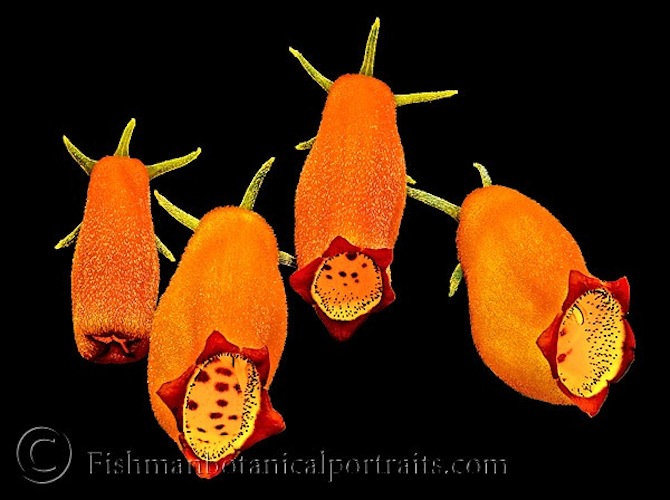 Orange Gloxinia flowers are transformed into of creatures from a Jacque Cousteau PBS special.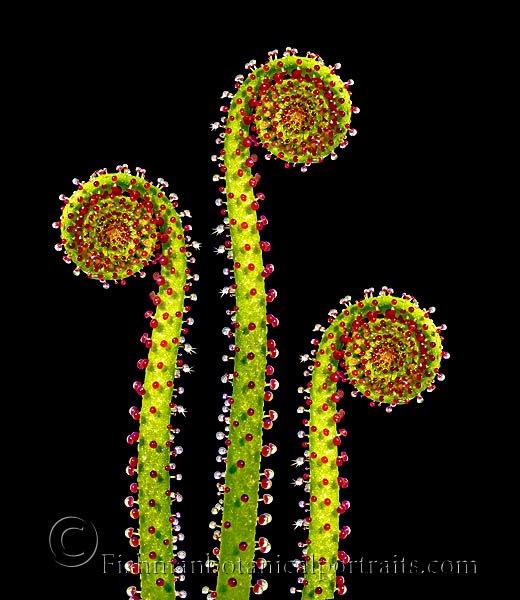 Portuguese Sundew (Drosophyllum lusitanicum) appears to be designed by a fine jeweler. But it's deadly if you're a bug living in the Mediterranean regions, where this carnivorous angiosperm grows in dry alkaline soil. You'll be attracted to its sweet aroma, then find yourself immobilized by sticky mucilage exuded from its glands. But in Fishman's hands, we see only its delicate beauty.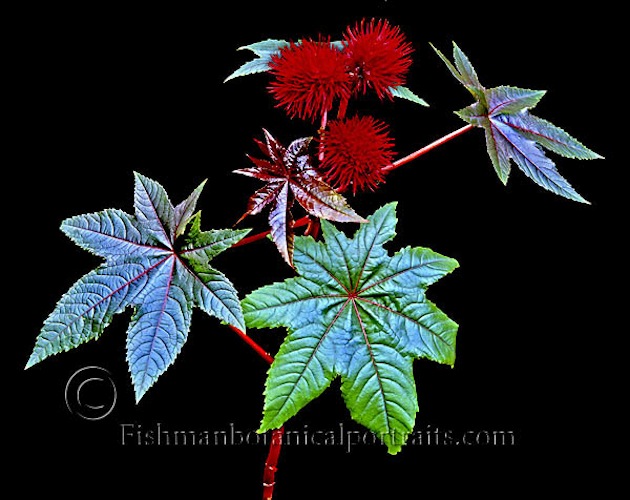 Speaking of deadly, Castor Bean (Ricinus) produces one of the most toxic substances on the planet. Yet when David's done with it, we see instead the stark contrast of lava red stems and the iridescent reflection from its lush leaves.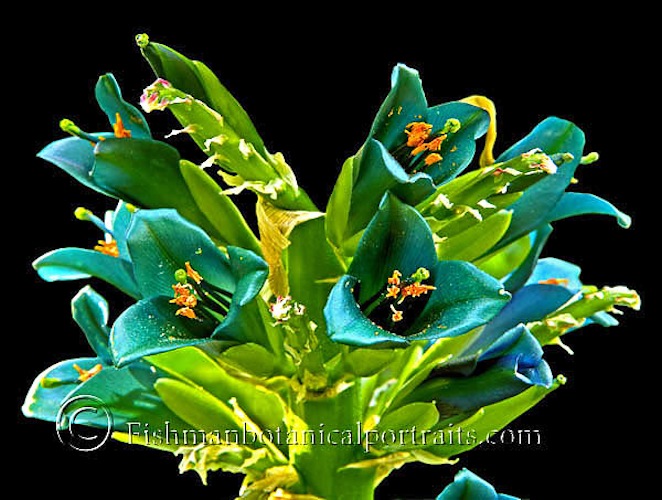 For years, I had heard legends of the bizarre beauty of Puya alpestris, a Chilean native and member of the Bromeliad family. After seeing it in its full glory at the San Diego Botanical Garden in 2009, I wrote a blog post, but my pictures don't hold an LED to David's. At the San Marcos Growers website , the description reads, "Turquoise blue-green flowers (sometimes called metallic or "unearthly") bloom on terminal branching 4-5 foot tall stalks in the spring." But how do you fit "Turquoise Blue-Green Metallic Unearthly Tower" on a plant label? So the botanists settled on Sapphire Tower.
See for Yourself
David's work is for sale at very attractive prices, so do check out his website for a pleasant surprise. If you're in the Seattle area, see his stuff in person. His artwork will be on display at the University of Washington Botanic Gardens Miller Library from June 2 through July 26, with a free, open to the public reception held June 7 from 5-7pm.