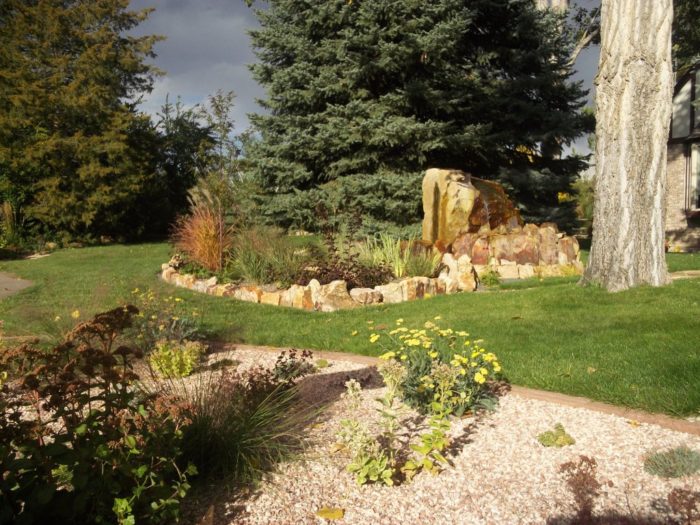 Welcome to day #2 in David Karst's garden in Colorado. Yesterday, a few people were intrigued by the large rock in the last photo (1st photo today.) Today we take a closer look.
David says, "The large water feature in the front yard was completed last year and features a 3-ton rock. The reservoir is underground so I let the fountain run year round which results in a great ice show in the winter. It's also dramatic at night as there are lights under the waterfall. The plantings are still maturing but still put on a good show and have been designed for four season interest."
I can't even imagine what king of equipment it took to put that rock in place, David, but it was definitely worth it! Thanks so much for sharing.
***Hey everyone–we're heading into winter, when GPOD submission tend to be a bit scarce. If you still want to see a new and exciting garden every single weekday in your inbox, do your part and show us YOUR garden! You can email photos to either [email protected] or [email protected] Be sure to tell me where you live and tell me a bit about yourself and your garden. And the more photos the better! Thanks!!***
Want us to feature YOUR garden in the Garden Photo of the Day? CLICK HERE!
Want to see every post ever published? CLICK HERE!
Want to search the GPOD by STATE? CLICK HERE!
**Check out the GPOD Pinterest page, where you can browse all the post in categories…fun! CLICK HERE!**