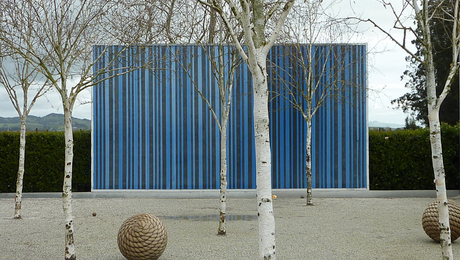 Forgive me for thinking Toto and I had crossed into Kansas.  But how to explain what appeared dead ahead in my windshield – a massive white picket fence, painfully twisting like so much tormented fusilli pasta, rising into a drizzly March sky. I checked my GPS: Sonoma, in the heart of northern California wine country. Perhaps this aberration was my destination.
I had heard so many wondrous things about Cornerstone: Festival of Gardens. It was one of those breathlessly spoken, Oh, you have to go there, places my designer friends insisted I visit. They portrayed the nine-acre complex as a pilgrimage required of every garden designer, that they might experience the melding of art, landscape architecture, horticulture, sense of place, playful imagination, and drama. The flying fence was this play's opening act.
Cornerstone Sonoma was conceived and nurtured by the husband and wife team Teresa Raffo (pictured at right) and Chris Hougie. Their inspiration for this ambitious venture arose during their 1996 honeymoon visit to Frances's Loire Valley, where the Festival Gardens of Chaumont cast a spell on their imaginations. Eight years later, in collaboration with world-renowned landscape architect Peter Walker, they opened the doors and gates to a twenty-two garden wonderland. Cornerstone is an outdoor gallery-meets-laboratory, housing the works of acclaimed landscape architects and garden designers. There is a special events garden for weddings and parties, a café with locally sourced fair, wine tasting opportunities, art galleries, and garden shops.
Where does one go to experience the cutting edge of garden design? We have museums for paintings and sculpture, runway shows for fashion, and concert halls for music. But where do artists who create beautiful, sometimes challenging, outdoor environments express themselves?
Chris Hogue summarizes the essence of Cornerstone: "More than plants, paths, and dirt, gardens live in our minds and hearts. They are often how we experience place and come to attach meaning to our larger environment. They occupy our childhood memories and inform our own environmental autobiographies. They are often the most important places in our lives."
Allow me to show you a sampling of gardens that, months after my visit, continue make my pulse pump a few beats faster. Some are art for art's sake, combining color and form to create moments of natural and structured beauty. Others exist as studies in defining space, using built and natural elements. Some are the stuff of childlike fun, while a few carry our vision beyond the boundaries of the garden, linking the visitor with the subtle beauty of the natural landscape.
The first project Teresa showed me was designed and constructed by five landscape architecture students from University of California Davis. It is a bold, yet understated garden, exploring space and order. Though this is probably not a design that fits neatly into most residential gardens, there's a lesson here: The boundaries of a garden room can be subtly defined with the simplest materials.
Roger Raiche and David McCrory founded their design and construction company, Planet Horticulture, in 1977, after working together at the Botanical Gardens in Berkeley, CA. This botanically brilliant duo combined their encyclopedic knowledge of plants to create Rise, a garden described by Hogue as, "so abundant and so orderly that it scarcely seems real."
For a transition between two rooms of this 1600 square-foot space, they employed an enormous drainage culvert – part echo chamber and, like a Chinese moon gate, part picture frame, drawing the eye to the surrounding beauty of the Sonoma Valley.
By far, the most remarkable and memorable garden was Garden Play (pictured above, with details below), by San Francisco environmental artist Topher Delaney. I was selfishly grateful I arrived before the crowds, letting me have this room to myself. As I write these words, I'm remembering the big grin that overtook my face when I beheld the simple elegance of the blue and black, billboard-size bar code and white birch trunks. The three remaining edges of the space were bounded by panels of white shade cloth that "borrowed" the silhouettes of plants in adjacent gardens.
As usual, I have far too many images and words to fit into one blog post. So I'll tail off for the moment and try to fill in the blanks in my next post. But before I go, I'm curious if there are other magical places like Cornerstone you'd like to share with other readers? Where are the adventurous artists of your area testing the limits and making their statements?