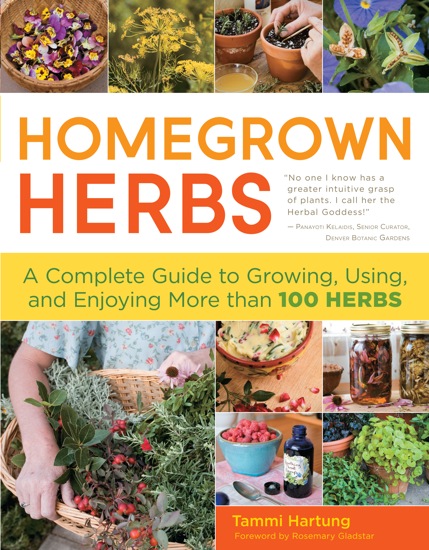 My fellow bloggers recommend that my posts should to be like quick jabs—get in, score your point, and get out. A few words and a picture.
[Dang! I just used 109 characters telling you that I shouldn't take so long getting to the point. Shoot!! That was another 79! Yipes!!! Another 22.]
So, here's the point: On Wednesday, August 31, award-winning, landscape-loving, nicest-guy-you'd-ever-want-to-meet garden photographer Saxon Holt will be holding a book party at the coolest, most beautiful, all-sustainable vineyard and winery, smack in the middle of Sonoma wine country.
Saxon will be joined by author and herbalist Tammi Hartung to talk about their book, Homegrown Herbs: A Complete Guide to Growing, Using and Enjoying More Than 100 Herbs (Storey Publishing, $19.95). The talented twosome will be appearing from 2 to 4 p.m. at Lynmar Estate at 3909 Frei Road in Sebastopol. Attendance is free but limited to the first 60 guests. For more information, call 707-829-3374, ext. 102, or email [email protected].
As blog posts go, that was efficient, but not much fun. I like fun.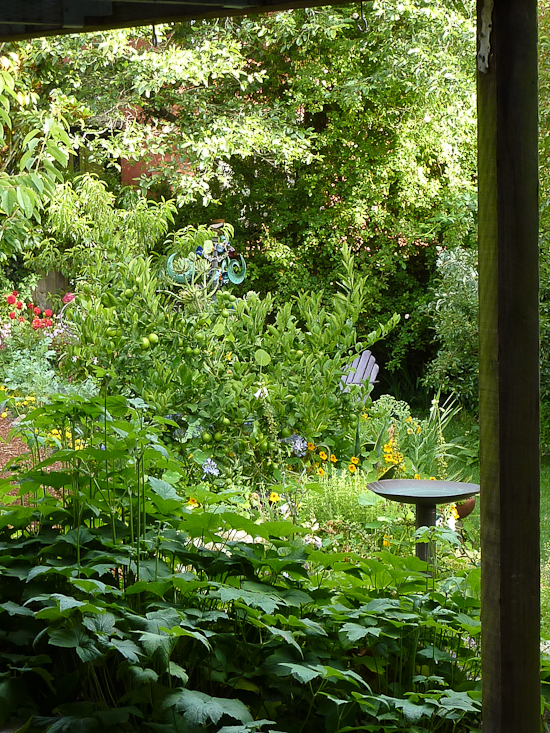 I promise I'll circle back to tell you more about the impressively sustainable vineyard and winery run by husband and wife team Anisya and Lynn Fritz, located in the rolling hills of California's Russian River Valley. Meantime, promise me you'll keep reading while I detour for "a few" paragraphs. If you do, you'll see luscious images and perhaps take away some inspiration for your own garden.
I was in the Bay Area in July giving a couple of talks. I stayed with my friends Mara and Davey in Mill Valley, a quick drive across the Golden Gate Bridge from the city, but a community intimately carved into a towering redwood forest. Mara's quite a gardener and is the person who put Flora Grubb Gardens on my radar a few years ago. (Can't thank her enough!) Here's a shot of her garden from my guest room.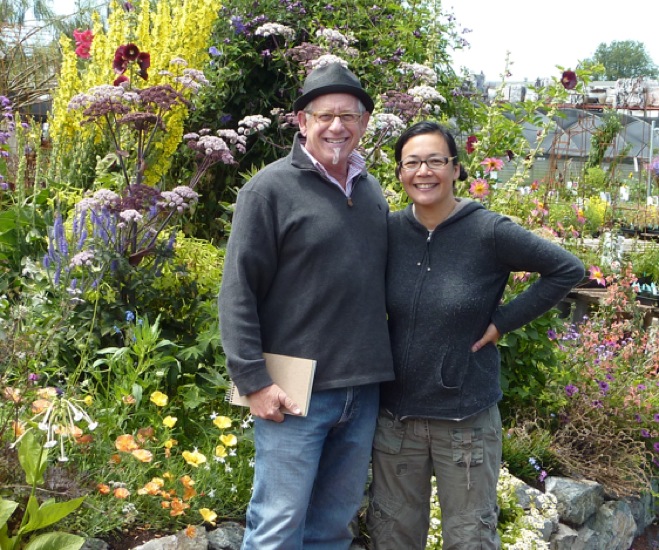 Criminal Behaviour
My first talk was at the San Francisco Conservatory of Flowers. It was a hoot. I presented Crimes Against Horticulture: When Bad Taste Meets Power Tools. Here's a shot of my breaking one of THE cardinal rules of good public speaking: forgetting to dig my laser pointer out of my computer bag, turning my back to the audience and pointing to the screen with my finger.
In an adjacent wing of the Conservatory was an exhibit inspired by Amy Stewart's book, Wicked Plants. Saxon Holt is on the Conservatory's board. He figured, "Amy told us about Wicked Plants; Billy will tell us about the wicked things people do TO plants." The fun, funny stuff came first, then evolved into my 10-point manifesto regarding good stewardship, enlightened design, and treading softly on our planet.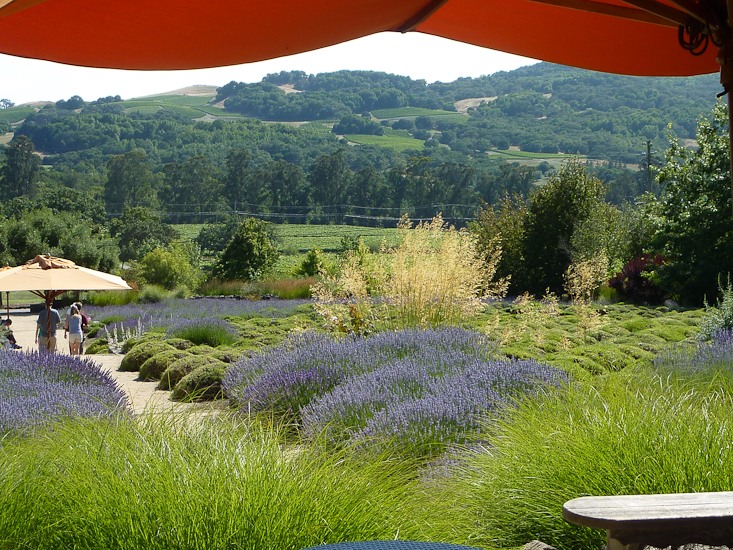 Annie's Annuals Astounds
Friday was play, so Mara and I decided on a day filled with chlorophyl. We grabbed a hot cuppa and motored east to Richmond, just north of Berkeley. Annie's Annuals and Perennials is a mecca for West Coast Gardeners, but also attracts national shoppers, thanks to their robust mail order business.
The best word to describe an in-person visit to Annie's is "giddy". The experience starts as you pull into the parking lot after passing through an extremely not-upscale neighborhood. It's like that scene in the Wizard of Oz when everything goes from black and white to vivid Technicolor. As we entered the nursery, artfully crafted postage stamp demonstration gardens (and a full-size cow mannequin) greeted us. So did my friend, Elayne Takemoto, Director of Marketing.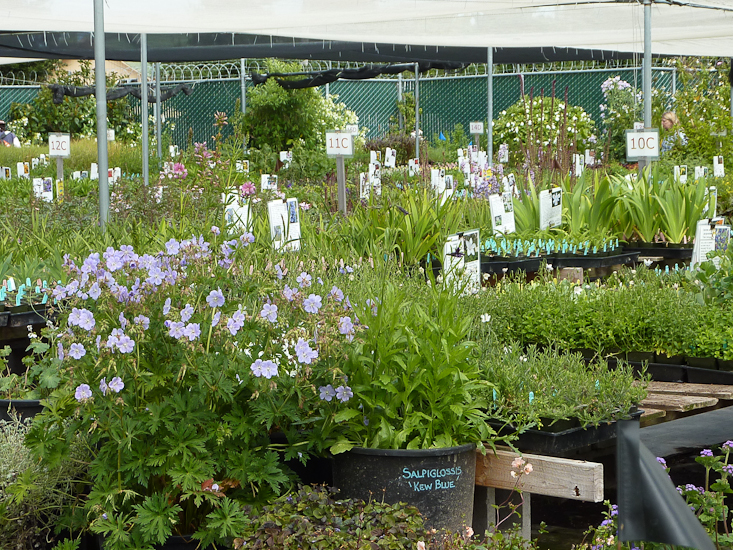 Hundreds of tables sit in the bayside sun, laden with flats of four-inch pots of botanical wonderment, taking up most of the 2.5-acre site. Elayne told that in a given year, Annie's offers between 2500 and 3000 different varieties of ornamentals and edibles. I pride myself in knowing a lot of plants, but I was humbled, reading labels, jotting notes, and figuring out how to get these little gems into my clients' gardens.
Funky bits of art are everywhere, but the masterpiece is Tina Amidon's The Allegorical Reliquary Mosaic Chapel Fountain, made from panels of cast concrete and decorated with cast-off tea sets, dolls, colorful bottles, and other artifacts. The whole ensemble is plumbed to cascade water down the walls. Here's a delightful video of the unveiling at Annie's, complete with dancers from the local high school.
Fine Art In the Fields
I could have stayed all morning, but we pulled the plug to meet up with Saxon at his home in Novato. Aside from his mastery of garden photography, Saxon is head-over-heels in love with his own garden. After a tour of his varied plant collection and beautifully design garden spaces, we headed for Cornerstone Sonoma, a sprawling collection of exhibition garden created by the nation's top designers. I wrote extensively about Cornerstone in June, but want to highlight a new installation that was unveiled a few weeks after my visit. Andy Cao is an artist working in the medium of landscape. His Bai Yun (White Cloud) installation is a breathtaking combination of wire mesh storm clouds glistening with crystal "rain drops", an undulating ground plane surfaced with crushed oyster shells, and dotted with cacti.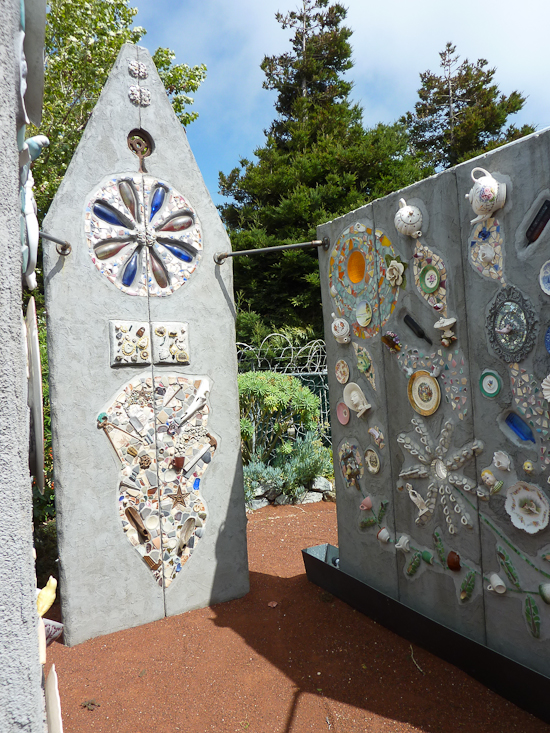 The effect is otherworldly and visitors are welcome to stroll through the space. Cao was simultaneously working on another installation, Red Lantern, an homage to the Chinese immigrants who built much of our railway system. You can see more images of his work at Cao's website.
Over the River
By now, it was mid-afternoon and we had two more stops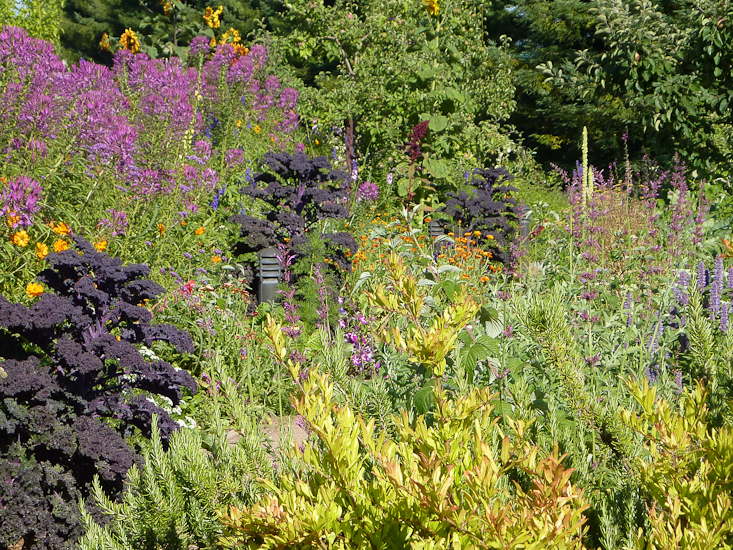 planned. Over the river, through the oak woodland we cruised, to Matanzas Creek Winery in the Bennett Valley. We stopped just long enough for Saxon to lead us to a broad series of terraces where their lavender fields grow, revealing romantic views to the surrounding oak-dotted hills.
This is the site where Saxon photographed the cover shot of Nancy Ondra's fabulous book, Grasses: Versatile Partners for Uncommon Garden Designs, a great resource that's always within reach when I design.
We still had some miles to cover and fearing that Lynmar might be closing their gates soon, Saxon called ahead, getting the all clear.
Chardonnay and Stewardship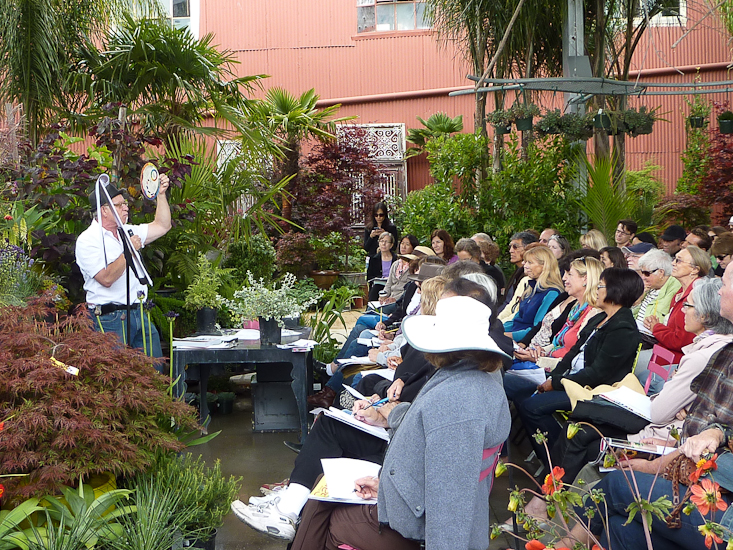 By late afternoon, it was close to "magic light" time, when gardens (and vineyards) soften and photographs take on a special character. We were greeted at the 100-acre property by the beaming smile of Aniysa Fritz, then escorted to the garden occupying the border between the wine tasting and sales area and the vineyards that roller-coaster over the hillsides.
Eytan Navah, garden supervisor, walked us through rows of organically grown edibles and flowering plants selected to animate the garden with a rainbow of color, as well as provide food and habitat for beneficial insects, birds, and other desirable visitors.
Lynmar is not just a farm that grows grapes. It's an ecologically balanced symphony that embodies the deepest precepts of sustainability. Their management philosophy is to leave the property better than it was found. Rather than push the land into maximum grape production, areas have been left with natural stands of redwoods, and diversified with apple orchards and buzzing hives of bees. Gardens dot the property, producing herbs, flowers, fruits, and vegetables, including fava beans, leeks, eight types of garlic, and more than 100 heirloom tomato varieties. Much of this bounty finds its way to the winery's professional kitchen for matched tastings that compliment the wines.
The lesson here is that people, agriculture, and a philosophy that respects ecological systems can co-exist and pay respect to the area's dynamic cultural and natural history. If you're going to be in the area, check their website for a schedule of their complimentary garden tours.
And if you've got an urge to meet Saxon Holt and hear about his exploits behind the lens, head back to paragraph three of this War and Peace-size blog post and treat yourself to an afternoon of fine food, wine, and some great ideas for raising herbs in your own garden, courtesy of Tammi Hartung.
Read more about Saxon, Tammi, and the event at PJ Breimer's column at the Marin Independent Journal.
Saturday was my talk at Flora Grubb Gardens. A packed house of 100-plus got a combination of garden design fundamentals and snappy stand-up one-liners. Ya shoulda been there.
Not too bad… I exceeded the recommended 200-word blog post by a mere 1000 or so words. Thanks for hanging in there.