You pop into the nursery and a stunning new cultivar whispers, "Psst! Take me home?"
Immediately, you hear that little voice in your head saying, "Never buy just one of anything." But there you stand, plant in hand, feeling the familiar symptoms of one-of-each-itis. You know that these impulsive splurges are precisely the reason your garden is a messy hodgepodge of cool plants. But the temptation is too much. You buy it anyway.
If this scenario sounds familiar, you're not alone. Most gardeners have an occasional moment of weakness. But if you've come to accept that you'll always shop like a plant collector, I have some good news: You can create the illusion of planting en masse by simply grouping plants with a common trait. Look at your existing garden and identify which shapes, textures, and colors tempt you most. Perhaps you're a big fan of burgundy and a sucker for spiky foliage. Designating areas in your garden for these favorite traits lets you have the best of both worlds. Your plantings will look orderly and intentional, yet you can still pick up a plant when the urge strikes or become a foster parent for a neighbor's cast-off lilyturf.
Once you've selected the traits that you want to plant en masse, the next step is making those groupings fit together. To help you do just that, here's some design advice for three common types of plantaholics.
Crazy for color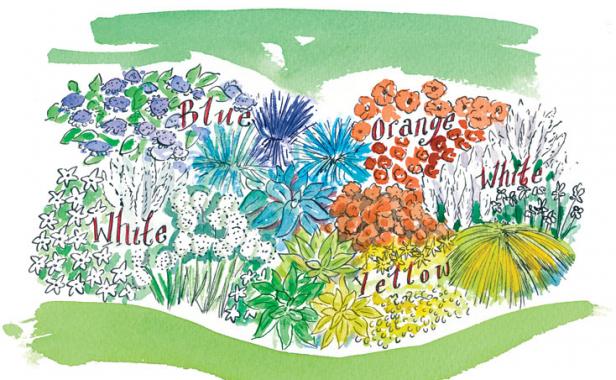 If your weakness is dramatic color, watch out for clashing combos. Keeping soft pastels and saturated hues in separate groupings can help prevent unsightly collisions. Sandwiching a mass of warm hues between cool and neutral colors lets all parties look their best.
You may have noticed that garden centers strive to have something flowering each time you walk through their gates. Spreading your shopping forays throughout the growing season is one way to ensure your plant palette always has something in bloom. And because it doesn't make sense to put on a big show and hide it from view, situate your colorful combos front and center, near a patio or outside a picture window.
Falls for foliage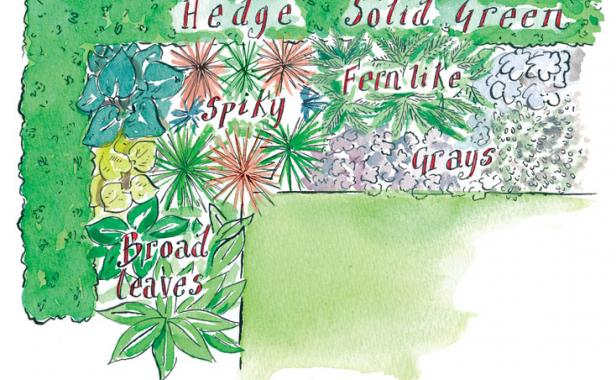 For some gardeners, there's nothing more satisfying than the interplay of bold, beautiful leaves. Broad-leaved plants, with their sturdy texture, have a dense visual weight; I like using them at the ends of a bed to anchor a composition. Also, consider pairing ferns and spiky plants to heighten the impact of their upright lines.
If you favor boxy beds, such as this one, don't automatically impose a naturalistic planting scheme; embrace the rectangle, and organize your plants into blocks that echo the bed's geo­metric shape.
What if I flip for a flower that doesn't fit a theme?
It's going to happen. A plant that doesn't match any of your groups somehow "appears" in your shopping cart and finds its way through the garden gate. What to do?
Make it feel at home. Start a container garden with a new minitheme combination, or bite the bullet and buy multiples.
Hit the restart button. Trade out a theme you've tired of, and follow your new passion. Tastes change; gardens evolve.
Anticipate a relapse. Create a bed out of sight from the more orderly areas. It will be your secret.
Put it up for adoption. Give your new love to a neighbor, but insist on visiting privileges.
Wants it all
If your taste in plants is especially eclectic, beware of the visual confusion that comes from mixing too many dissimilar themes. Balance is the key. In this planting plan, wispy grasses back up fine-leaved foliage, and masses of dark foliage team up with shockingly bright plants. Placing delicate beside delicate and dark beside light are two no-fail combos that harmonize beautifully.
Should your latest nursery purchase exhibit more than one favorite trait, all the better. 'Burgundy Giant' fountain grass (Pennisetum 'Burgundy Giant', USDA Hardiness Zones 9–11), for instance, would look equally at home in this burgundy group as it would in the patch of tall grasses.