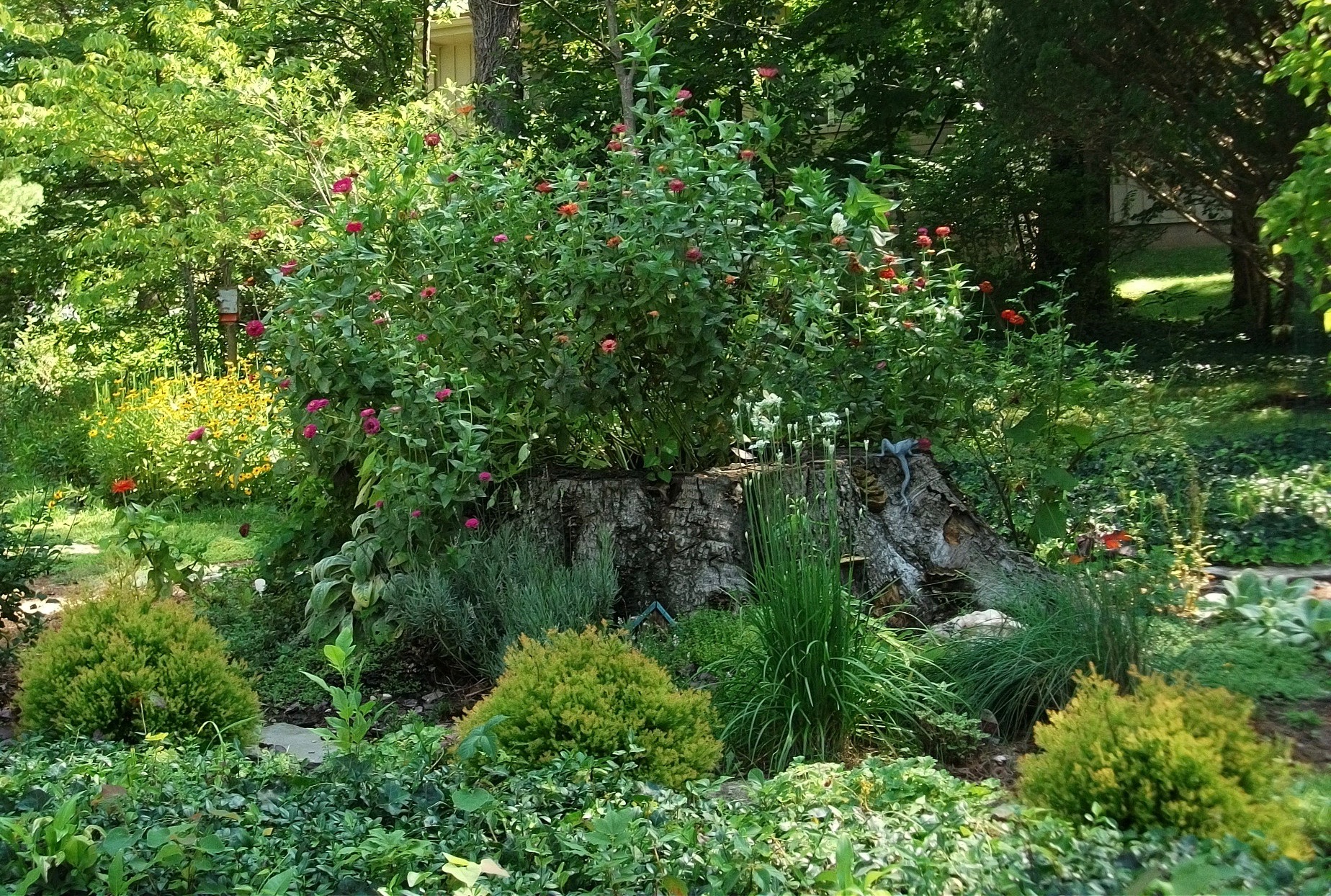 Victoria of south central Indiana has created one special focal point.
"We lost our huge beech tree in the fall of 2012 and suddenly I had a new large area of sun available for sunny perennials. I had the thick ivy surrounding it slowly dug out over the summer of 2013 and started planting last spring (2014). I've put in several shrubs, the fairy rose, chaste tree, peony, and a reblooming lilac, and one very small Carolina Silver Bell tree on the outer edges of the area since the big anchor roots of the tree make it difficult to find spots large enough for root balls of any size. I've arranged a variety of creepers and shallow rooted small perennials around the base of the stump. The tree stump which is about five feet across was hollow down to ground level and so makes a wonderful planter/focal point with lots of room for plants. This year I have filled it with zinnias of two different heights, variegated nasturtiums and purple and chartreuse sweet potato vines. So from three sides things seem to be pretty well taken care of. Looking from the fourth side however where a large section of the trunk makes another planter there is still a lot more room to work with. I'm sure a good bit of adding, subtracting, and rearranging will take place in subsequent years but that's all part of the fun. The mulch around the tree goes down about 12-14 inches, to insure that all the ivy roots were well and truly gone, and so it is very well draining at this point. As the mulch decomposes and is added to with compost when new plants are put in I should have some really good soil to work with in a few years. I'm curious as to how long the stump will survive since it is already being colonized by various fungi——most interesting to watch. Most of the "walls" are between 4 and 6 inches thick so it may take a while but in the meantime I have a wonderful planter to play with. The flower border to the east, although partly shady, is loving all the new slanting and reflected light and the grape vines on the pergola to the west are just going crazy this year and have tons of little grapes growing away. I'm sure the local birds will be feasting once the grapes begin to ripen. I did hate to lose such a large, old tree but the new situation is also exciting and fun to plan and implement. Hope you like it."
Have a garden you'd like to share? Email 5-10 photos and a brief story about your garden to [email protected]. Please include where you are located!
Have a mobile phone? Tag your photos on Instagram or Twitter with #FineGardening!
You don't have to be a professional garden photographer – check out our garden photography tips!
Do you receive the GPOD by email yet? Sign up here.
Follow us: @finegardening on Twitter | FineGardeningMagazine on Facebook | @finegardening on Instagram