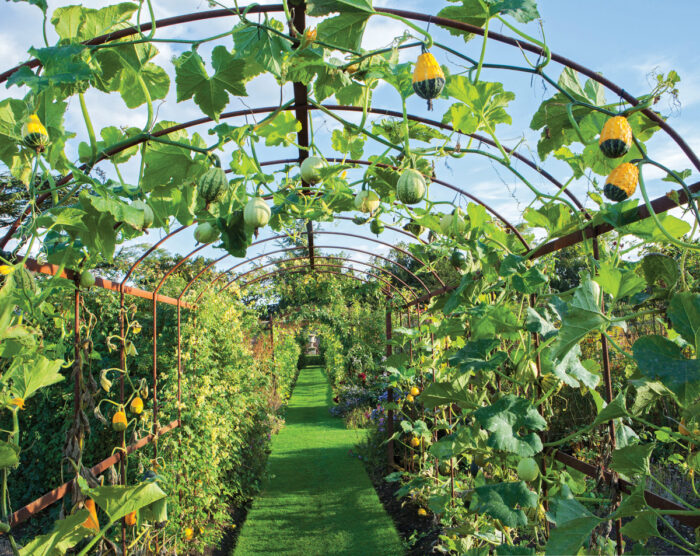 A trellis is a utilitarian thing. Normally, vines scramble along the ground until they find something to climb on. We gardeners, always seeking to help a plant out, are smart enough to try to put something right next to the vine for it to grow on. While some gardeners stop there, we all want to make this structure as attractive as possible. Limiting factors are our budgets, engineering ability (thanks for nothing, gravity!), durability, and style.
To get the most creative outcome, loosen up your definition of a trellis. Typically, a trellis is an upright structure, taller than it is wide, with enough horizontal and vertical pieces for a vine to wrap around or onto. And what is an arbor but two parallel trellises connected across the top? And isn't a fence just a trellis that is longer than it is tall?
A trellis is one of the easiest—and best—ways to add art to the garden. Few of us can afford the kind of sculptures that take our breath away whenever we see them in a landscape. But we can build a few trellises and make them as artful as we want. Here are some ideas that run the gamut from utilitarian to imaginative.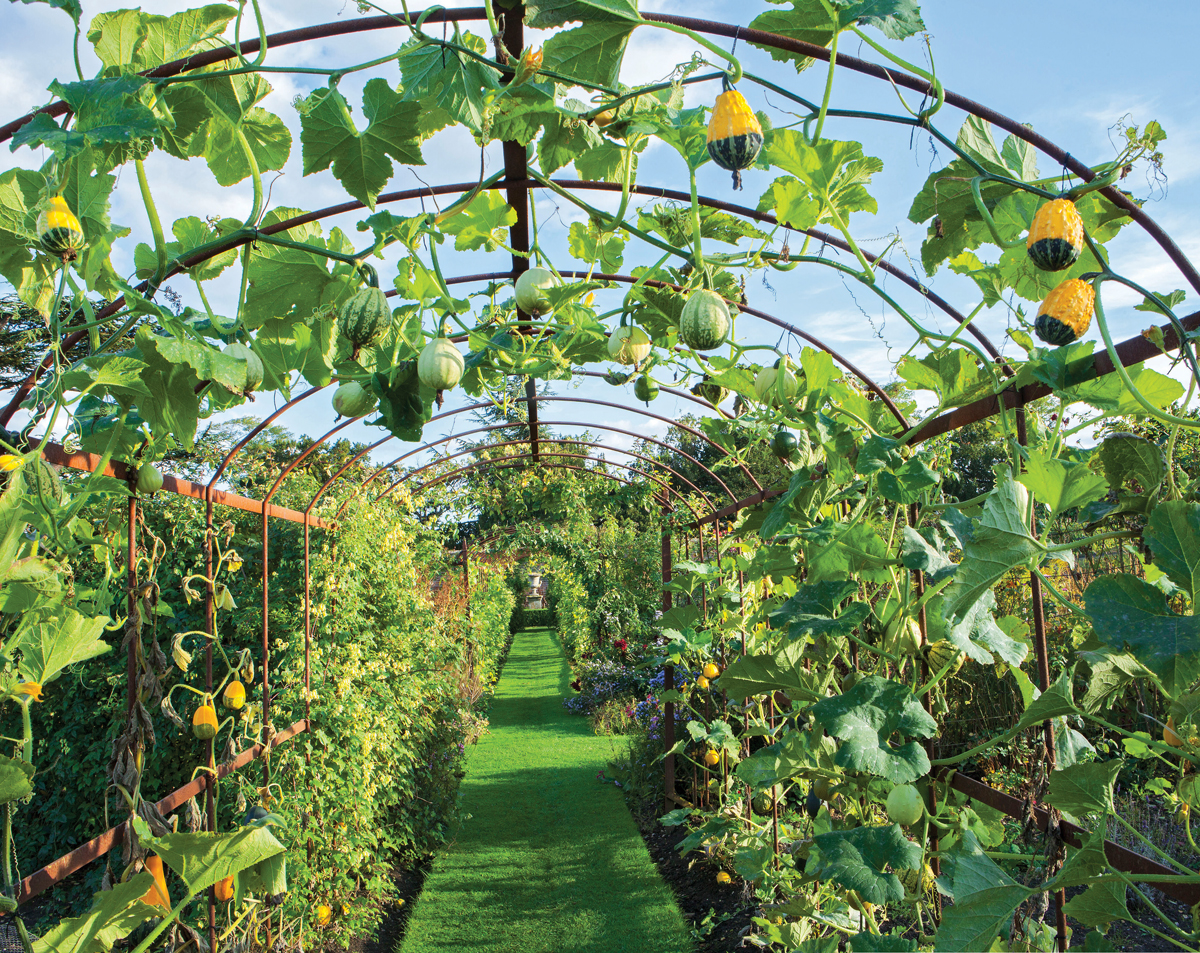 1. Grow up and over
Let's not get hung up on an arbor-trellis argument. After all, an arbor is simply two trellises connected at the top. And what could be a more charming way to grow gourds or climbing fruits (maybe not watermelons, though) than on something that allows you to walk beneath them? This arbor creatively solves the space problem those area hogs pose
2./3. Go rustic or refined
As with most things, the style you choose for your trellis is yours. The more rustic option (left) is less expensive because found branches are cheaper than lumber. It is also more forgiving of mistakes. The more refined version (right) lends a certain order to a garden and gives you the opportunity to add some color. The vines have no preference, so the decision is all on you.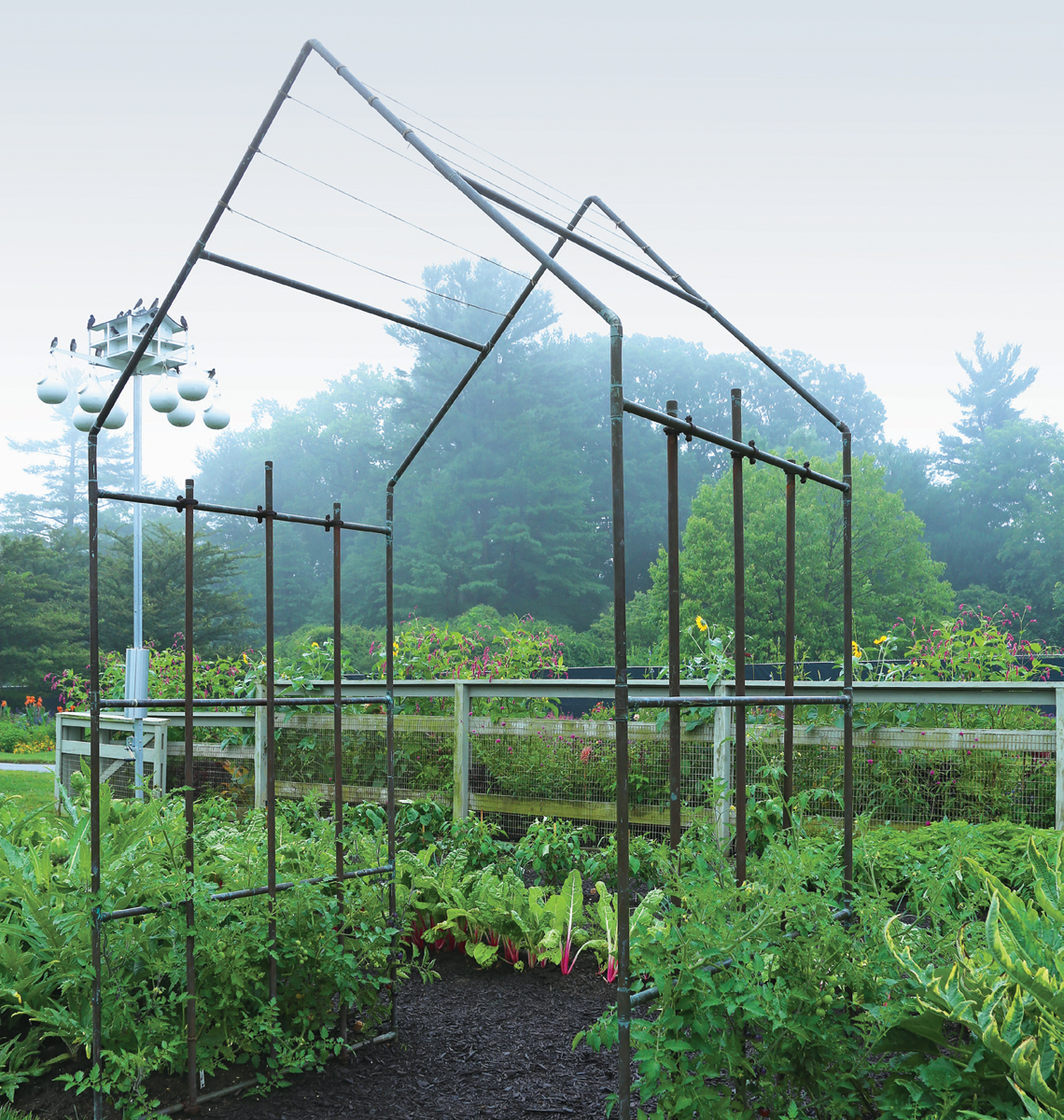 4. Copper can be customized
While it isn't cheap, copper isn't necessarily cost prohibitive. It is easy to work with (soldering is both easy to learn and often optional) and fun to design with. Anchoring it can be as easy as slipping it over some rebar stakes pounded into the ground. As it ages, it gains a wonderful patina, increasing the chances it will be the best kind of trellis: one that looks good with nothing on.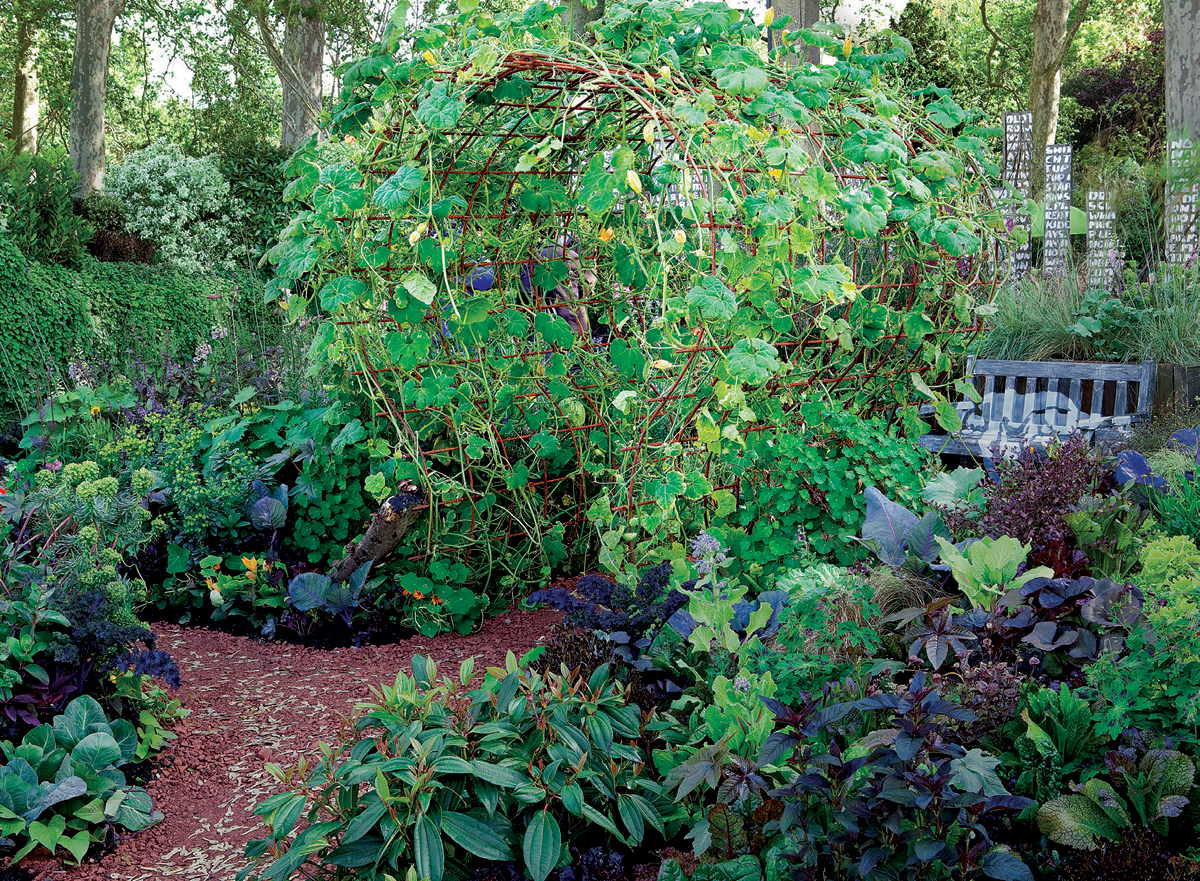 5. Fencing doesn't have to be a fence
Wire fencing can be as versatile as copper—at much less cost. This hog wire fenc­ing is curved into an interesting shape (a light bulb? dueling question marks?), signaling a level of artistry that must be explored. The rust it has developed only makes it more interesting.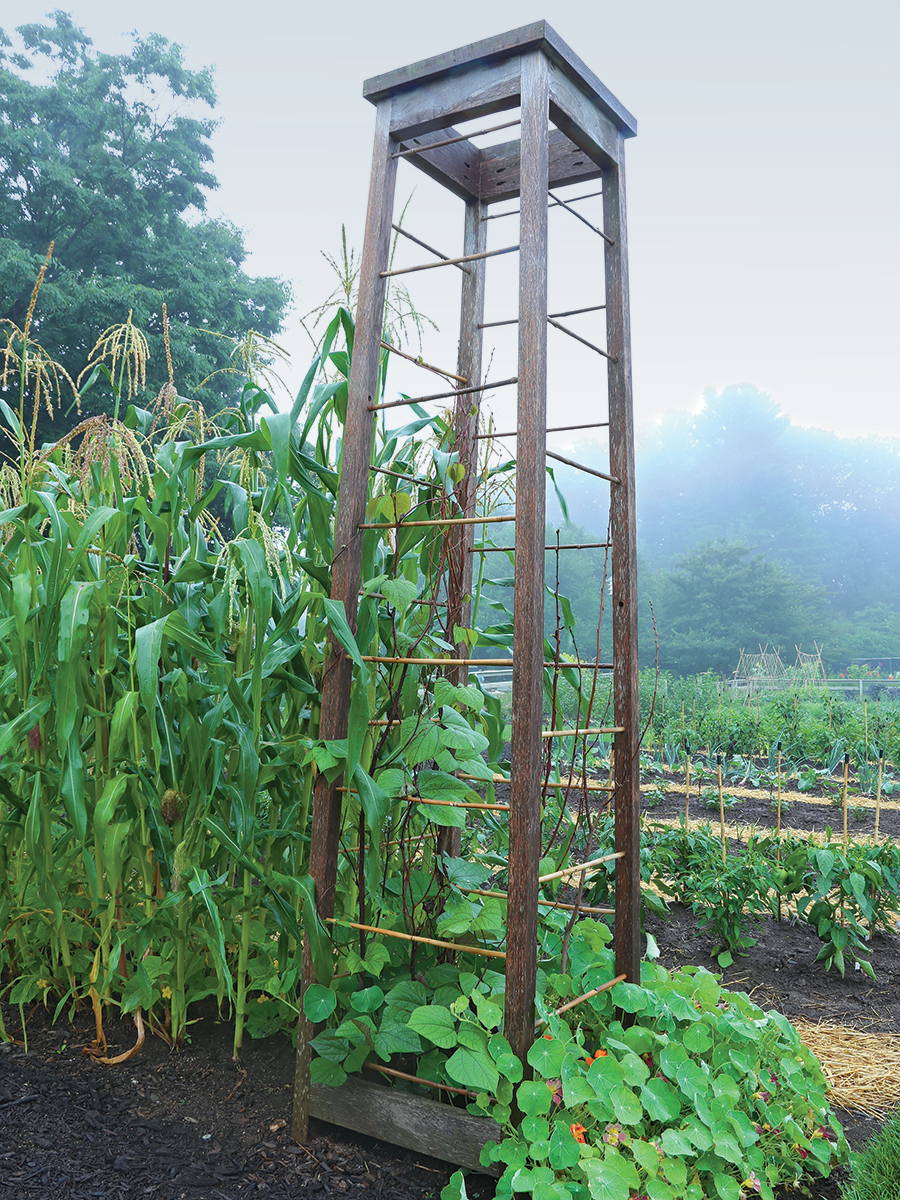 6. Squares are cool
Trellises tend to be triangular, but there is no rule about that. If calculating angles isn't your thing, just keep it square. The unexpected shape is certain to catch the eye. Offsetting the laterals on adjacent sides will keep the trellis from looking like a mini-skyscraper or hollow apartment building.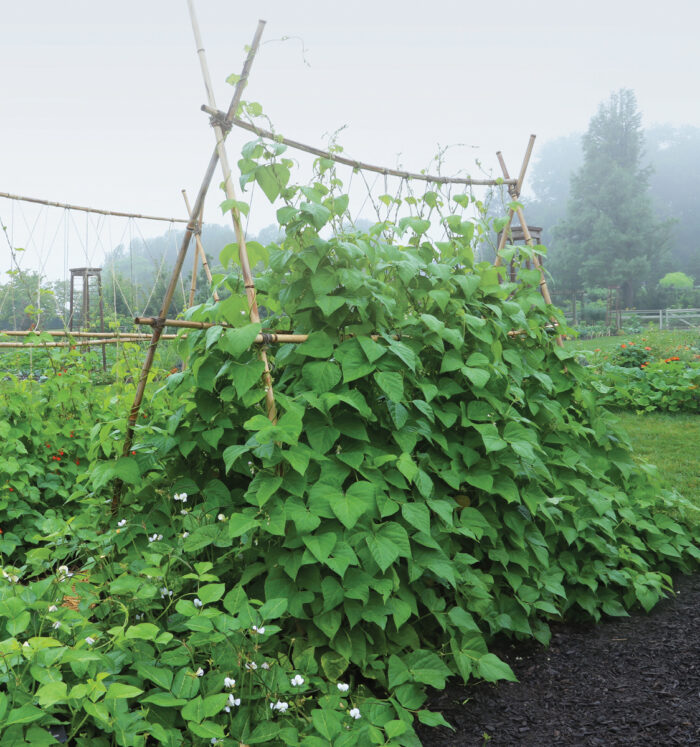 7. It's a classic for a reason
Bamboo (or branches) and twine are all it takes. The opening in the middle allows for air circulation and easy harvesting. Construction is simple. Build the sides first, which consist of two uprights and two horizontal crosspieces. After getting a friend to help you stand them up, lash them where you want them to cross, then add the top crossbeam. Twine running down from the top gives your vines something to climb on.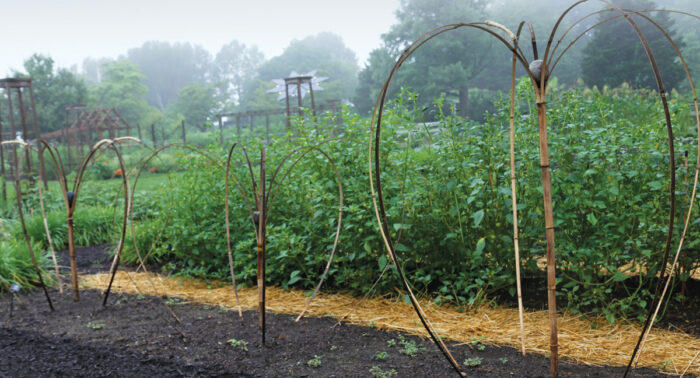 8. Make it a work of art
One way to know if you have a cool trellis is if you are reluctant to let anything climb on it at all. These split bamboo canes ensure that this vegetable garden is as ornamental as any other bed in the garden.
---
Great Plants
Covering your trellis
You know you have an attractive trellis if you are tempted to skip planting a vine under it altogether. But we gardeners must grow things. Here are some ideas.
'Etoile Violette' clematis

Clematis 'Etoile Violette, Zones 4–9

'Crimson Cascade' honeysuckle

Lonicera sempervirens 'Crimson Cascade', Zones 4–9

Nasturtium

Tropaeolum majus cv., annual

Trumpet vine

Campsis radicans, Zones 4–9

Sugar snap pea

Scarlet runner bean

Cucumber

Malabar spinach