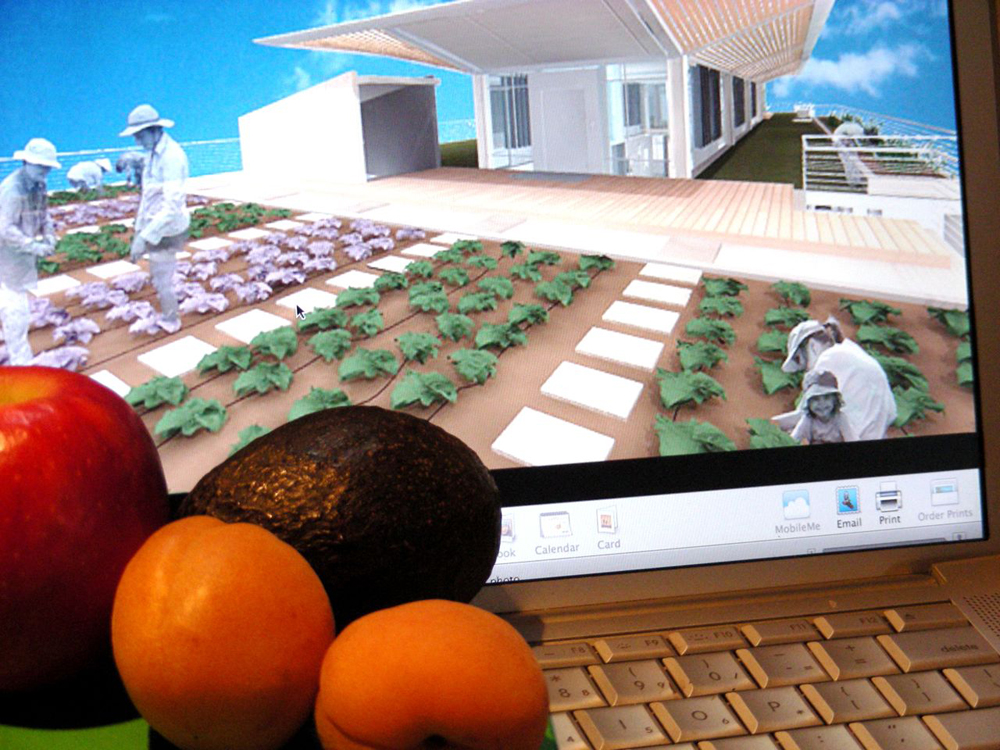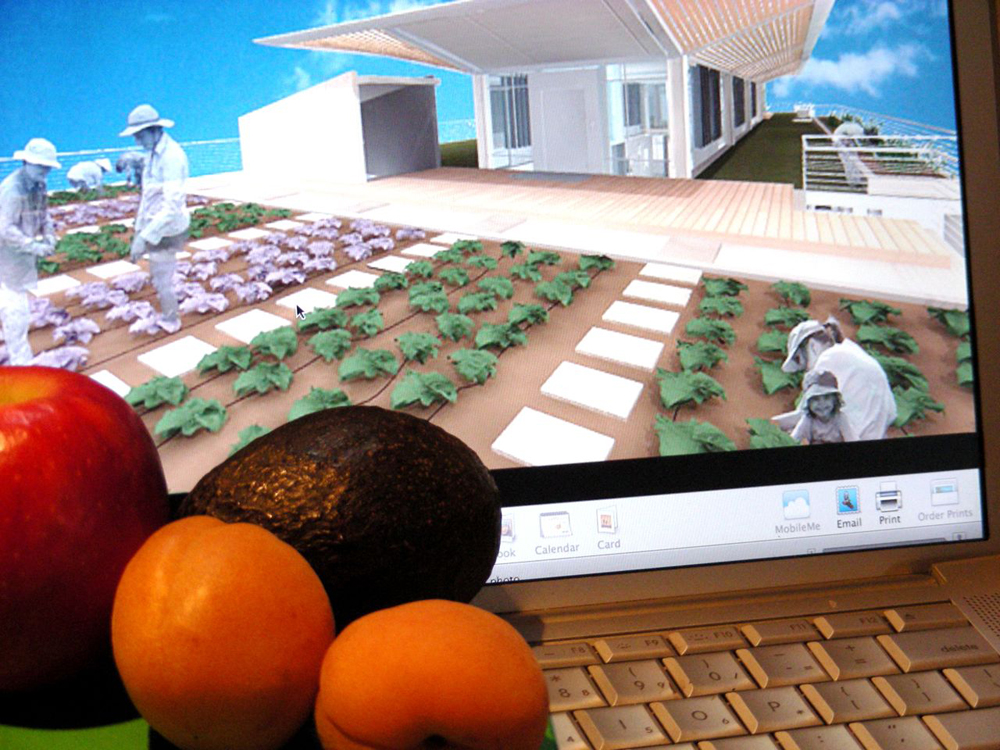 Wouldn't it be totally cool to be a professional futurist? You'd get a paycheck for predicting what the world will look like in a hundred years, then wait for everyone to die before they can tell that you made it all up.
Okay, that's a little harsh. Brilliant people like Stephen Hawking, Alvin Toffler, and Buckminster Fuller have made tremendous contributions to society by writing and speaking about probabilities, possibilities and preferable futures. Futurists predict global trends, emerging markets and plausible scenarios that might affect everyone on the planet. Where do you think the idea of the Chia Pet came from?
I might well be a futurist too! Consider this exchange with my TV-show co-host, Owen Dell, author of Sustainable Landscaping for Dummies. We were taking about the fabulous food exchange network that is sprouting up around Santa Barbara like pre-germinated radish seeds.
The idea is simple: People who grow food at home exchange their surplus within a loosely organized neighborhood group, sharing eggs, fruits, veggies, flowers, herbs, recipes, seeds and seedlings. At the same time, they build "community" by meeting their neighbors. There are twelve neighborhood groups in our area, under the umbrella of Santa Barbara Food Not Lawns.
But I digress. As Owen and I were praising the value of food exchanges, I wondered aloud what would happen if there were no surplus. "What if everyone's garden provided exactly the produce you needed exactly when you wanted it?" I posited.
"Ludicrous," scoffed Owen. "What about that prolific zucchini plant that mysteriously births dozens of twenty-pound green monsters as soon as you turn your back? Or that generous-to-a-fault Arctic Supreme peach tree that groans under the weight of hundreds of red-over-cream skinned globes of sugary goodness?" [BTW: Owen doesn't really talk that way–I'm flexing my writing muscles.]
That's when this budding futurist had his brain-drizzle. A few years ago, Microsoft, in a well-orchestrated media blitz, announced the development of Microsoft Kitchen. No kidding. They said it with a straight face!
This excerpt from Mary-Jo Foley's June 6, 2007 "All About Microsoft" blog states:
"Among the features Microsoft is planning to make part of its forthcoming kitchen computing environment are a family calendar, recipe center, entertainment features and a shared bulletin board."
Whether this paradigm-shifting technological breakthrough makes it into our homes or not, I see a great opportunity to develop and market (drum roll, please) Microsoft Garden, a modular add-on for MS Kitchen.
Here's how it will work. When the program is installed, the GPS software downloads your exact location, soil type and date of last frost (unless you're in Santa Barbara where we can grow year round–just thought I'd flaunt that a little).
Next, you input your dining preferences including favorite ethnic foods–Moroccan for me–allergies, vitamin deficiencies, etc. When the calendar screen pops up, you'll have ten minutes to input your dinner menu preferences for the remainder of the year, so work fast.
The program then searches an international database of seed catalogs, accesses your credit card account and orders all the seeds and seedlings you'll need for the next year. Using just-in-time-manufacturing strategies, your seeds are shipped as needed so you don't end up throwing them in an old Mason jar in your potting shed, then forgetting where you put them. Foolproof, I tell you!
Now for the magical part of the equation. Every night while you sleep, MS Garden resets your alarm clock to awaken you before the rooster crows, so you can slap on your bib overalls, stumble out to the garden and plant precisely the right number of seeds in the perfect spot, guided by a robotic laser pointer mounted on your roof.
In my futurist scenario, computers will control the weather. So it's really not a big stretch to see that my software system will be able to predict to the ounce, the number and size of tomatoes you'll need on August 23, for that basil and tomato with bufalo mozzarella antipasto salad you planned eight months ago.
On the appointed day you can walk down garden aisle 4B to grid module 34/17 and pluck the seven sun-ripened Brandywine tomatoes, two ounces of Purple Ruffles basil, and milk the extra-virgin olive oil tree for three tablespoons of golden-green nectar.
I'm sure there are still a few details to work out, but we futurists leave that dirty work to the programming droids in the dungeon deep beneath the corporate office tower. But you have to admit the idea has merit.
Writer's Note: This column will be on a short hiatus while I make my travel plans for the Nobel Prize ceremony in Oslo. After a quick world tour, I'll get back to predicting a glorious future for all my devoted readers. I'm thinking chia seed-covered hovercraft.