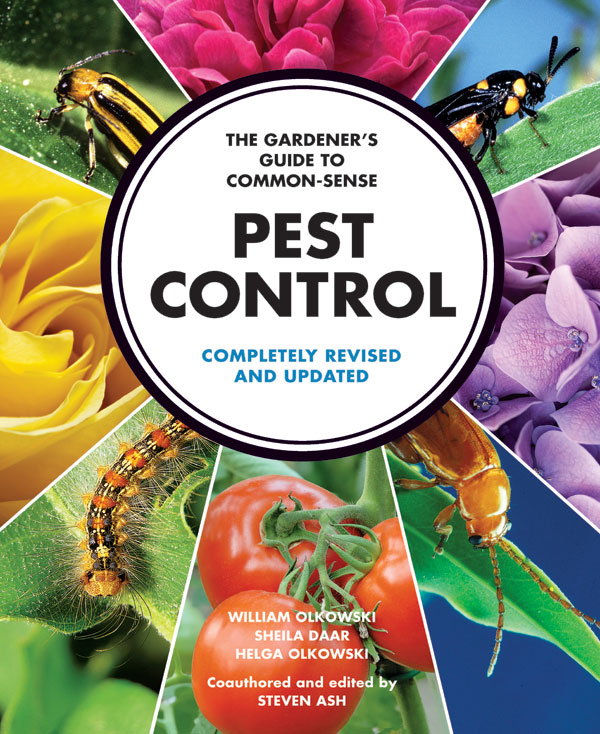 Chapter 6: Choosing the Right Chemical and Microbial Tools
Berg, G. 1980. Farm Chemicals Handbook. Willoughby, Ohio: Meister Publishing. 400 pp.
A source of general information on commonly used pesticides.
Bohmont, B.L. 1981. The New Pesticide User's Guide. Fort Collins, Colo.: B and K Enterprises. 250 pp. (Available from: B and K, 1053 Montview Rd., Fort Collins, CO 80521.)
A handbook for the pesticide user that includes a wealth of general information on all classes of common pesticides but relatively little information on their chronic side effects.
Carson, R. 1962. Silent Spring. Greenwich, Conn.: Fawcett. 304 pp.
Hailed as a great book by the lay press and condemned by pest control academics and professionals, this book marked a turning point in public awareness of the side effects of pesticide use. It still makes very interesting reading, since much of what was written then still applies today.
Craigmill, A.L. 1981. Toxicology: The Science of Poisons. Berkeley: University of California Division of Agricultural Science (Leaflet 21221). 15 pp.
A succinct introduction to the question of how pesticides are evaluated for toxicity.
Haiomes, Y.Y., and J.H. Synder. 1984. Proceedings of the Engineering Foundation Conference, Groundwater Contamination, Santa Barbara, California, November 11-16, 1984. New York: Engineering Foundation. 193 pp.
Some 37 participants from the United States discussed the detection, monitoring, prevention, abatement, containment, correction, and restoration of groundwater contaminated by pesticides. An understanding of pesticide production chemistry is useful in understanding the connection between many of the industrial water contaminants and pesticide use.
Kutz, F.W., A.R. Yobs, W.G. Johnson, and G.B. Wiersma. 1974. Pesticide residues in Adipose Tissue of the General Population of the United States, FY 1970 survey. Bulletin of the Society of Pharmacological and Environmental Pathologists 2(3):(reprint).
Kutz, F.W., R.S. Murphy, and S.C. Strassman. 1978. "Survey of Pesticide Residues and Their Metabolites in Urine from the General Population" in Pentachlorophenol, ed. K. R. Rao, pp. 363-369. New York: Plenum Press. 402 pp.
This is the source of the information presented in Table 5.7.
Maibach, H.I., R.J. Feldman, T.H. Milby, and W.R. Serat. 1971. Regional variation in Percutaneous Penetration in Man. Archives of Environmental Health 23:208-211.
The is the source of the skin pesticide penetration data in this chapter.
Marer, P.J. 1988. The Safe and Effective Use of Pesticides. Davis: University of California Statewide Integrated Pest Management Project, Division of Agriculture and Natural Resources (Publication 3324). 387 pp.
This is the best basic discussion of pesticide composition, behavior, toxicity, and appropriate methods of use currently in print. Written for professionals but accessible to the layperson, it contains practical advice for the use of pesticides in an integrated pest management framework.
Mitchell, D.G. et al. 1987. Acute Toxicity of Roundup® and Rodeo® Herbicides to Rainbow Trout, Chinook, and Coho Salmon. Bulletin of Environmental Contamination Toxicology 39:1028-1035.
This study indicates that the surfactant in these pesticide formulations is more toxic than the active ingredient, glyphosate.
MSDS Reference for Crop Protection Chemicals, 2nd ed. 1979. New York: John Wiley and Sons. 1,358 pp.
This book contains Material Safety Data Sheets for most companies in the United States that manufacture agricultural chemicals. They are indexed by manufacturer as well as by brand name. The publishers also include information on EPA reporting requirements and a list of extremely hazardous substances.
Olkowski, W., and H. Olkowski. 1983. Contracting for Pest Control Services: Cockroaches, Mice, Rats and Flies in Public and Private Buildings. Berkeley, Calif.: Bio-Integral Resource Center. 50 pp.
This booklet is written for the layperson planning to hire a pest control company. It describes the monitoring and least-toxic control strategies the consumer should request, and it discusses contract language.
Olkowski, W., and H. Olkowski. 1983. Delivering Integrated Pest Management Services: Pest Control Services for Cockroaches, Mice, Rats and Flies in Public and Private Buildings. Berkeley, Calif.: Bio-Integral Resource Center. 50 pp.
This booklet is written for the pest control professional interested in providing a high level of pest control with minimal use of pesticides. It describes monitoring methods and the use of least toxic-control tactics.
Perkins, J.H. 1982. Insects, Experts, and the Insecticide Crisis: The Quest for New Pest Management Strategies. New York: Plenum Press. 304 pp.
An excellent introduction to the recent history of pesticide use and the conceptual framework and philosophical background for the development of integrated pest management as a general approach to pest control, primarily in agricultural settings.
Pimentel, D., ed. 1981. CRC Handbook of Pest Management in Agriculture. Vol. II. Boca Raton, Fla.: CRC Press. 501 pp.
Although primarily a reference tool on the use of biological controls in agriculture, this excellent book is also loaded with statistics on pesticide use on crops.
Pinto, L.J., and P.J. Spear. 1980. Technical Data for Pesticides of the Structural Pest Control Industry. Vienna, Va.: National Pest Control Association. 124 pp.
A reference book that provides information on the chemical and physical characteristics, fire and explosion hazards, and toxicity to operators of pesticides. It is particularly useful to structural pest control operators.
Rudd, R L. 1964. Pesticides and the Living Landscape. Madison: University of Wisconsin Press. 320 pp.
A University of California zoology professor provides background information in support of Rachel Carson's book, Silent Spring. It is a lesser-known but important historical document about the pesticide crisis.
Sax, N.I., and R.J. Lewis, Sr. 1988. Rapid Guide to Hazardous Chemicals in the Workplace. New York: Van Nostrand Reinhold. 236 pp.
This book covers 700 highly hazardous industrial chemicals based on data from the U.S. Occupational Safety and Health Administration (OSHA), the American Conference of Governmental Industrial Hygienists, and the German Research Society. It includes the most comprehensive set of workplace air-level guides published. The Department of Transportation's hazard class numbers and descriptions are included. Most of the 700 materials are in the highest class, and many pesticides are among the 700. Indexes are provided.
Shen, S. 1988. Pesticide Residues in Food: Technologies for Detection. Washington, D.C.: Office of Technology Assessment, Congress of the United States. 232 pp.
This review describes the technology for detecting pesticides in and on foods. New technologies not yet used in federal or state programs are evaluated and described, and gaps in detection capabilities are indicated.
Sherman, J. 1988. Chemical Exposure and Disease. New York: Van Nostrand Reinhold. 259 pp.
This book, written for physicians and public-health workers, contains a cogent explanation of toxicity testing protocols and procedures. It discusses the effects on humans of exposure to chemicals, including case histories; it also describes how to monitor for exposure. One chapter is devoted to information sources, but only a relatively small list of sources of pesticide exposure information is provided.
Trieff, N.M., ed. 1981. Environment and Health. Ann Arbor, Mich.: Ann Arbor Science Publishers. 652 pp.
This book provides an overview of environmental pollution and pesticides as global contaminants.
United States Environmental Protection Agency. 1988. Pesticide Fact Handbook. Park Ridge, N.J.: Noyes Data Corporation. 810 pp.
The 130 pesticide fact sheets issued by the EPA and announced in the Federal Register through December 1987 are collected in this book. They cover more than 550 trade-named pesticides, arranged alphabetically. The book includes a glossary and numerical list of the fact sheets, as well as indexes of common names, generic names, and trade names. Individual entries include the description of the chemical, its use patterns and formulations, findings related to its toxicity, a summary of the EPA's regulatory position and rationale, a summary of major data gaps, and a contact person at EPA. LD50 measurements cited here can be quoted as authoritative.
van den Bosch, R. 1978. The Pesticide Conspiracy. Garden City, New York: Doubleday. 226 pp.
Van den Bosch set out to change the pesticide industry. This, his last book, is a major contribution to that effort. It documents the underside of the industry, its stupidity and venality, and the corruption behind major political decisions regarding pesticide use and regulation. The book also provides support for an accelerated change in direction away from sole reliance on pesticides. Van den Bosch was a major force in popularizing the concept of integrated pest management and he was a leader in the field of biological control.
Ware, G.W. 1978. The Pesticide Book. San Francisco: W.H. Freeman. 197 pp.
An informative layperson's introduction to pesticides, which unfortunately neglects to address side effects on humans, wildlife, and the environment (except for its consideration of LD50 ratings).
Watterson, A. 1988. Pesticide Users' Health and Safety Handbook: An International Guide. New York: Van Nostrand Reinhold. 504 pp.
This international source includes extensive documentation showing which pesticides have been incriminated as health hazards. It includes summaries of large-scale accidents involving pesticides and their effects on humans. Pesticide data sheets based on 25 sources compose more than half the book. One of the many appendices lists the pesticides banned or severely restricted in various countries, including the United States, Germany, Finland, Sweden, Portugal, Australia, and Thailand.
Wiswesser, W.J., ed. 1976. Pesticide Index. 5th ed. College Park, Md.: Entomological Society of America. 328 pp.
This is an authoritative source for LD50 information for all taxonomic classes of pesticides on the market as of the mid-1970s. Although in need of updating, it is still a useful index.
Worthing, C.R., ed. 1979. The Pesticide Manual. Worcester, England: British Crop Protection Council, BCPC Publication Sales. 665 pp.
This is the best overall source for LD50 data, sources of published toxicity data and physiochemical descriptions of pesticides.
Chapter 6 Webography
Pesticide Information
Beyond Pesticides: National Coalition for Pesticide Free Lawns weblinks page-
www.beyondpesticides.org/pesticidefreelawns/resources/index.htm
C&P Press Greenbook: for labels, MSDSs, and additional pertinent information: www.greenbook.net/
Extension Toxicology Network (Extoxnet): extoxnet.orst.edu/
Health Effects of 30 Commonly Used Lawn Pesticides-
URL for this factsheet: www.beyondpesticides.org/lawn/factsheets/30health.pdf
National Pesticide Information Center at Oregon State University (NPIC): npic.orst.edu/
Organic Materials Review Institute (OMRI): www.omri.org/
Our Water Our World Less-Toxic Pesticide Lists: ourwaterourworld.org/QuickLinks/FindingPesticideAlternatives.aspx
Pesticide Action Network of North America (PANNA): www.panna.org/
Pesticide Safety Information Series (PSIS) factsheets at California DPR use the Non-crop (N) series: www.cdpr.ca.gov/docs/whs/psisenglish.htm
San Francisco Managing Pests on City Properties (SF Department of the Environment) IPM links page:
sfenvironment.org/article/pest-management/managing-pests-on-city-properties
San Francisco Reduced Risk Pesticide List (RRPL):
sfenvironment.org/sites/default/files/editor-uploads/toxics/pdf/sfe_th_2012_reducedriskpesticidelist.pdf
San Francisco RRPL Evaluation Process:
www.sfenvironment.org/sites/default/files/fliers/files/sfe_th_reduced-risk_pesticide_list.pdf
US EPA Fact Sheets: www.epa.gov/pesticides/factsheets/
Respirators
Generic Guidelines for Development of a Respiratory Protection Program in Accordance with Department of Pesticide Regulation Requirements
www.cdpr.ca.gov/docs/whs/pdf/hs1513.pdf
Small Entity Respirator Compliance Guide: www.cdpr.ca.gov/docs/whs/pdf/resp_regs_handout_napa.pdf
Respirator Medical Questionnaire: www.cdpr.ca.gov/docs/whs/pdf/section_6739_q_and_r.pdf