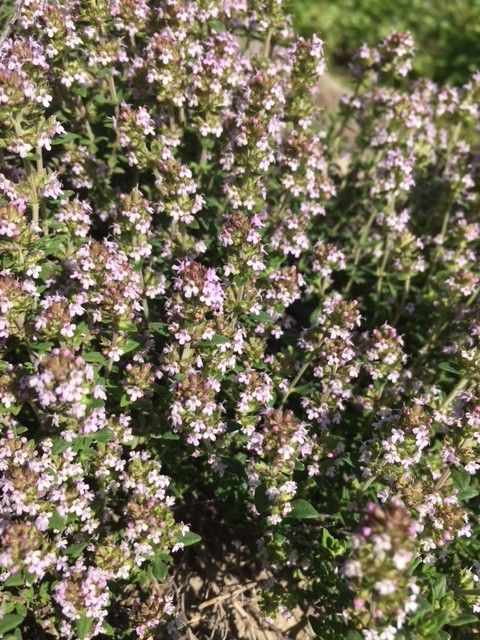 On this last day of April, we are heading into the merry month of May and spring has finally arrived for real. Gardeners across the country are rejoicing–and I am delighted to see perennial herbs popping up here and there in kitchen gardens–these plants are fairly hardy so most of them make it through the cold of winter. We anxiously await their leafing out and we welcome them every spring, dear old friends that they are. They are here just in time for National HerbDay, which is the first Saturday in May. https://www.herbday.org.php56-3.dfw3-2.websitetestlink.com/
Once we plant perennial herbs in our gardens, they will return every year. In fact, in warmer climates they may not even loose their leaves or become dormant in the fall and winter–they are enjoyed year round. In my zone 7 Maryland garden, I usually cut perennial herbs for their final harvest in the early fall to late fall, about six weeks before a hard freeze so that their woody stems have time to heal over. A general rule of thumb is to harvest perennial herbs by cutting them back by about one-third to one-half their size, though it does vary with each type of herb. I often take my oregano or lemon balm back to just above ground level, while I never do that to my rosemary or sage plants.
The twelve herbs pictured are well emerged in the garden now–just took the photos today in the Kitchen Garden at the Ozark Folk Center State Park–in fact I am already harvesting some to flavor spring foods in the kitchen. I have many more herbs than I am listing here, however if you are new to herbs or don't have a lot of space for growing them, these are good ones to start with. All of them except for horseradish can be grown successfully in containers. Buy healthy plants from a reputable herb grower–and enjoy the experience of rubbing and sniffing the leaves to see which varieties appeal to you most.
For more information on growing the best cultivars for flavor, their unique growing conditions, as well as harvesting info, check out The Culinary Herbal: Growing & Preserving 97 Flavorful Herbs by Susan Belsinger and Arthur Tucker, Timber Press 2016. Or better yet, come on down to the Ozarks next weekend and I'll sign a book for you! Plus they have a large variety of herbs for sale at the Ozark Folk Center, which are grown from seeds saved from the Heritage Herb Garden and rooted cuttings grown in the greenhouse or hoop houses. What better way to celebrate HerbDay?
The annual Medicinal Herbal Field Trip and Medicinal Herb Workshop held at the OFC in Mountain View, Arkansas is May 4 and 5. The hike is Friday and it is sold out, however the all day seminar is still open on Saturday, May 5, National Herb Day! Check out the lineup of teachers and Cinco de Mayo lunch menu prepared by the Skillet Restaurant. (https://www.ozarkfolkcenter.com/calendar-of-events/details.aspx?id=155814) I have been participating in this event for over 20 years–and it is always great fun and educational. It is best to reserve in advance to assure a place, though we do take walk-ins. Call 870-269-3851, and PRESS 1.
Find herb festivals in your neighborhood–celebrate National Herb Week, which is usually the week before Mothers' Day and is kicked off on National HerbDay which is usually the first Saturday in May. Happy Gardening and Happy May!