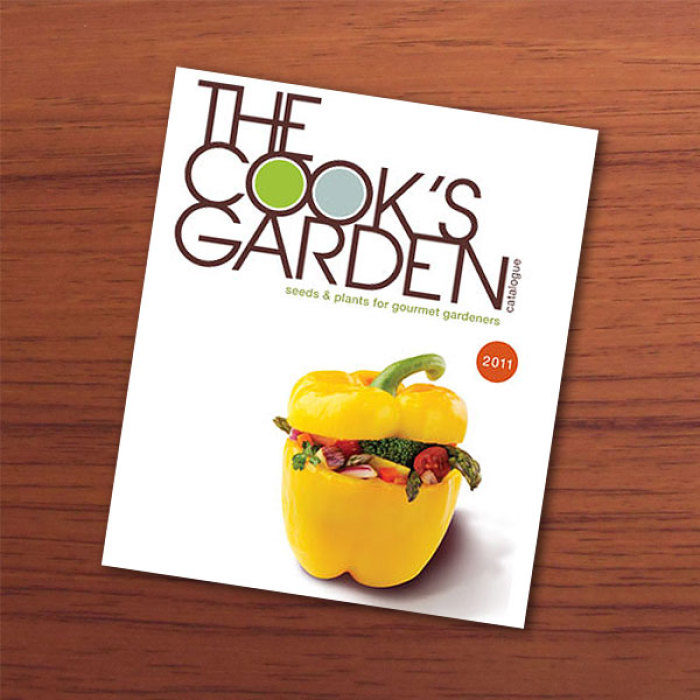 From their catalog, "The Cook's Garden is dedicated to cooks who love to garden and gardeners who love to cook. It's that simple! We travel around the world to seek out varieties with top-notch culinary qualities that will inspire great meals from seed to table." Simply going through their well-designed and color-filled catalog not only made my mouth water, but it immediately inspired me to explore more of the cooking side of gardening.
Starting out the catalog are their new varieties for 2011, which follows into customer favorites. They have a good selection of custom grown plants for those folks who desire it. You are then led into an impressive selection of lettuce and mesclun mixes. And if that wasn't enough "greens" for ya, buckle up for the most awesome and mouth-watering selection of lettuce, salad greens and specialty greens I've ever seen in a seed catalog.
From a graphic and layout standpoint, the catalog is top-notch (admittedly, one of the best-designed catalogs I have). The sections are color-coded at the top of each page, with great use of colors and easy to read type. Photos are all top quality and are clearly numbered. Item numbers and prices are also clear. As a bonus, scattered throughout the catalog are free recipes, obviously inspired by their great selection. More recipes are available on their website.
I finally reach a section for seasoning vegetables, very appropriate for a catalog aimed at the cooking enthusiast. But Greg, what about herbs? Again, they've got you covered with great selection and awesome photography. Their seed selections conclude with edible flowers (I'm still getting used to being able to do this) and flowers for the vase.
As with most seed catalogs, they stock seed starting supplies, tools, products for pest control, and organic gardening. Finally, they finish with food preparation products.
Whether you're an accomplished cook, or simply a green thumb who appreciates the amazing diversity of vegetables and herbs, The Cook's Garden catalog is a must-have. You can reach them online at www.cooksgarden.com.