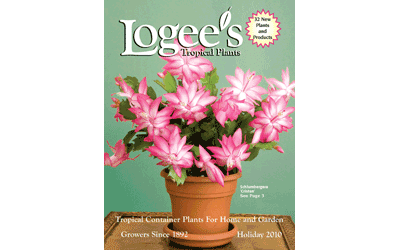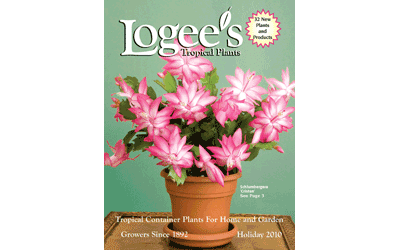 For those of us within driving distance of Danielson, Connecticut, there's nothing like a trip to Logee's Tropical Plants. It's packed from room to room, wall to wall, with tons of awesome plants. However, if you don't have the time or inclination to drive to Danielson, their catalog comes in a close second. They send out a few each year (for those of us on their mailing list). I can't help doing a little happy dance when I open my mailbox to see one. I'm currently excited about their 2009 Holiday Catalog.
So what do I love about Logee's catalog that makes me gush over it so enthusiastically? Well, for starters, the plants. I'm a houseplant fanatic and, since most houseplants are tropicals, Logee's gives me tons of options. On top of that, I love having people come to my apartment and stare adoringly at some oddball plant that they've never seen before – and Logee's offers up plenty of those. They currently have Synsepalum dulcificum 'Miracle Fruit,' an awesome plant whose berries make sour things turn sweet – at least for a short period of time after you eat them.
Logee's Tropical Plants
141 North Street
Danielson, CT 06239
(888) 330-8038
www.logees.com
The best thing about Logee's catalog, however, is that I know the plants I order will show up happy and healthy. They're nothing if not reliable. Plus, they provide size options when you order, so you know that you're getting what you paid for. All in all, the catalog provides a best-of-both-worlds scenario. I get to look at great plants, buy as many as I want, and do it all from the comfort of my own home. Ordering plants in my pajamas is what I call a great morning.